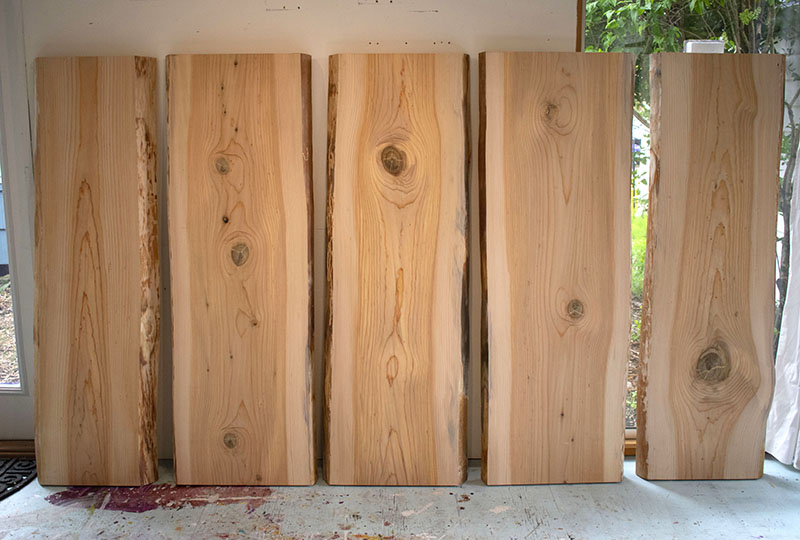 In spring of 2022, I was contracted by Walsh Construction in Portland, OR to create 4 large-scale art pieces, using a total of 12 large live edge slabs, to hang in Dahlke Manor, a housing development in NE Portland.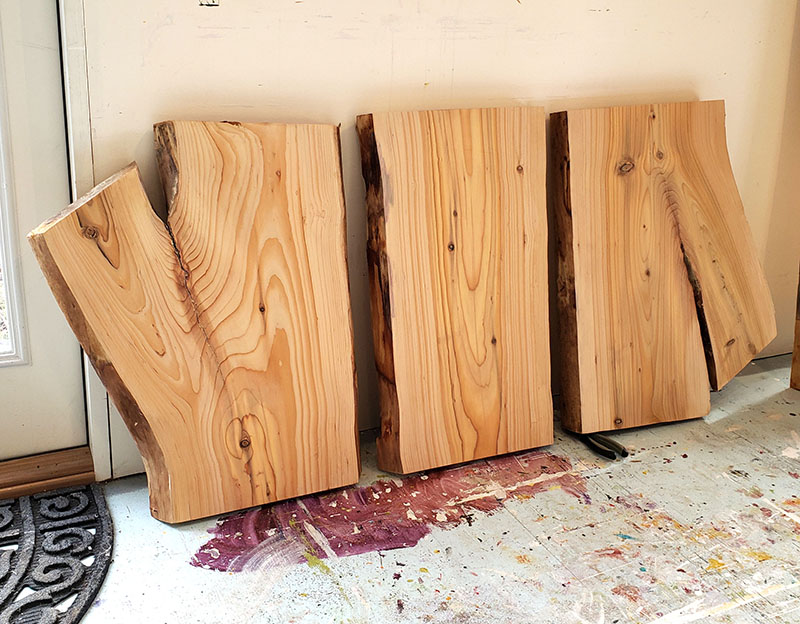 As part of the renovation of the building, they arranged for me, along with two other local artists, Ursula Barton and Davey Barnwell, to create artwork designed especially for this building.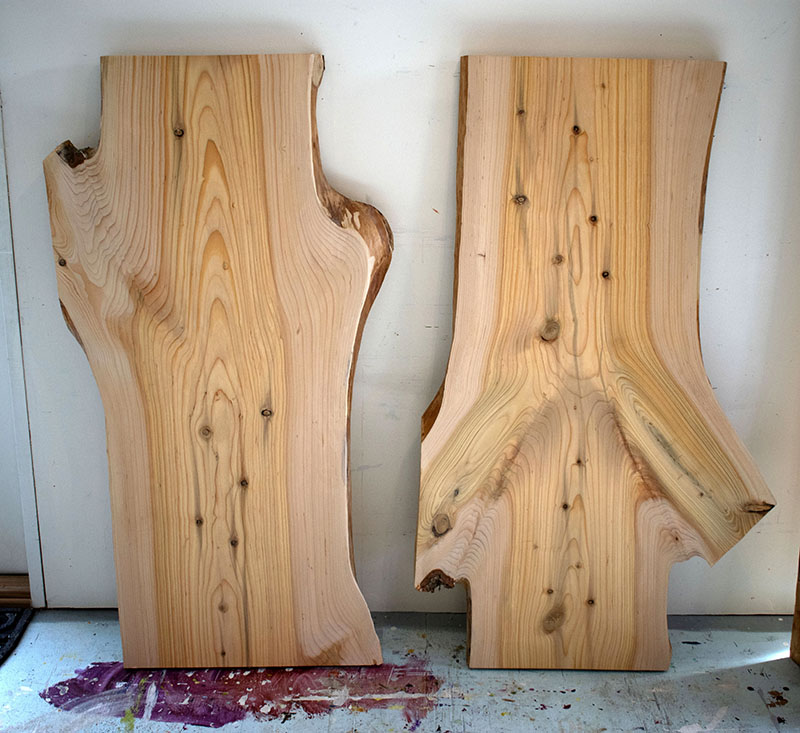 These wood slabs had been saved from some trees that had to be cut down, and the construction company had a huge stockpile of them in a warehouse. I was allowed to go down there and hand-select the pieces of wood that I wanted to use for my paintings!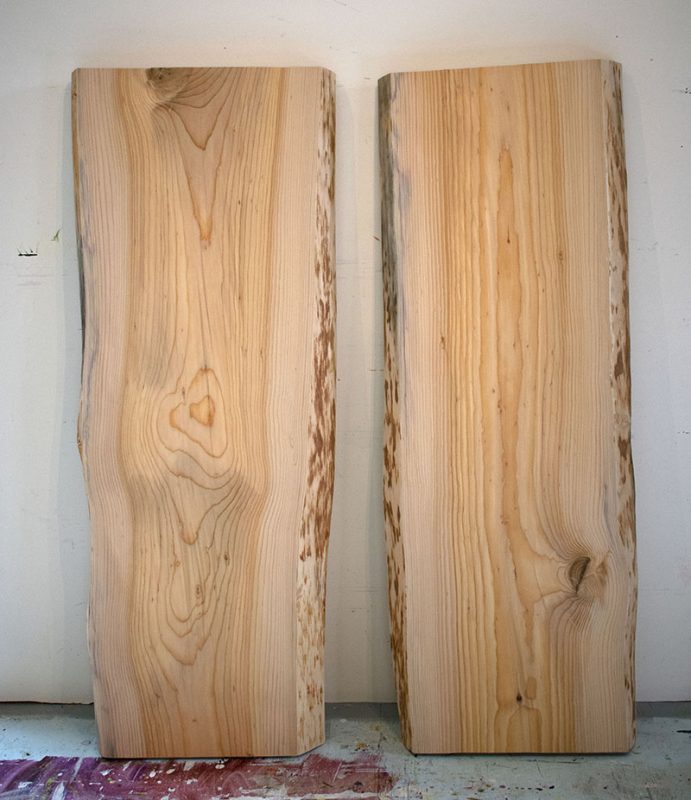 I did a similar project in summer of 2020 when I created artwork on live edge slabs to hang in another Portland housing complex, Williams Plaza. During that project I refined my step-by-step process for painting on live edge slabs, so this time around went very smoothly.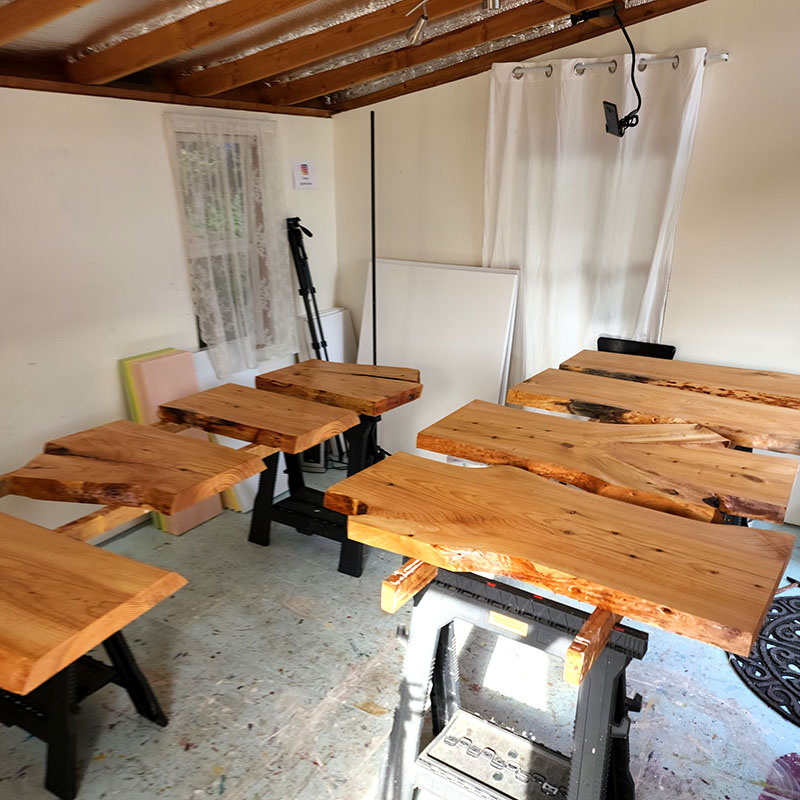 First, I applied several coats of wood sealer. Then, a coat of acrylic gloss gel medium to block any discoloration from impurities in the wood from coming through to the painting, and to give the edges of the wood a gloss finish. After that I primed the parts of the wood I wanted to paint, with acrylic gesso, leaving some parts of the wood unpainted.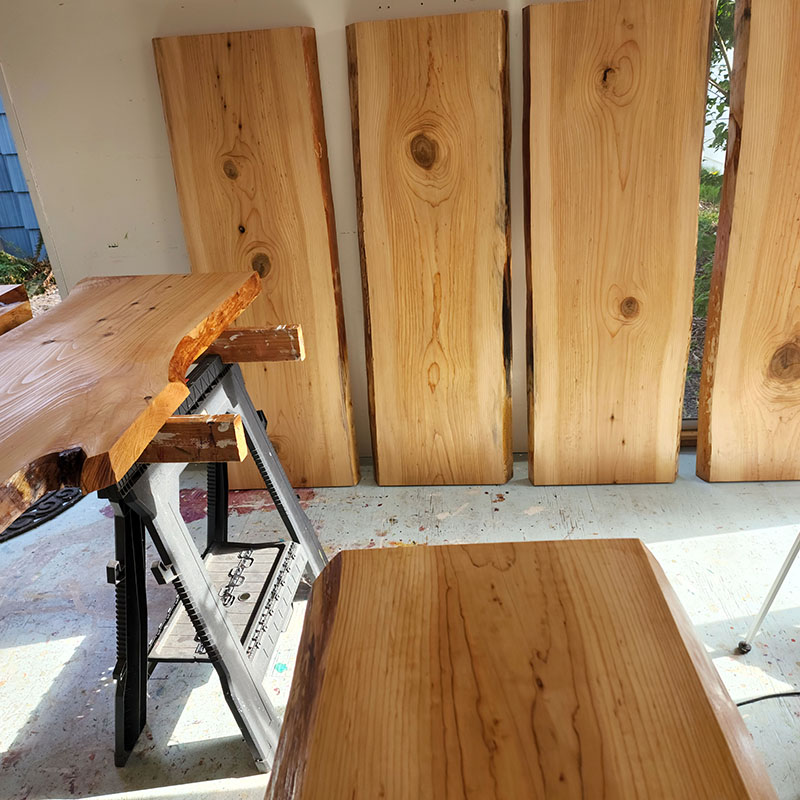 Then I toned each slab with a base color before painting my images in detail.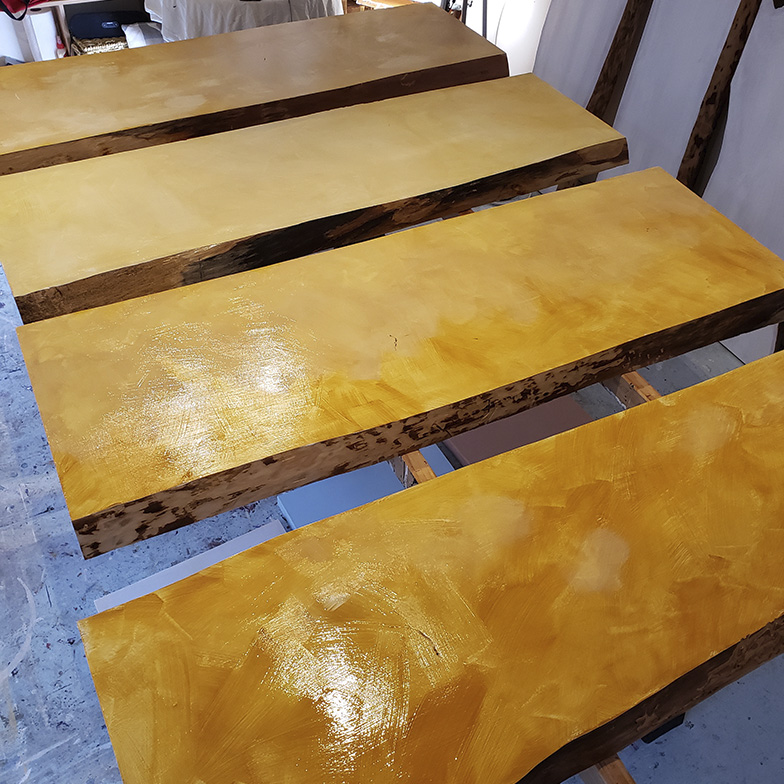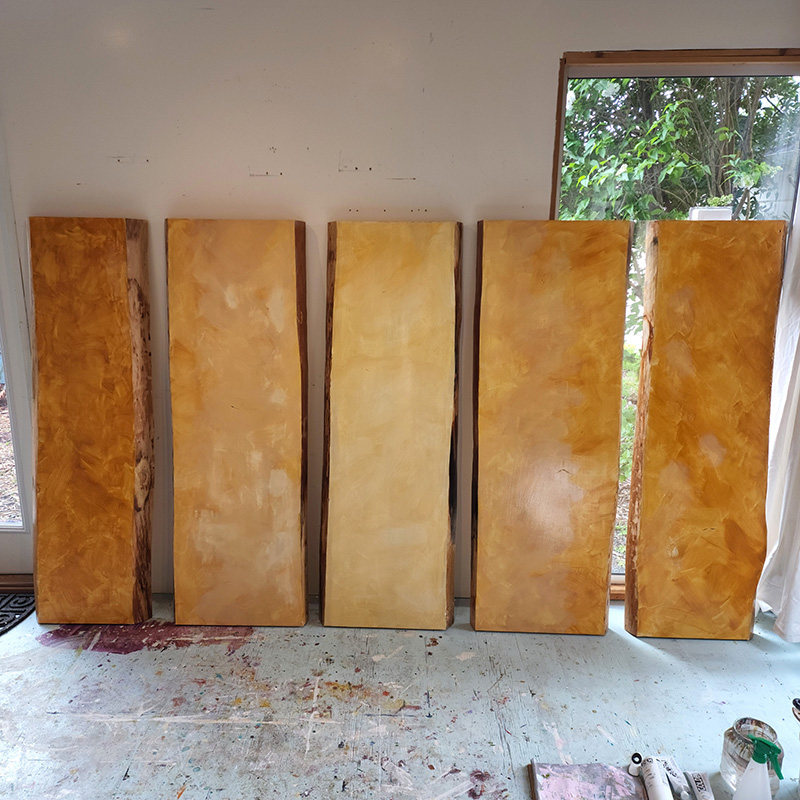 The designs for all these paintings were chosen by the clients, and inspired by previous paintings I've made in the past.
Work in progress for "Golden Windows:"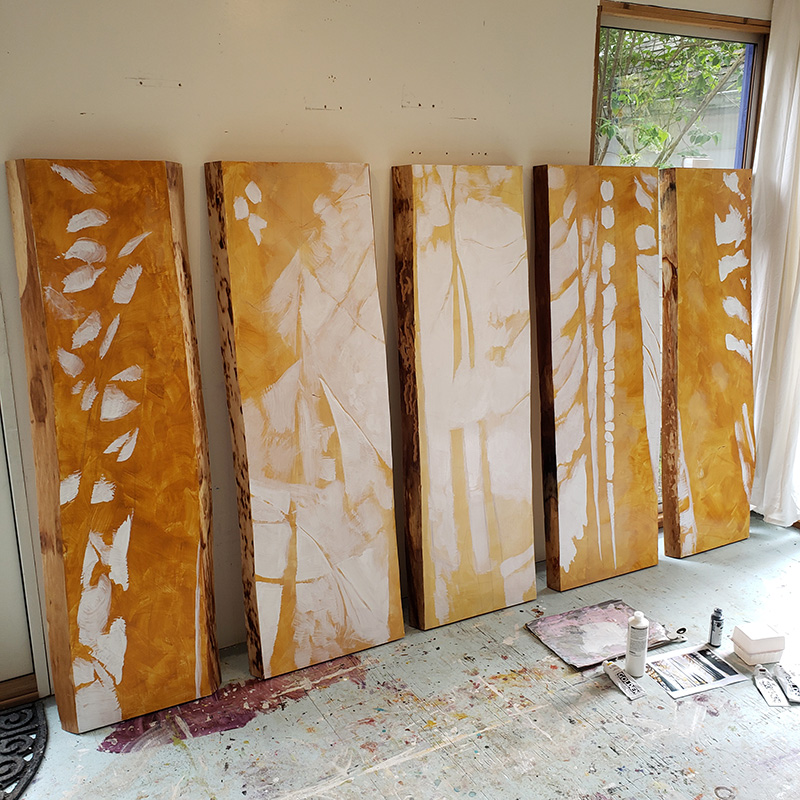 Work in progress: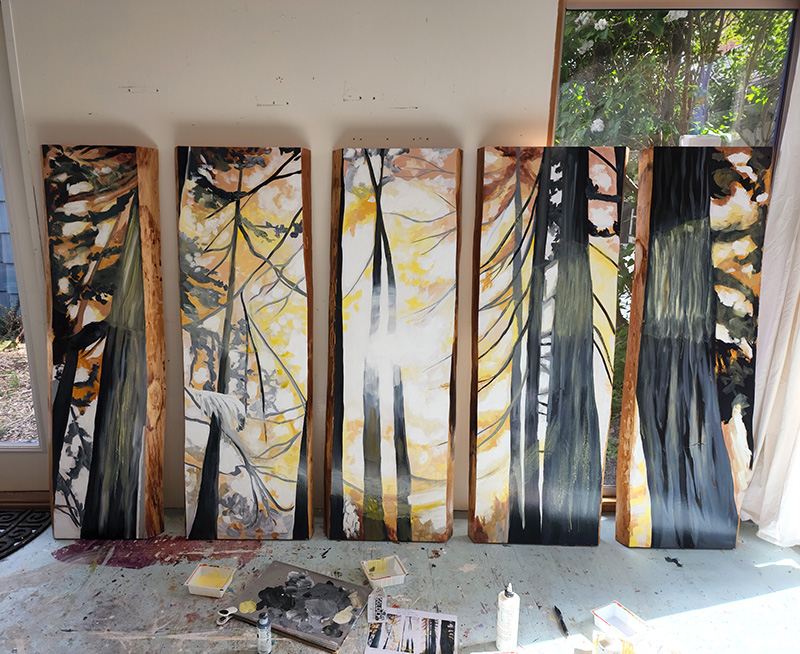 Finished art: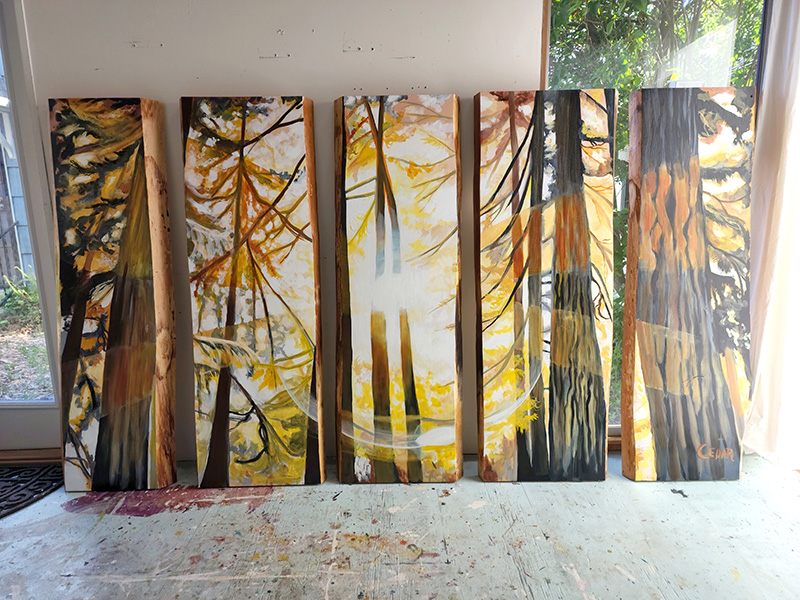 I designed this largest piece, which I painted across the five largest slabs, to be five feet tall and about ten feet across.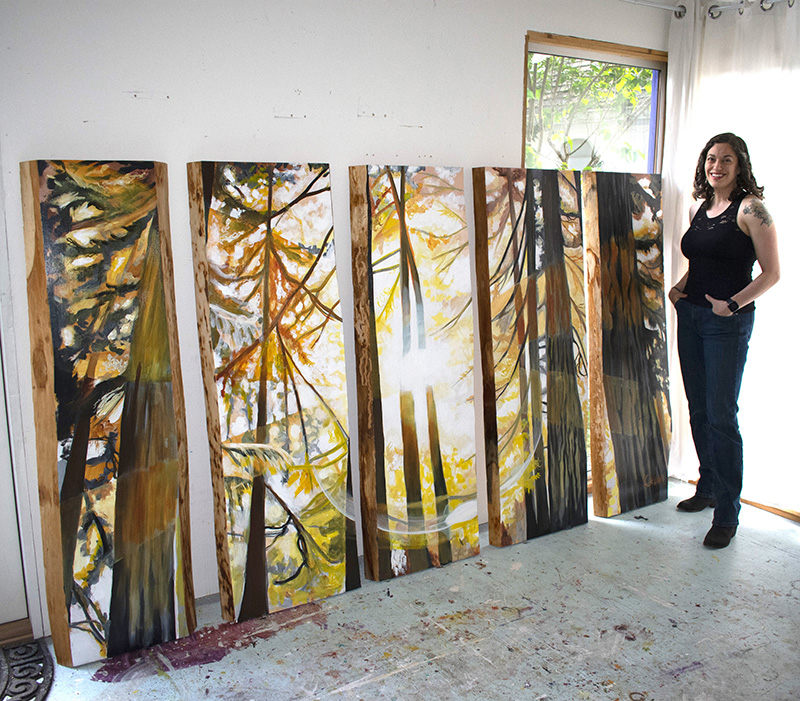 This piece is a huge showstopper to be hung at the end of a corridor, on a large wall in the building's lobby.
Each slab is five feet tall.





I chose a warm, earthy color palette to add color to the space while complementing the neutral tones of the floors and walls: warm orange/yellow/red colors, browns, and bright white with darker tones in charcoal gray and violet.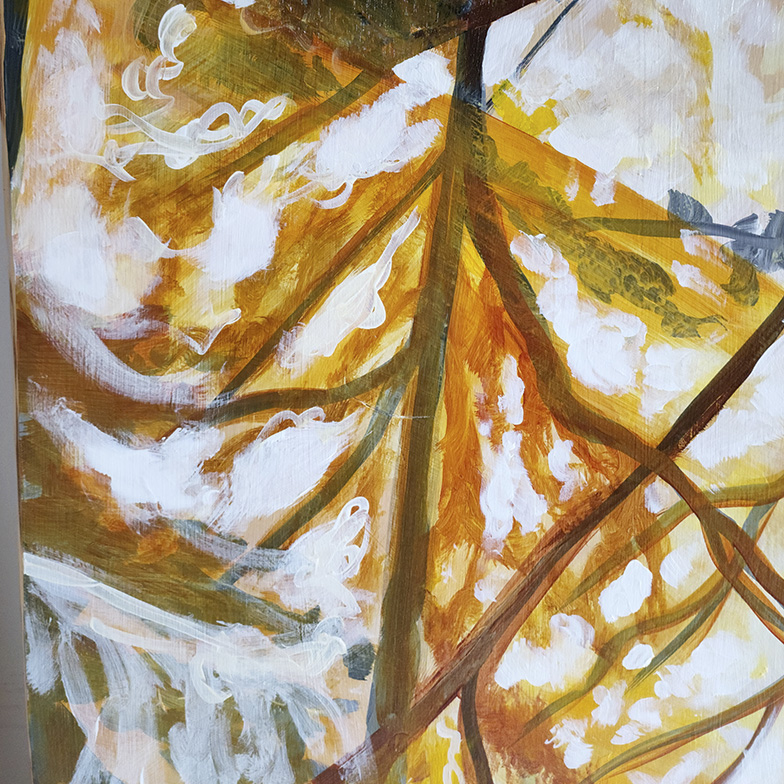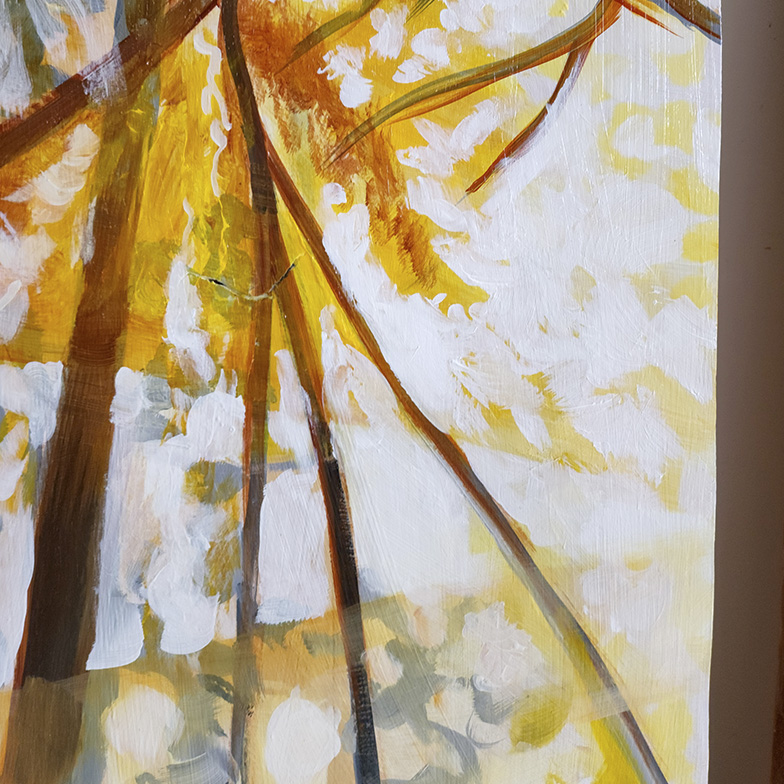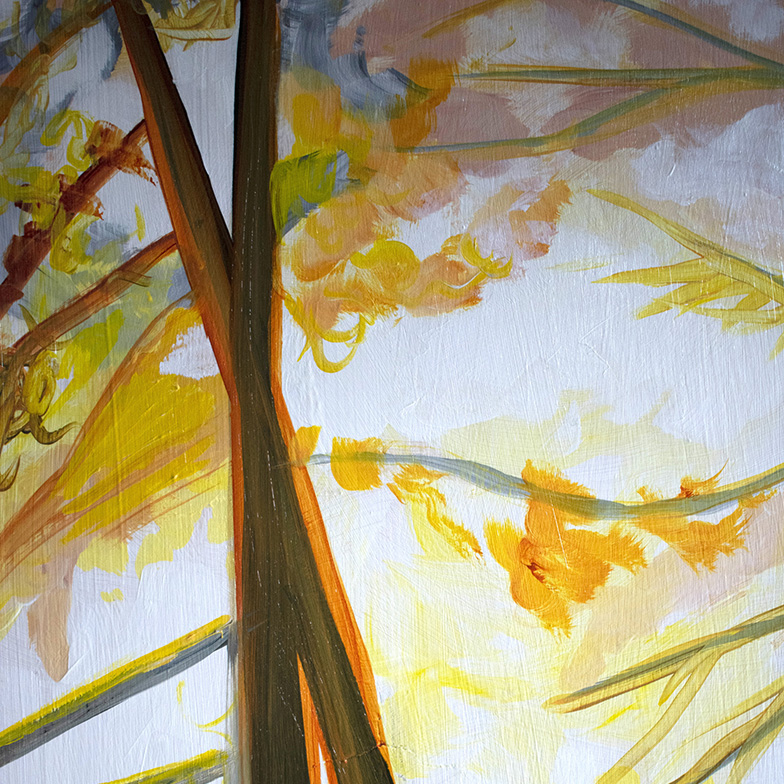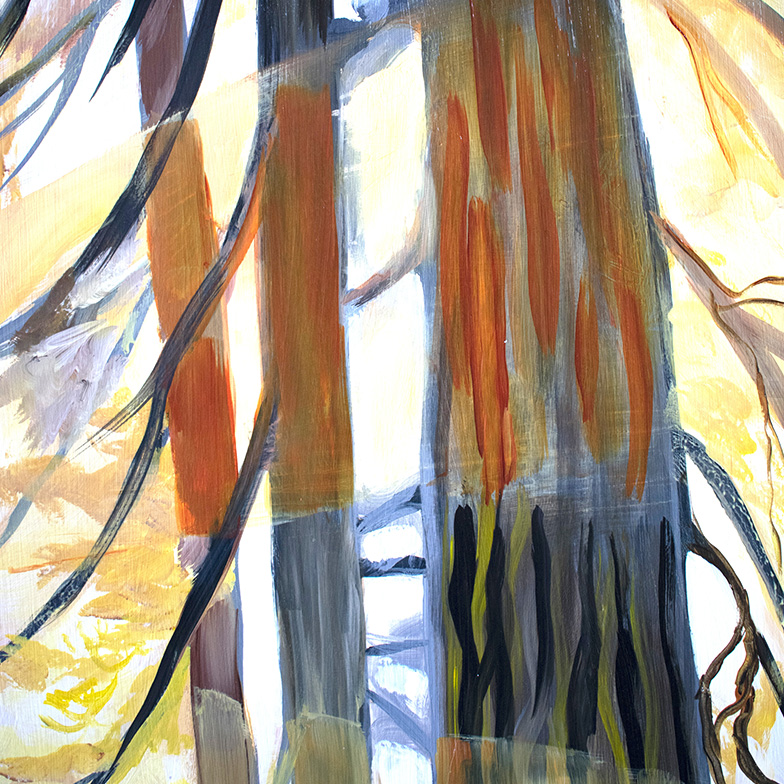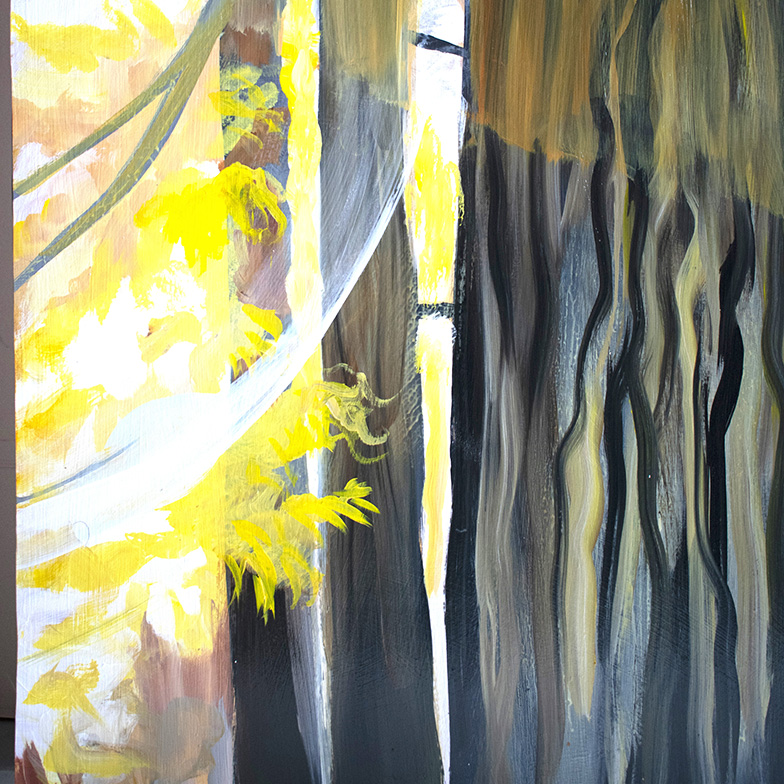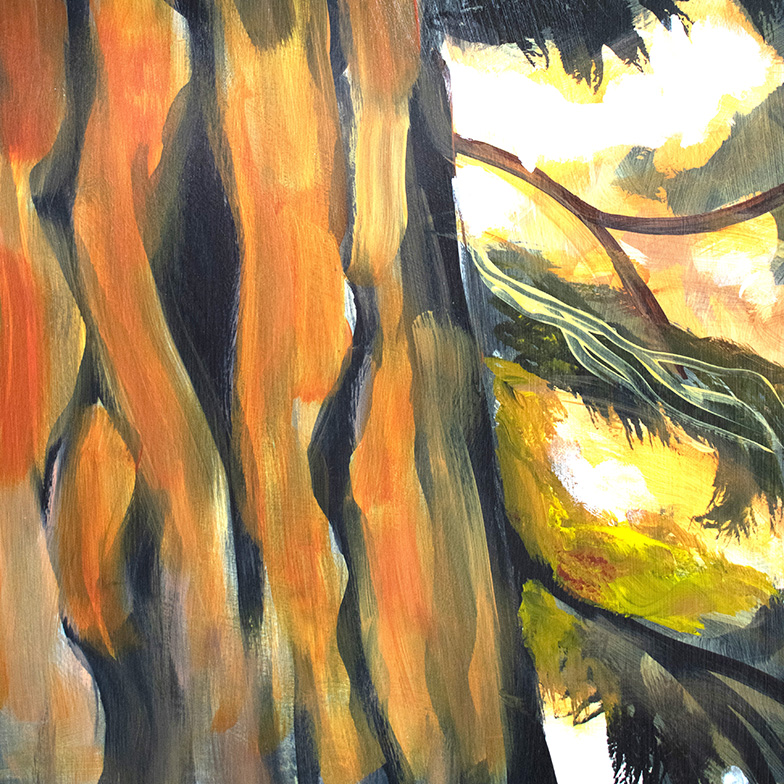 The image spans across the row of vertical slabs. With each slab visually framed by the unpainted wood edges and with a small space between each slab, it is like we are looking at this image through a row of tall windows.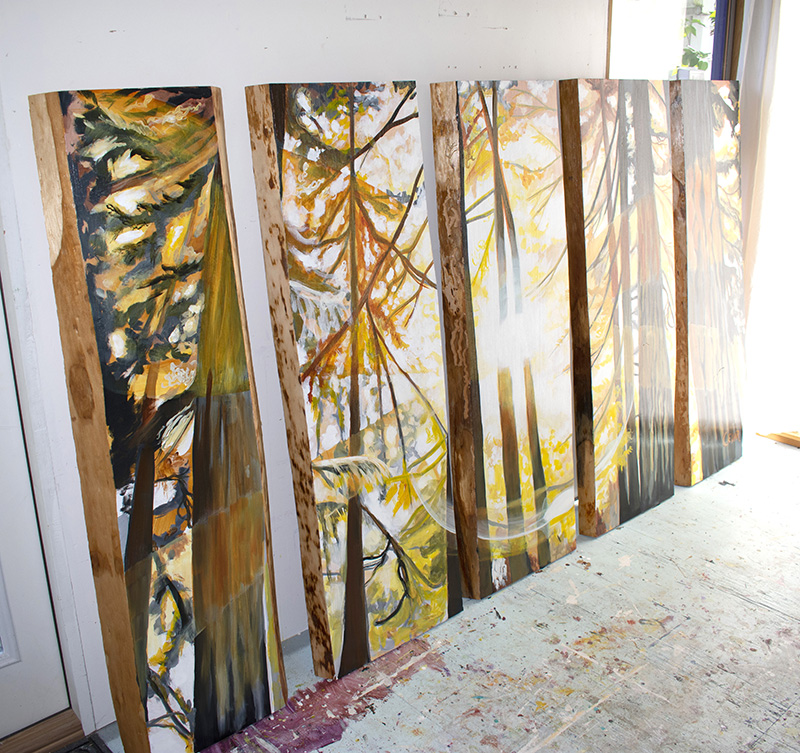 Inspired to be similar to my past painting "Golden Memories," this piece is called "Golden Windows."
Here is that painting: "Golden Memories:"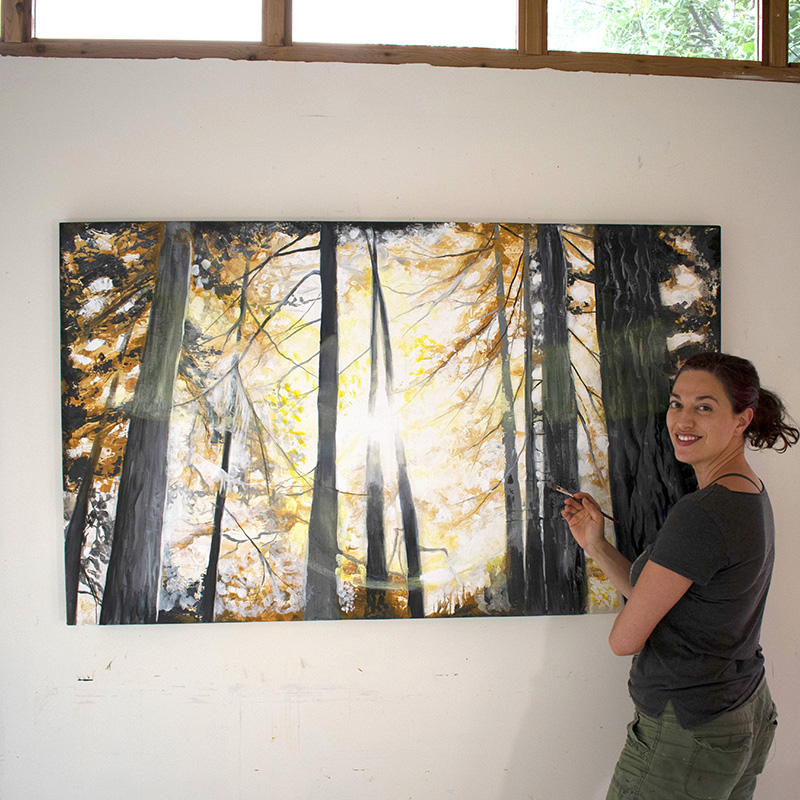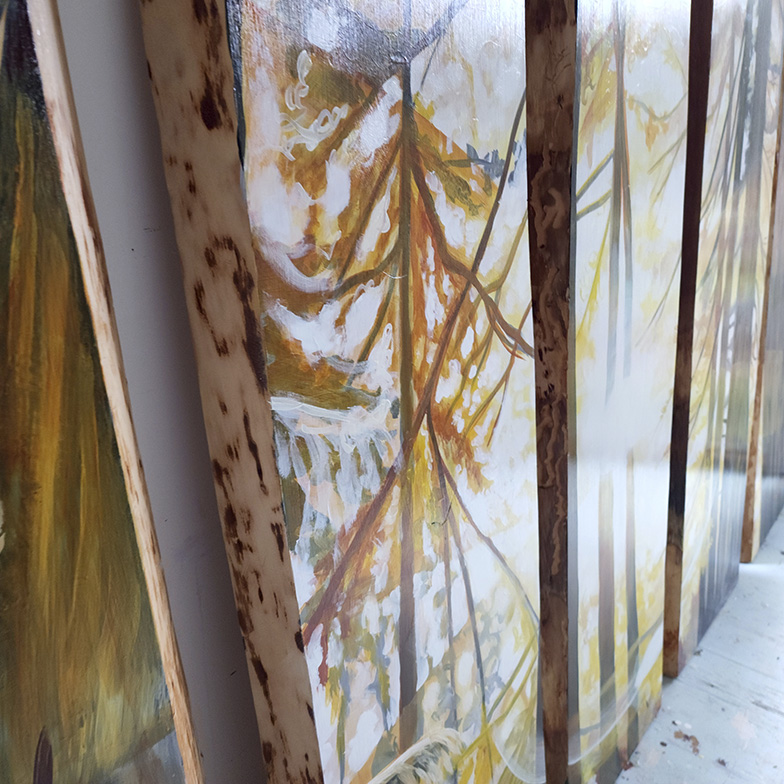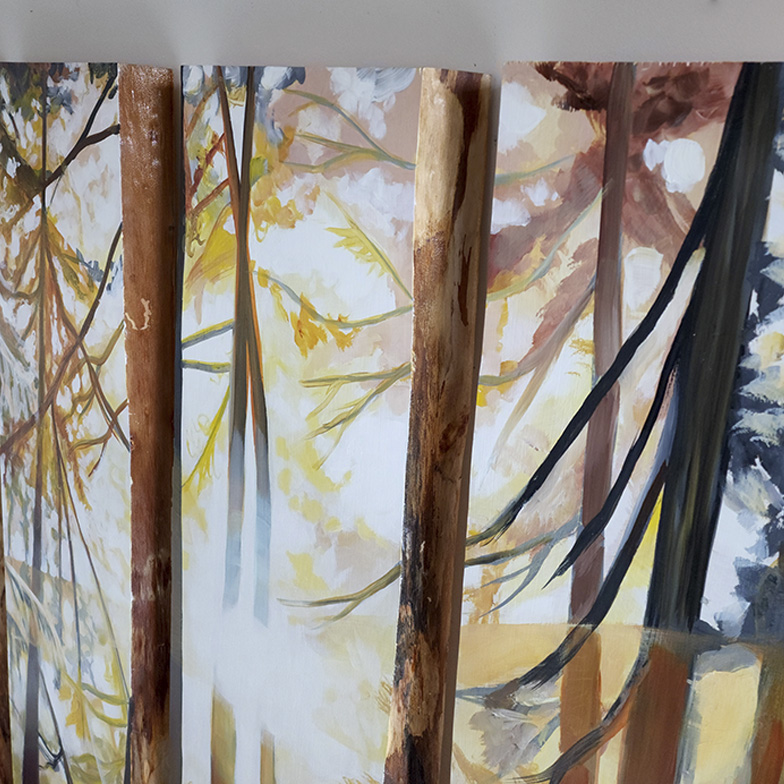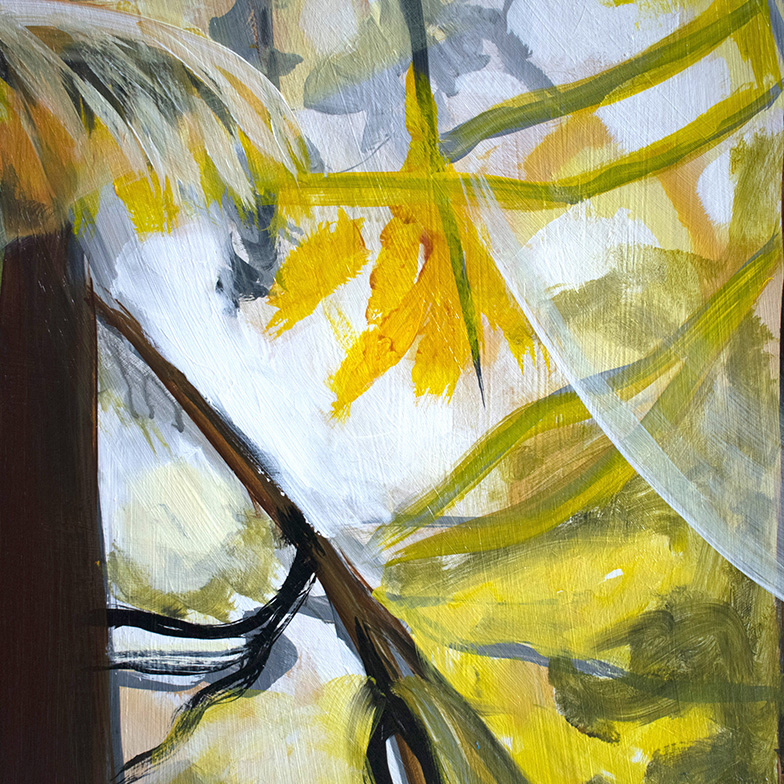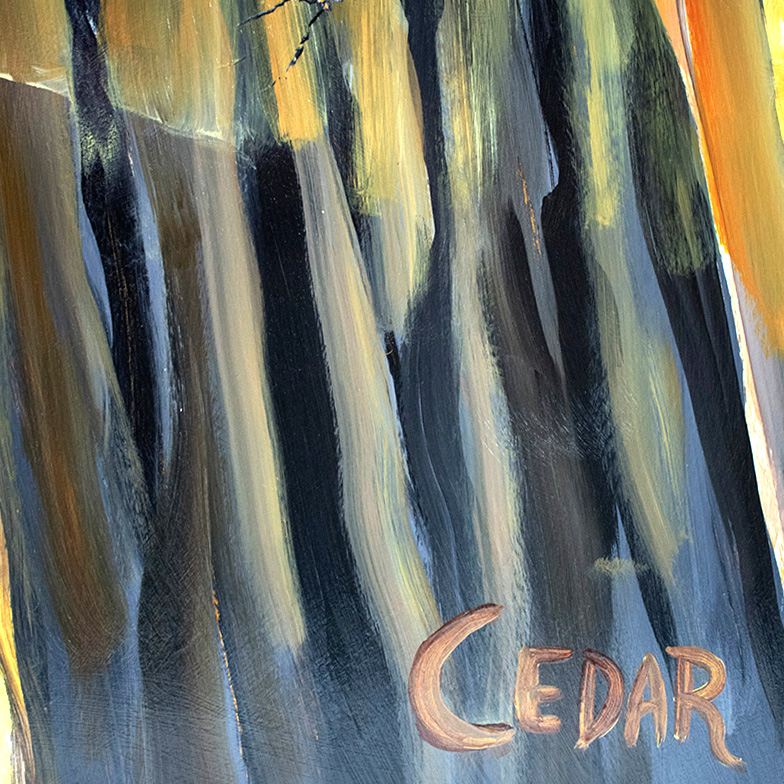 Up close, there are many interesting details, including natural details like termite trails in the unpainted wood edges.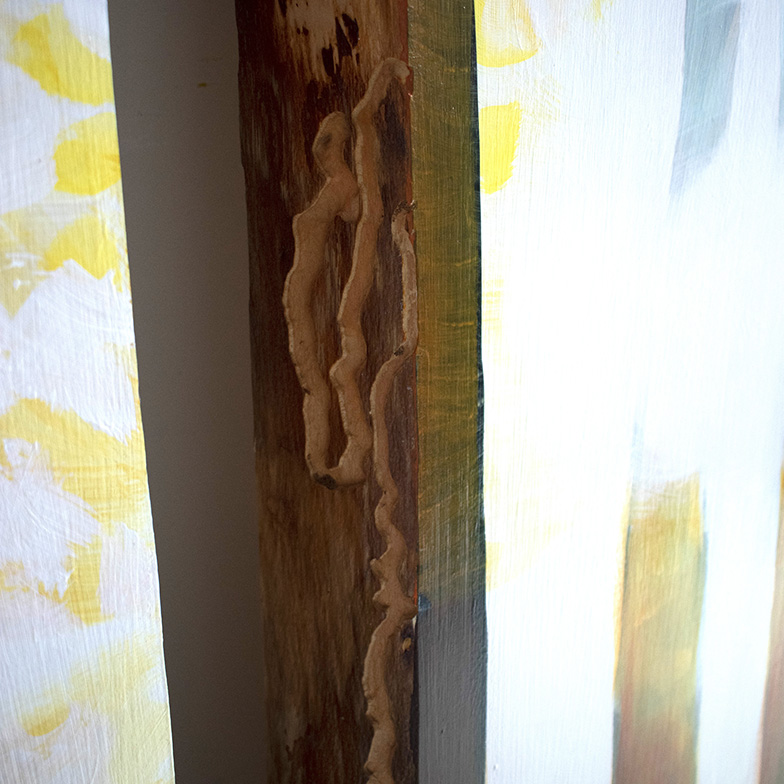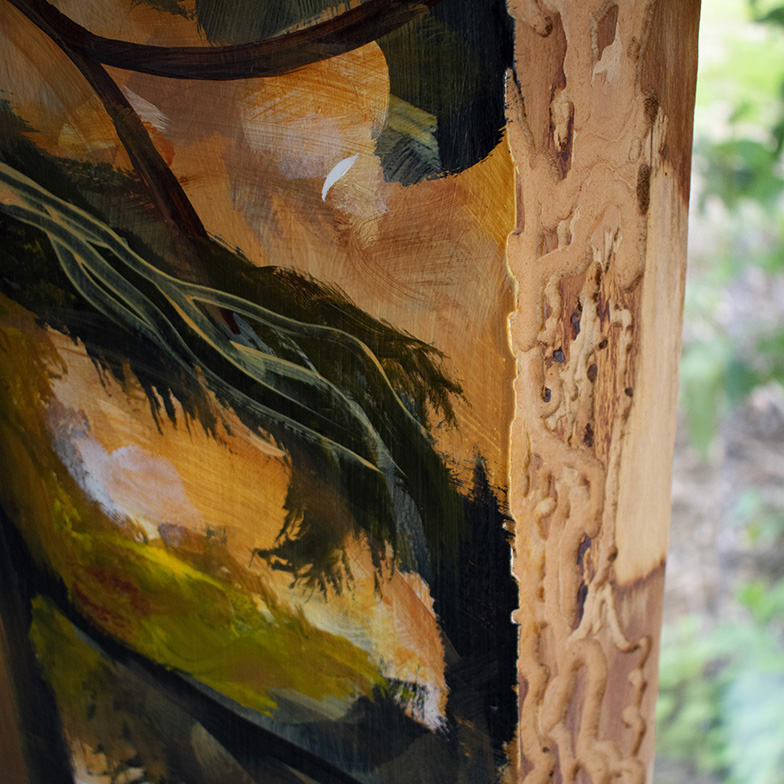 The bright white sun and lens flare in the center of the image is extra dramatic because of the huge scale.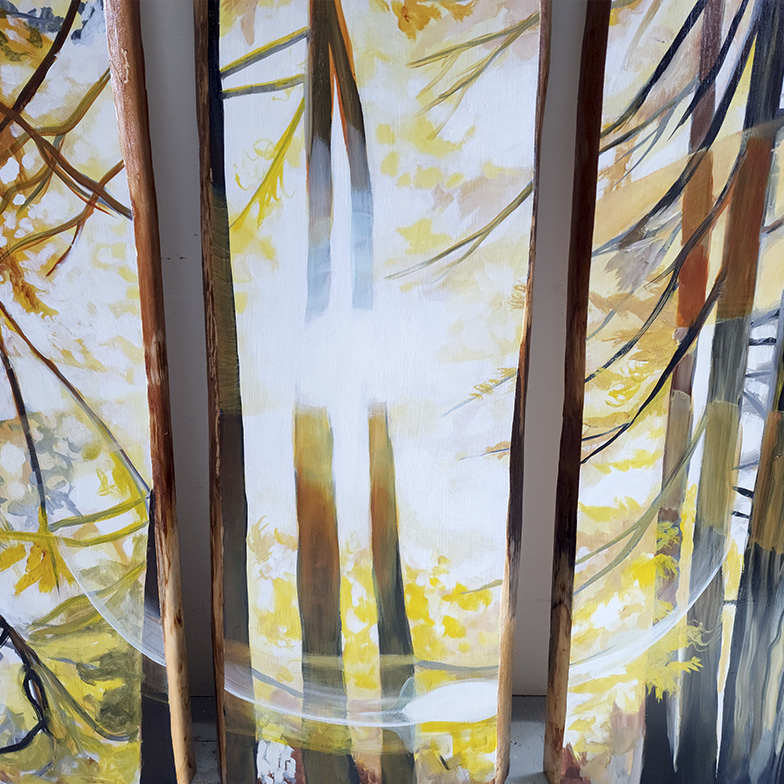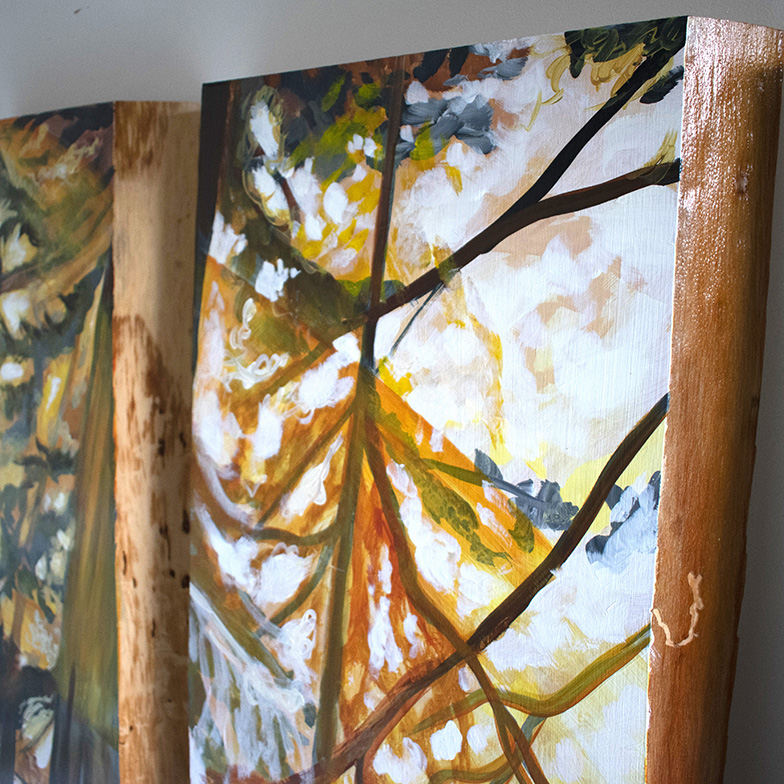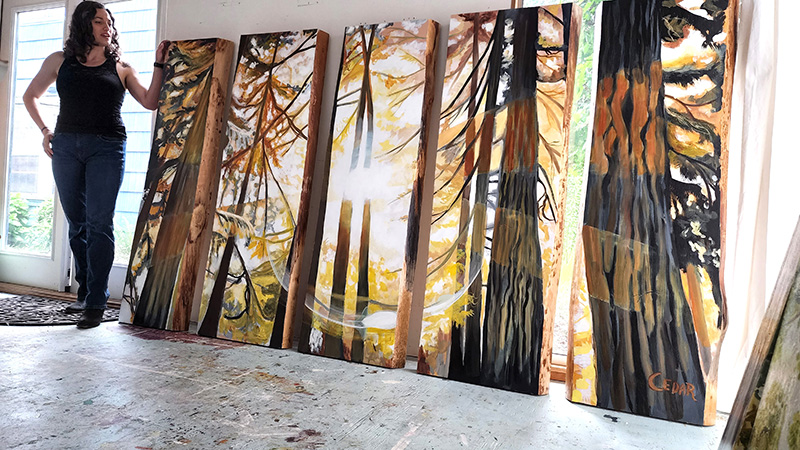 The inspiration behind this imagery is Pacific Northwest forests and an exploration of light!
Here are work-in-progress pictures for the three-panel piece entitled "Sunburst Windows."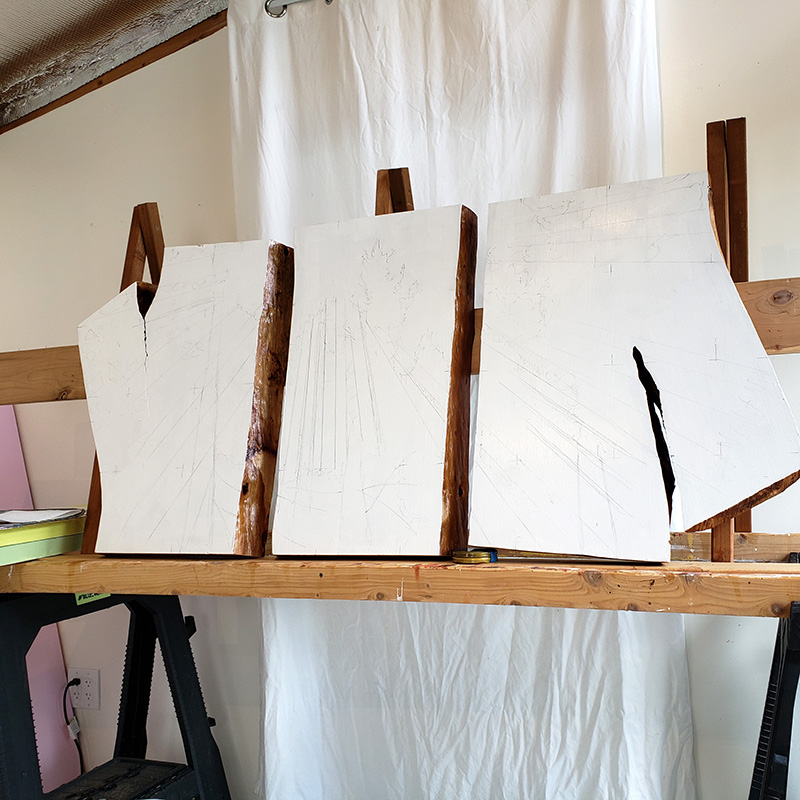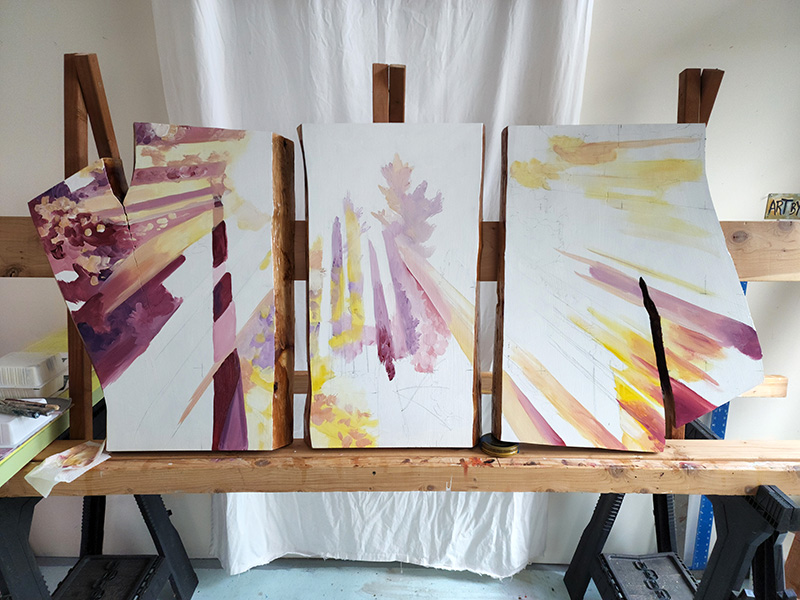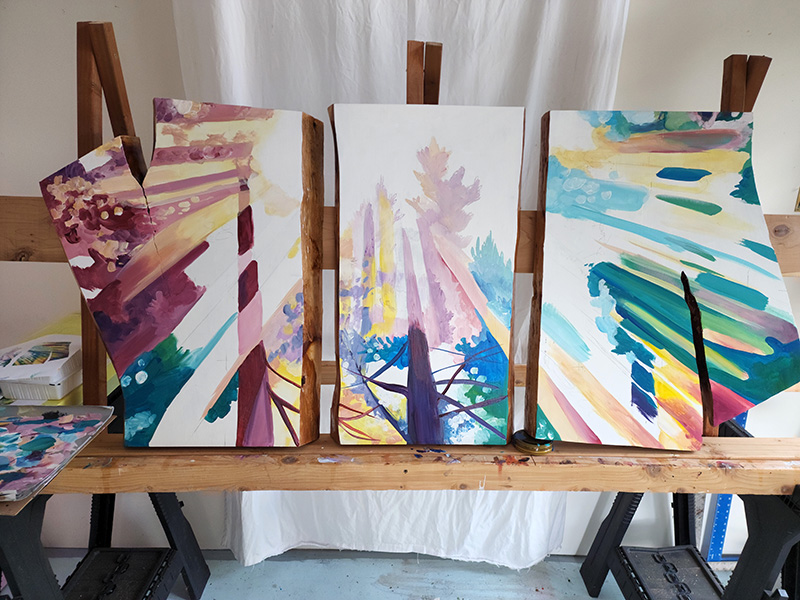 Finished artwork: "Sunburst Windows:"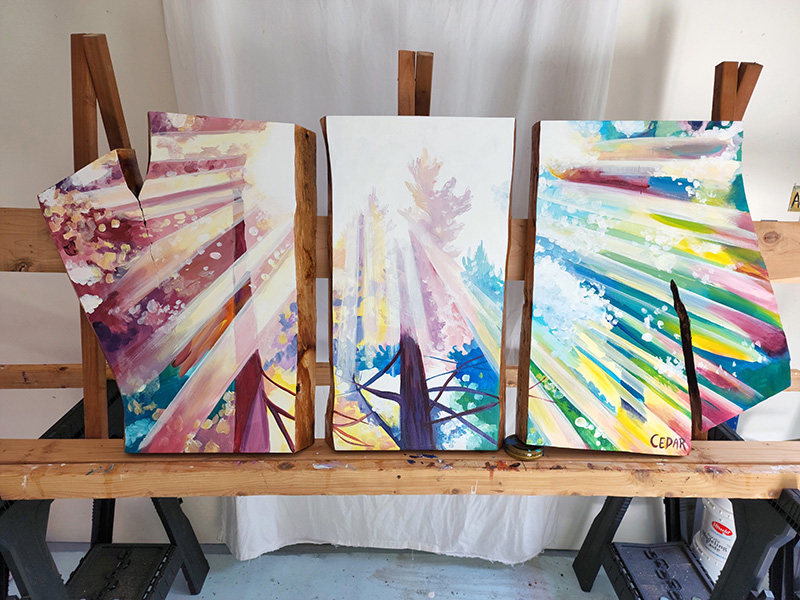 This is an iteration of my previous painting "Sunburst."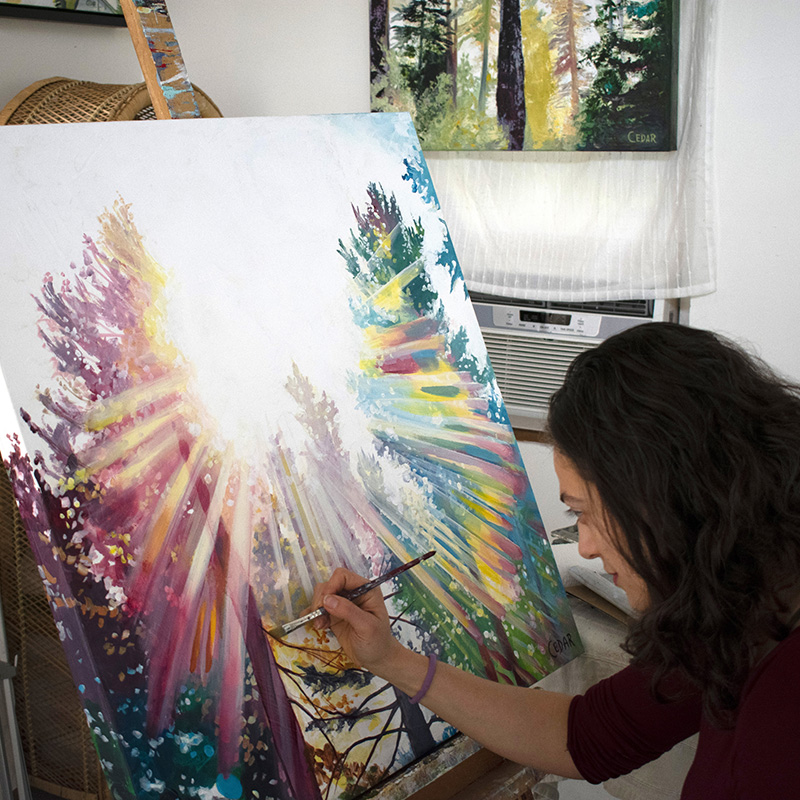 And my painting "Sunburst" was inspired by my the sun in the center of my painting "Prismatic Canopy."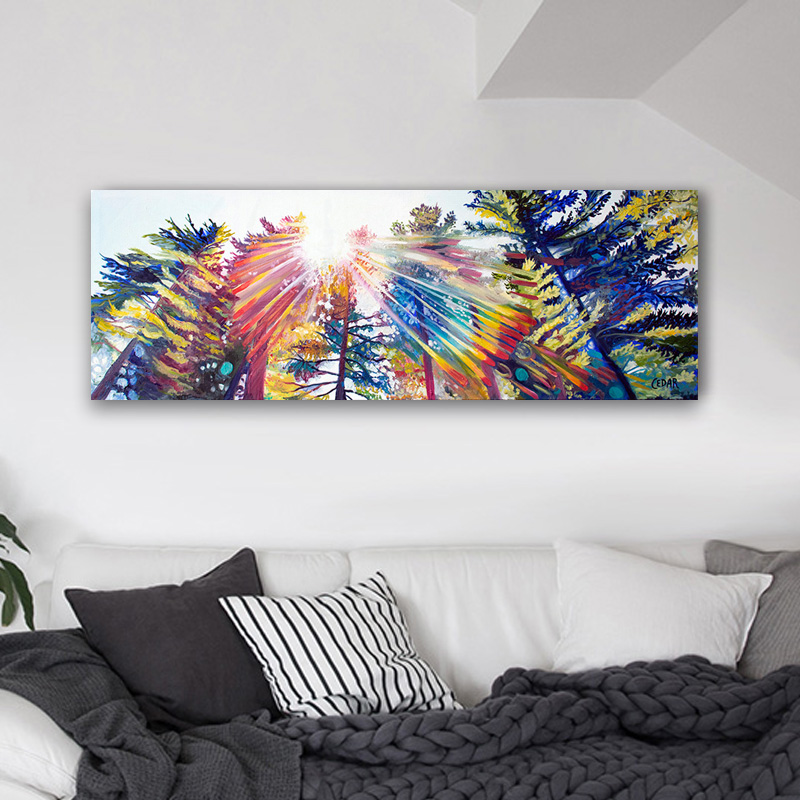 It becomes an entirely new image when painted on these irregular organic shapes, and at a scale that is seven feet across!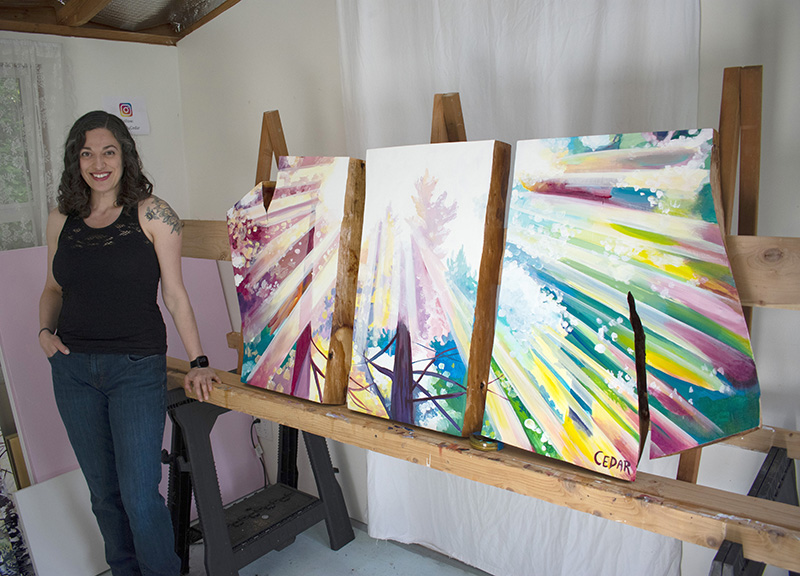 This painting contains all the colors of the rainbow.
Here are close-ups of the three panels: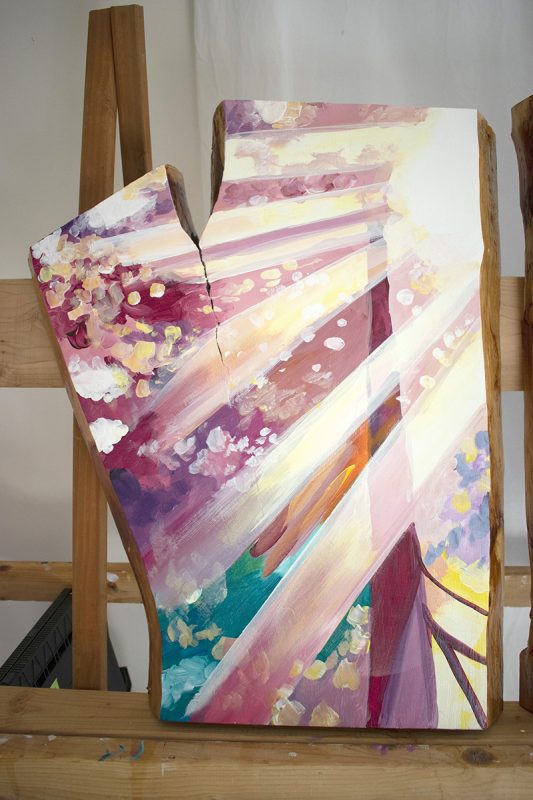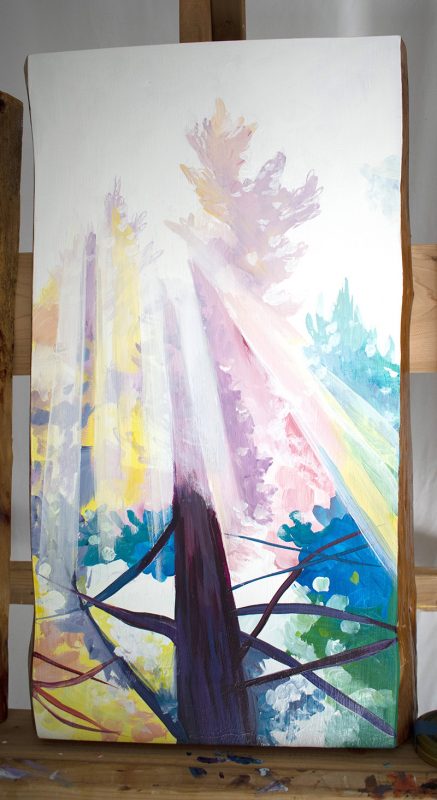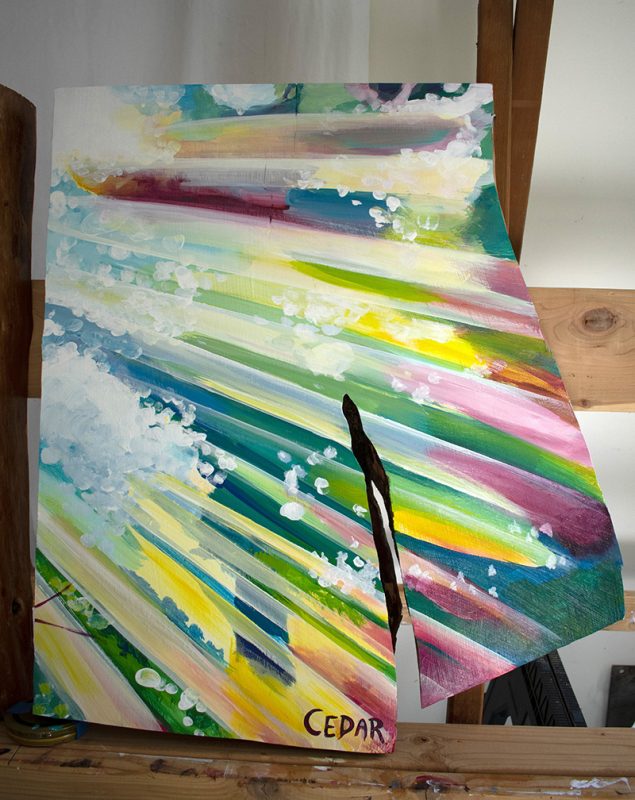 This painting is the most abstract of them all, the focus being the white light that scatters into rainbow rays.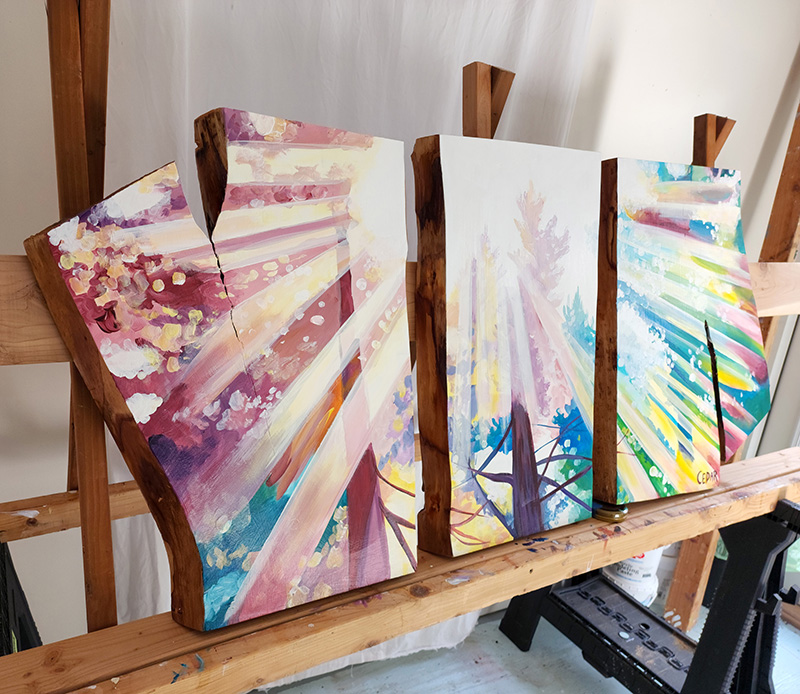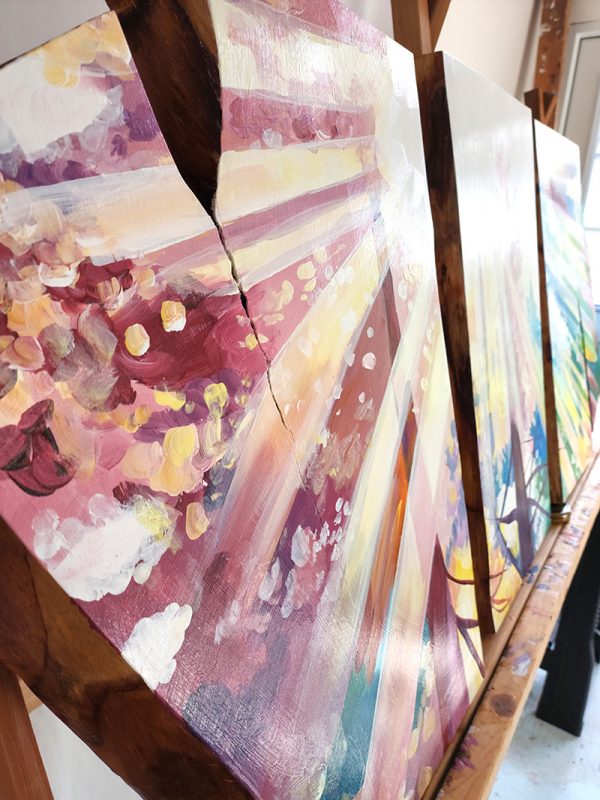 Only when you look at it more closely do you see that it is also a painting of trees, with dots of white light glimmering in the negative spaces in the foliage.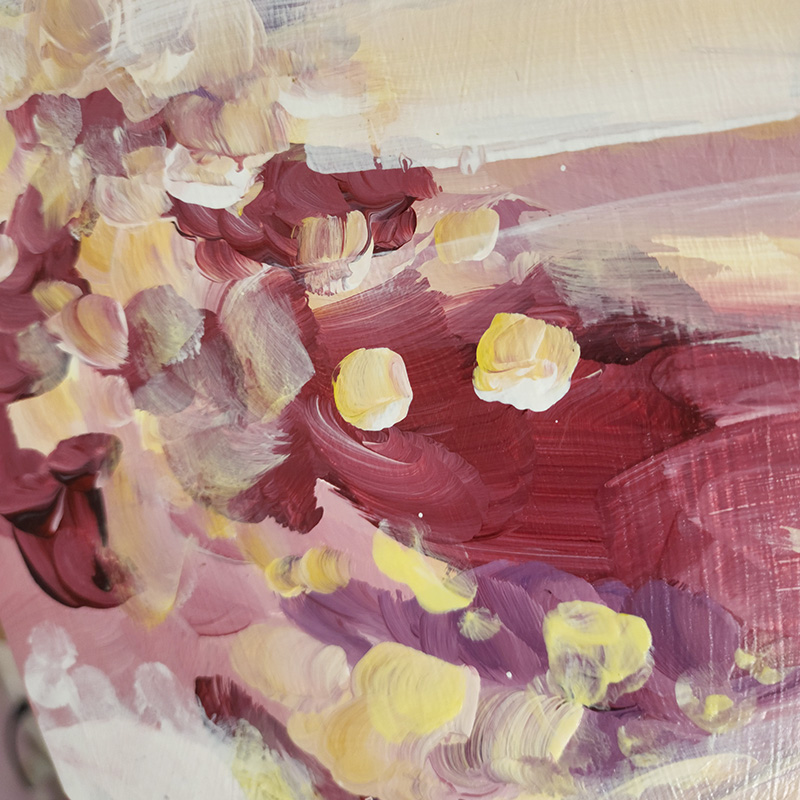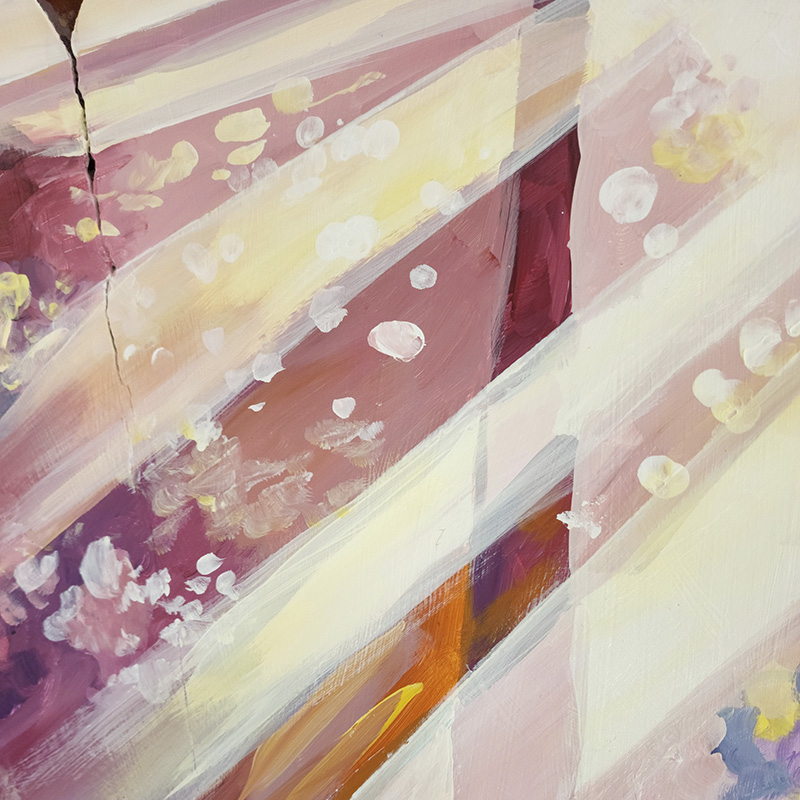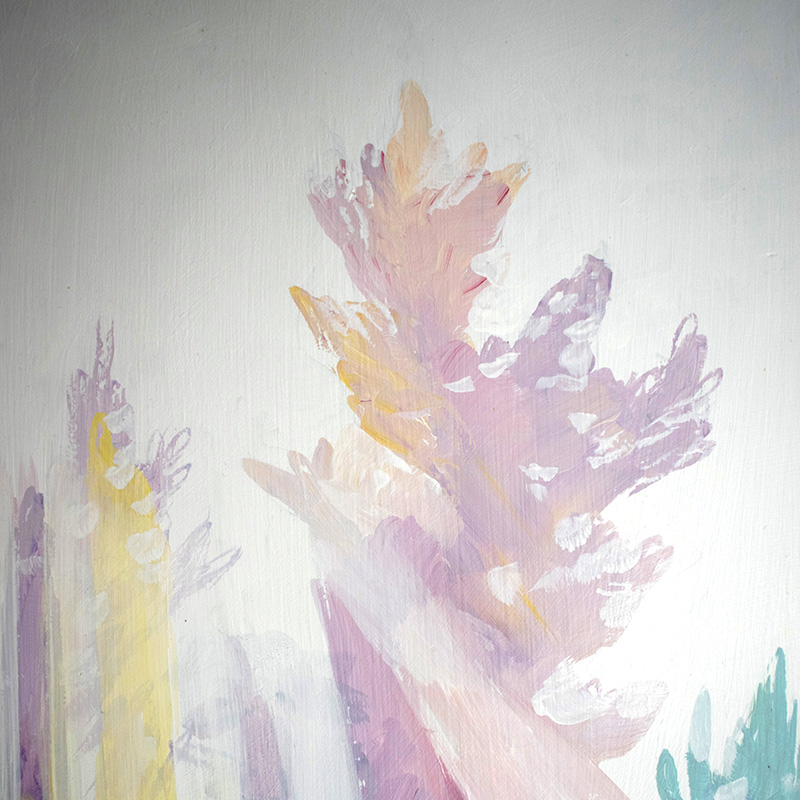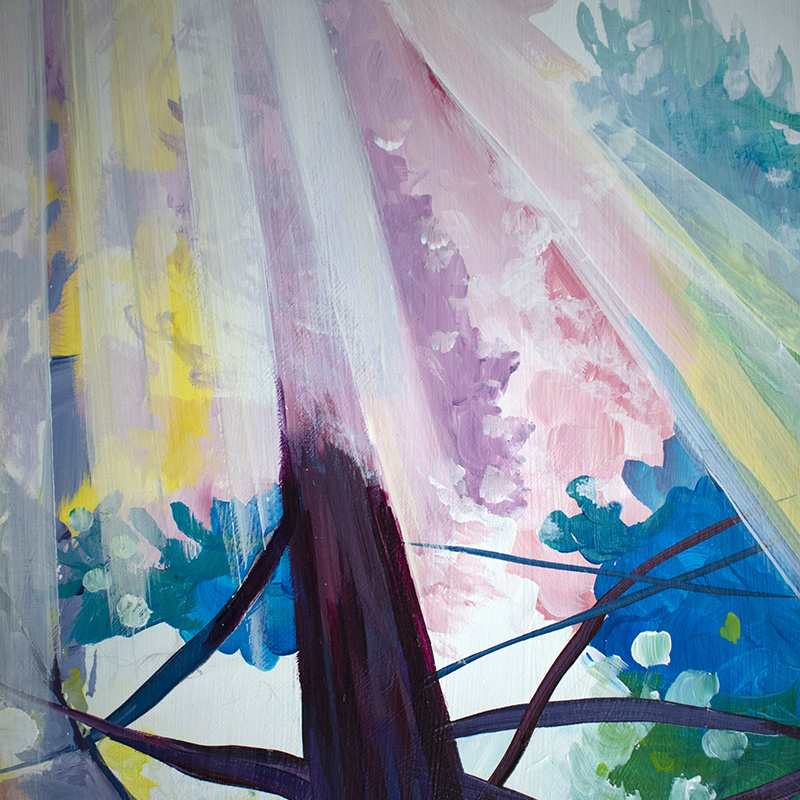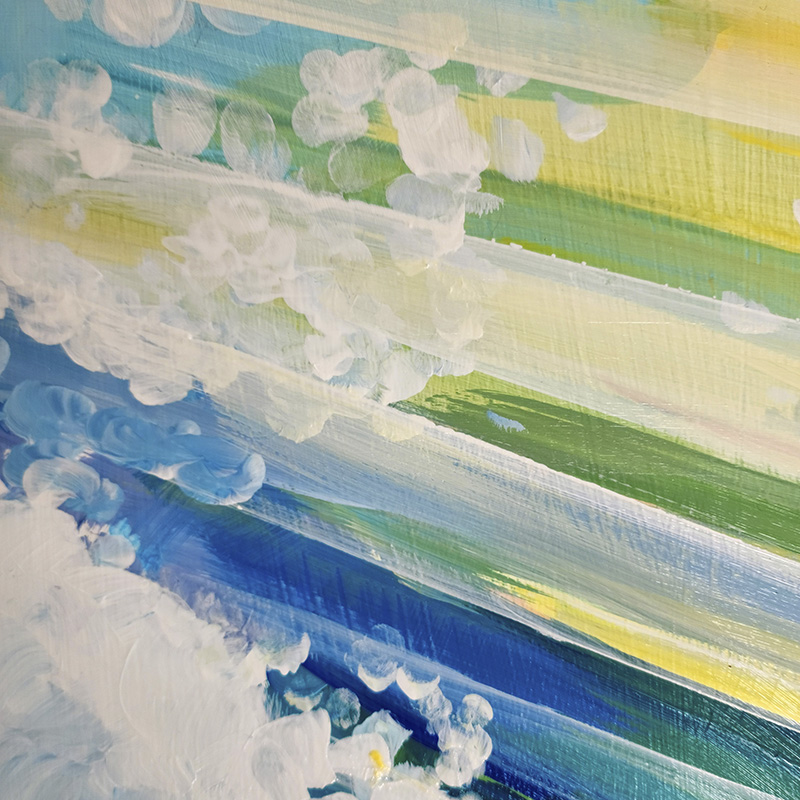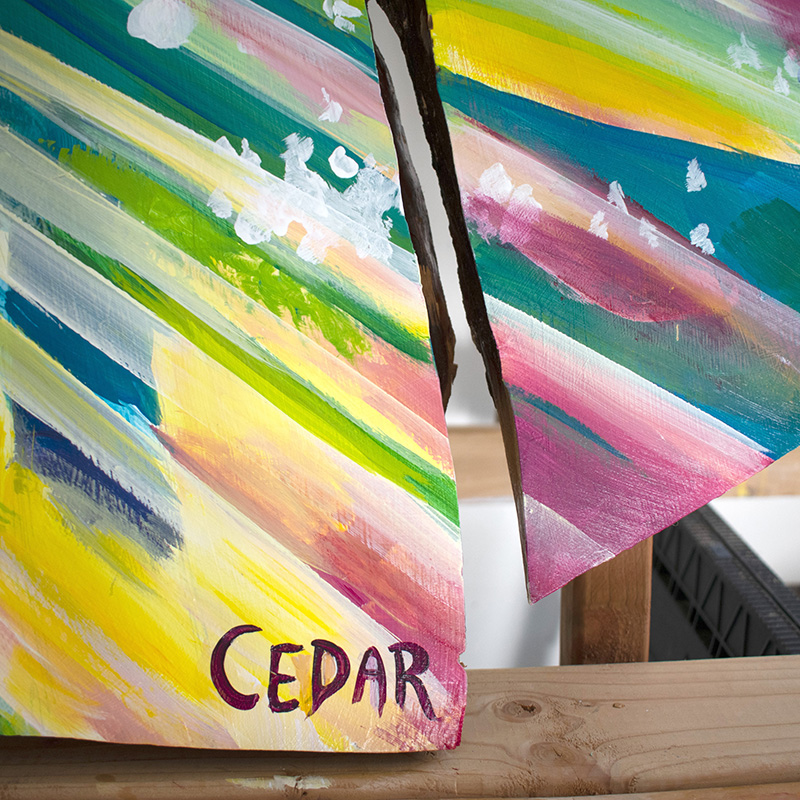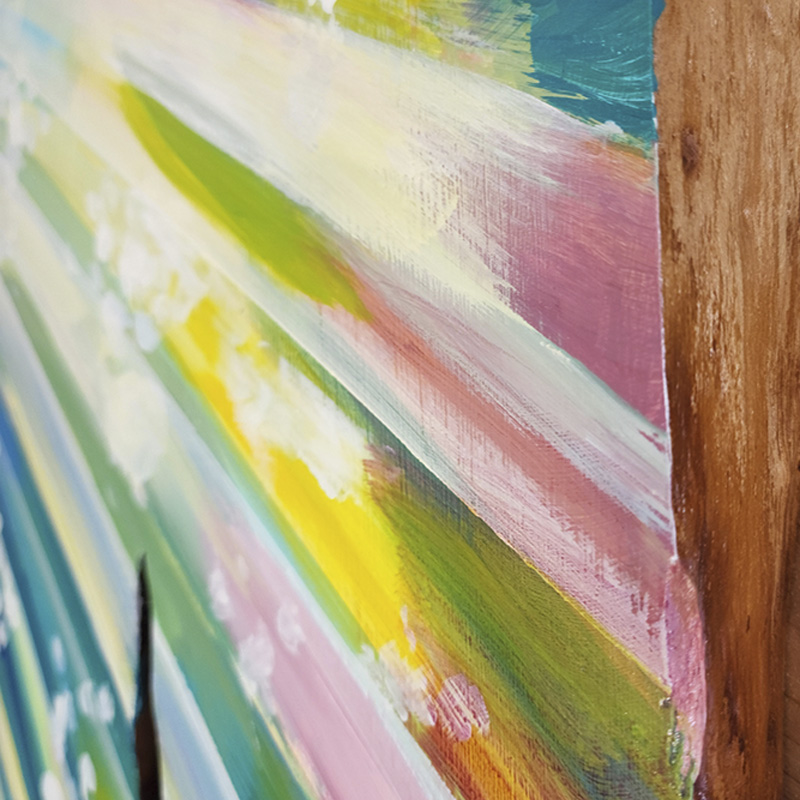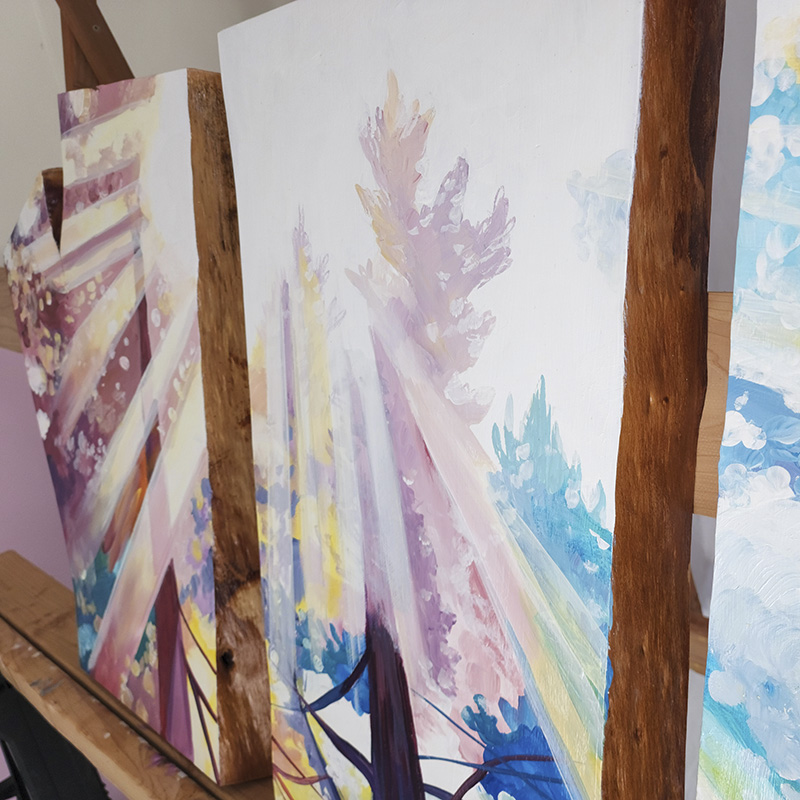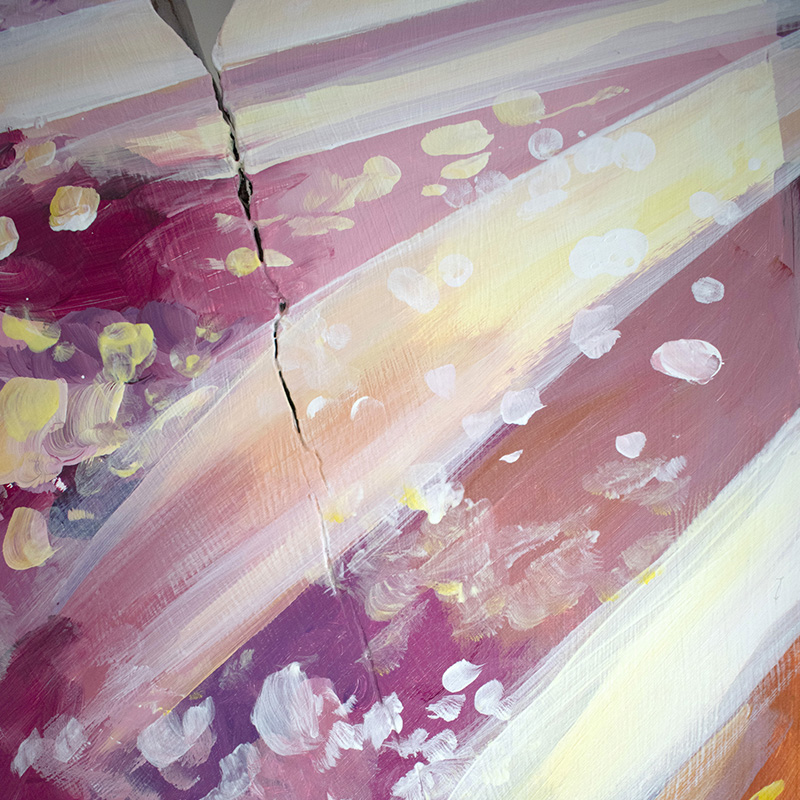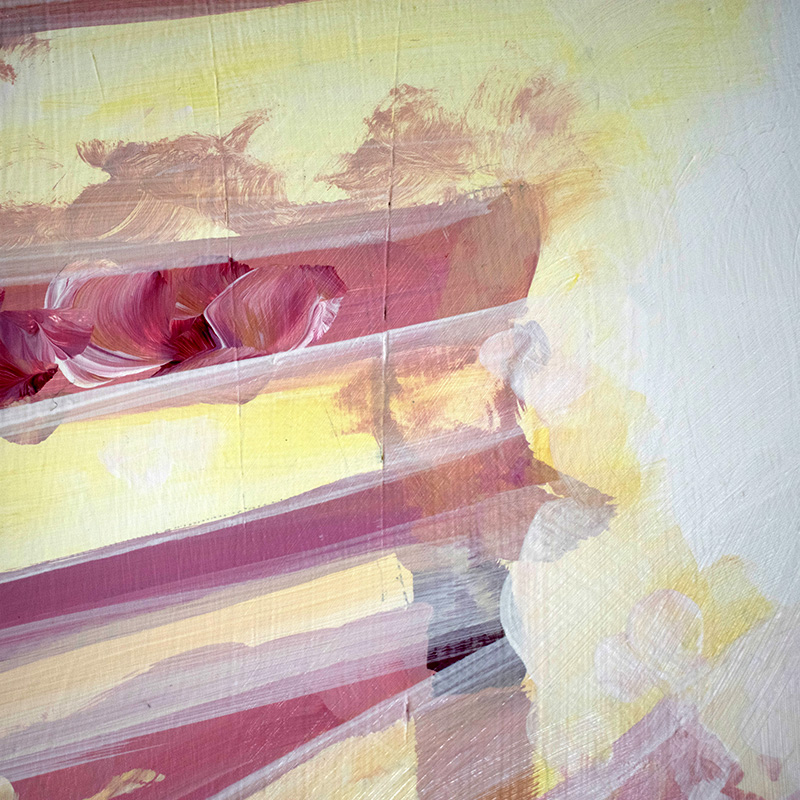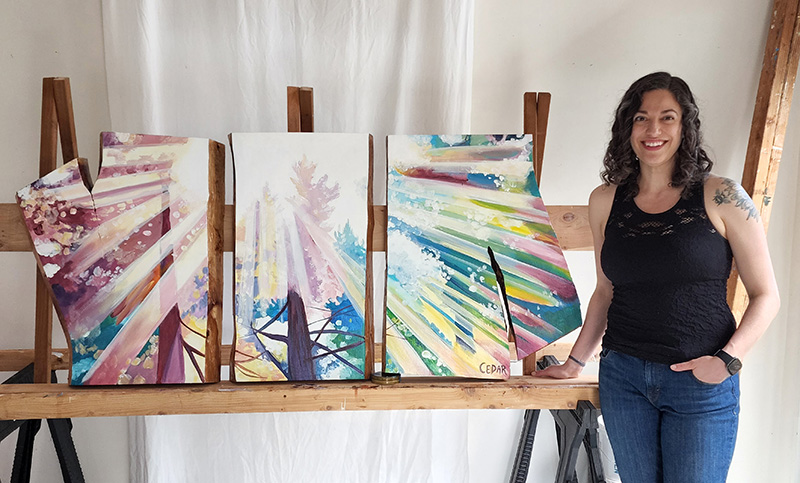 Sunburst Windows will hang in a communal area of the building, near the mailboxes and laundry facilities, where it will add a cheerful burst of color.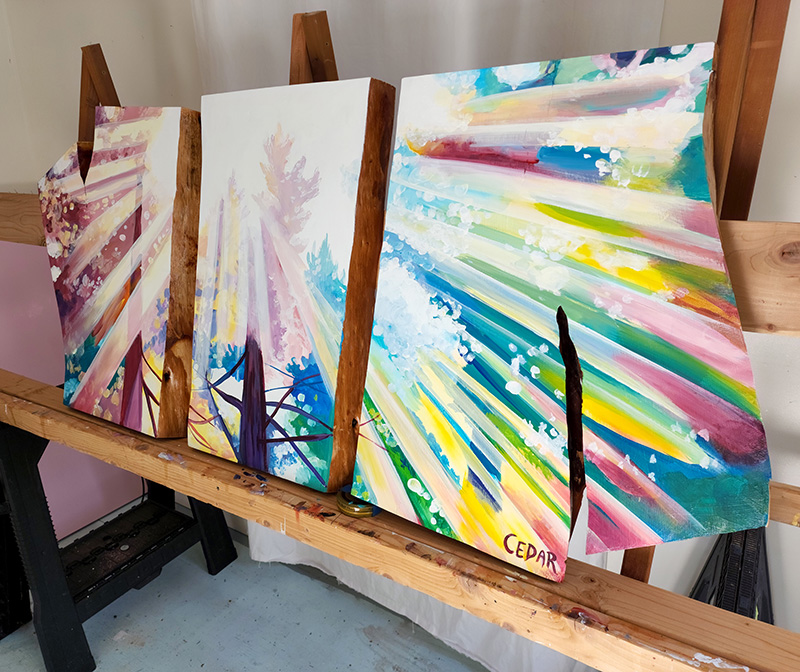 This piece is called "Forest Windows 1."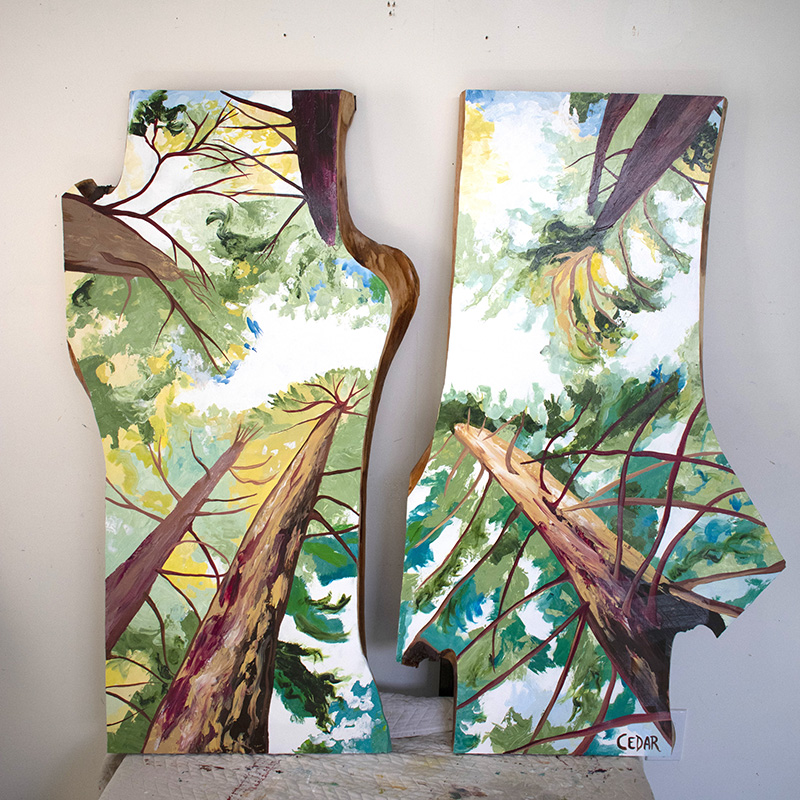 It is based on my previous painting "Warm Woods 2."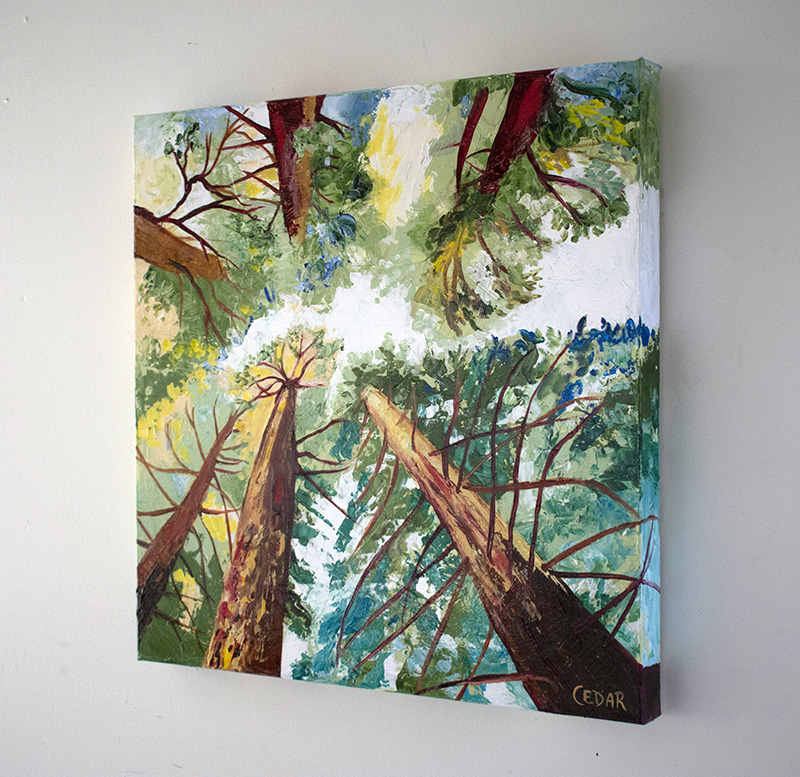 These slabs are a vertical cross-section from the center of a large tree. The protrusions on the sides are where branches started reaching out from the main trunk. I've taken one of the slabs and turned it upside down to create a balance in the shapes.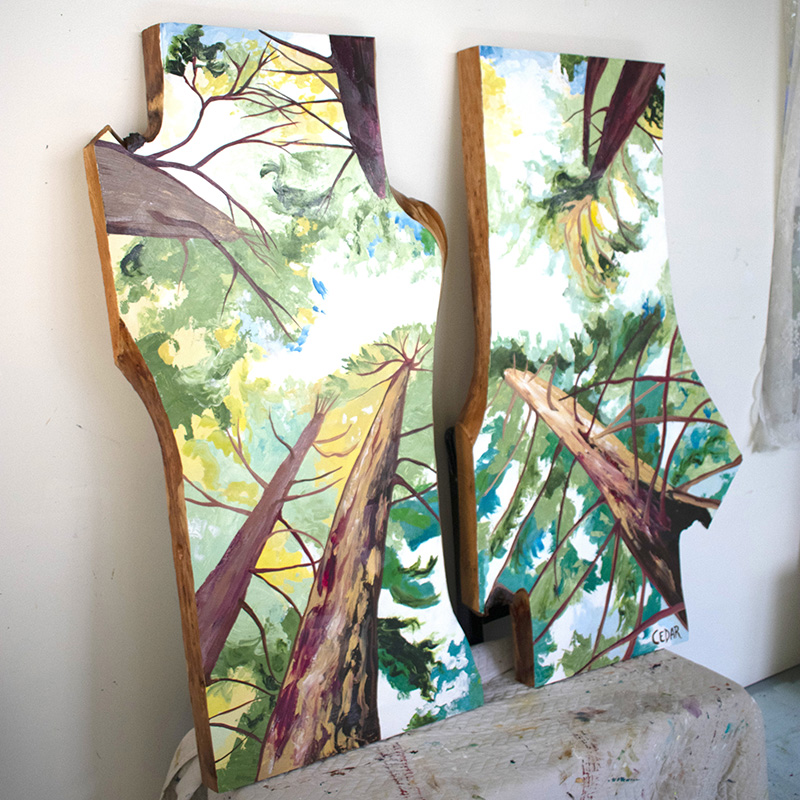 The interesting curves of the wood slabs fit together in such a way that the empty space between the two pieces becomes part of the composition.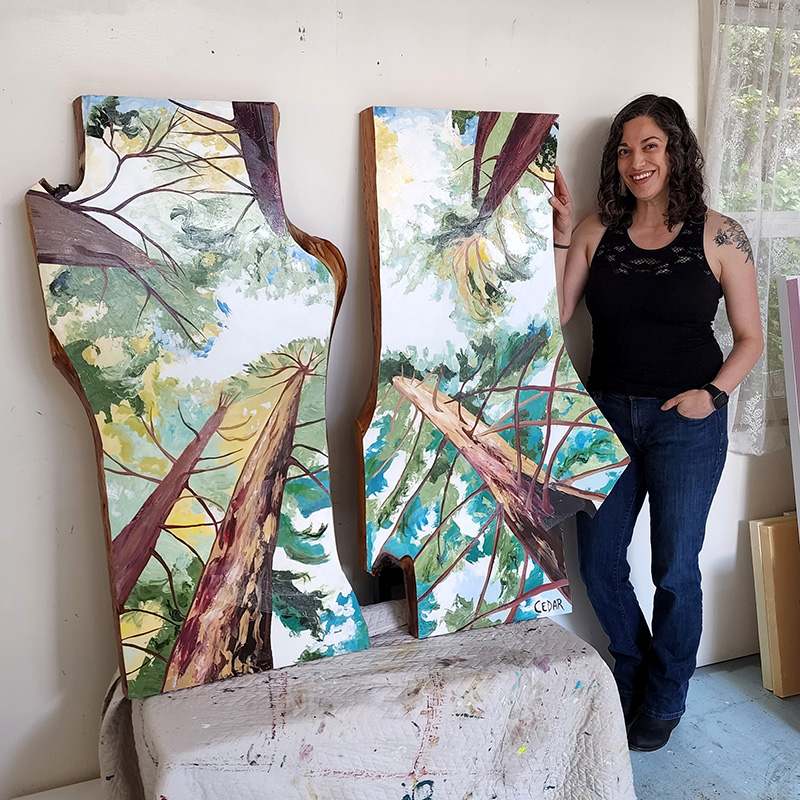 Looking up into the sky in the center of a circle of trees often feels like a sort of window. This piece adds another level, so this empty space between the two slabs is like a window within a window.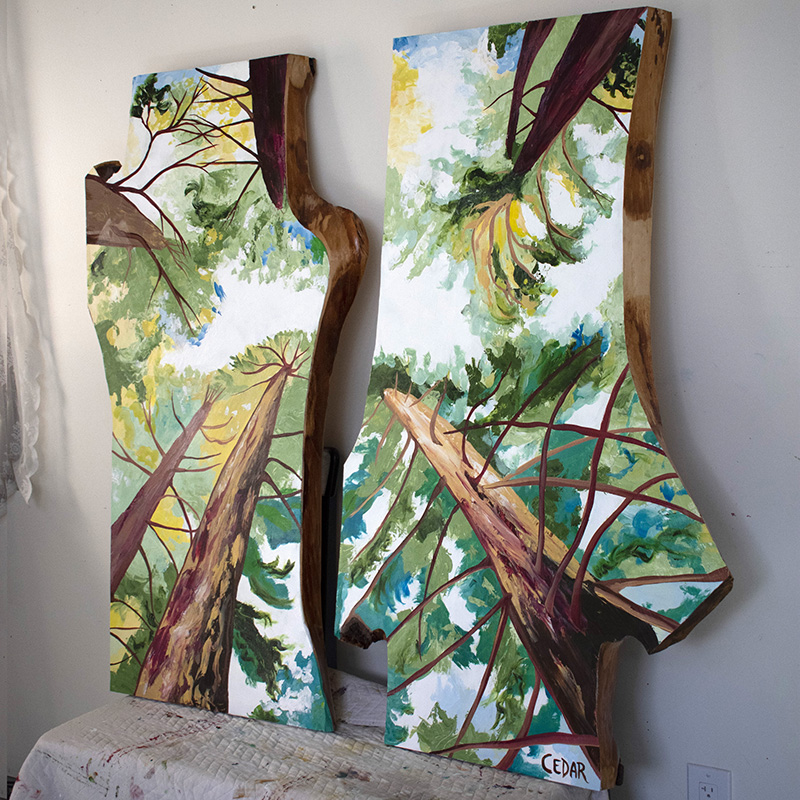 This piece has a warm and sunny feeling, with the bright sunlight, yellow, warm greens and browns.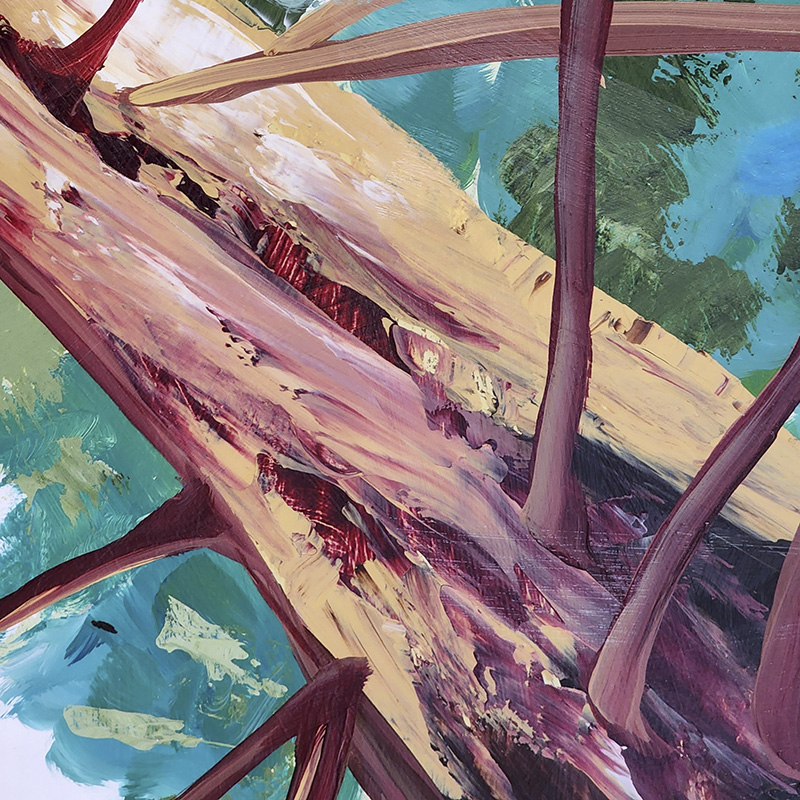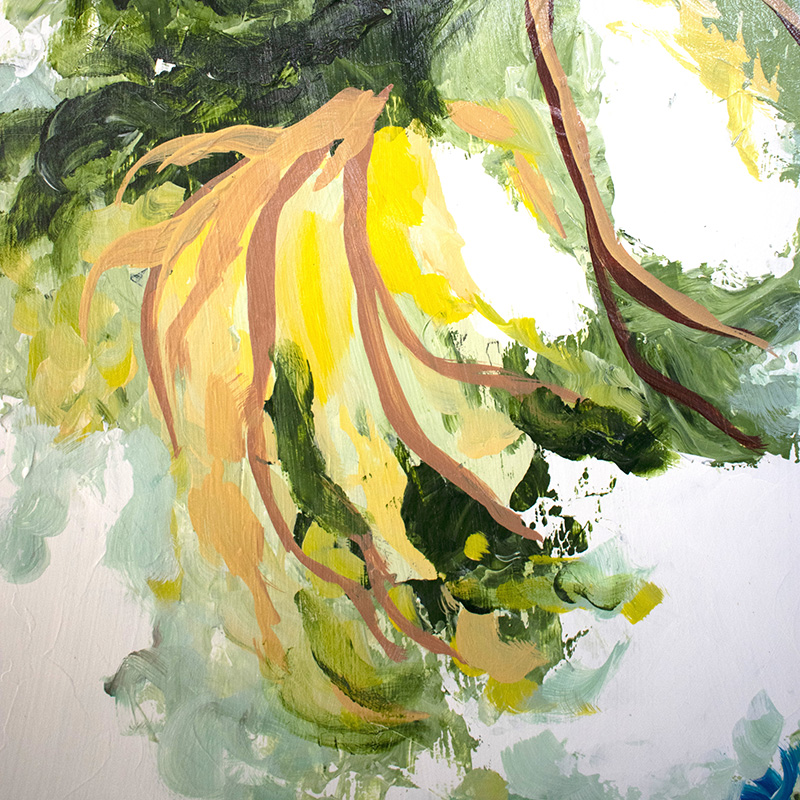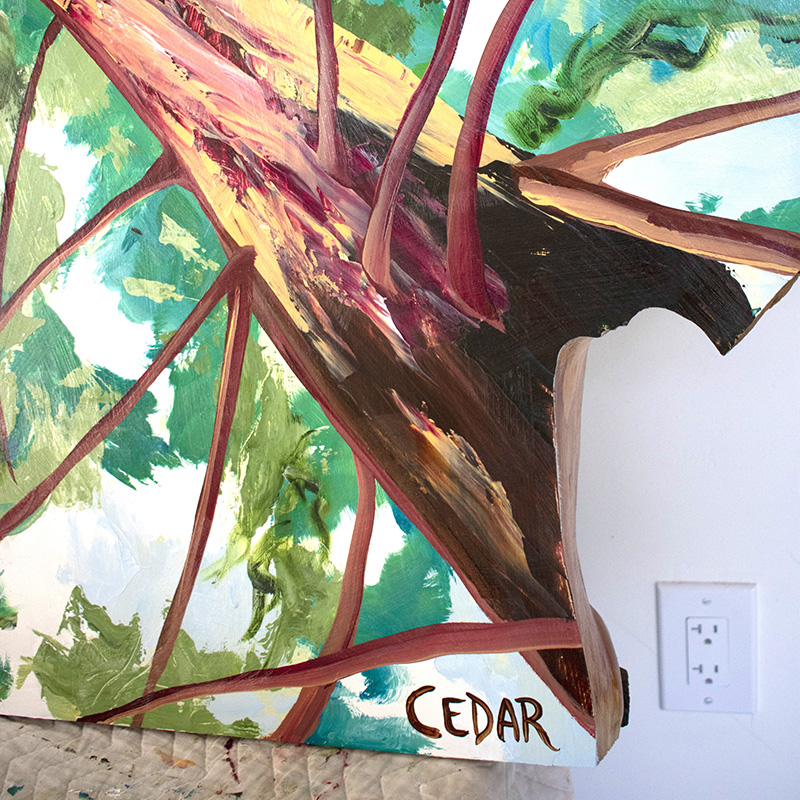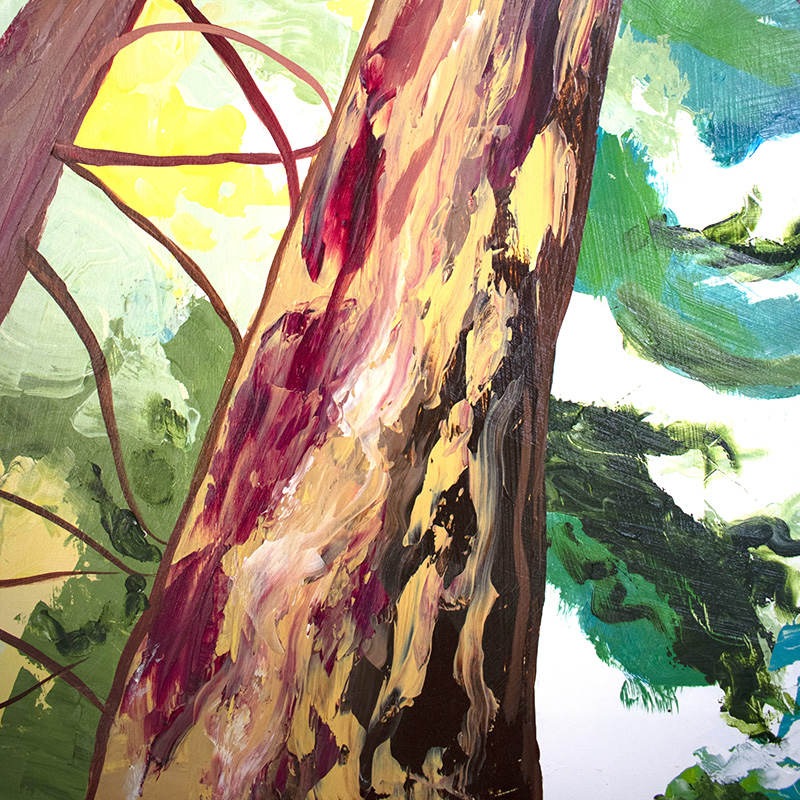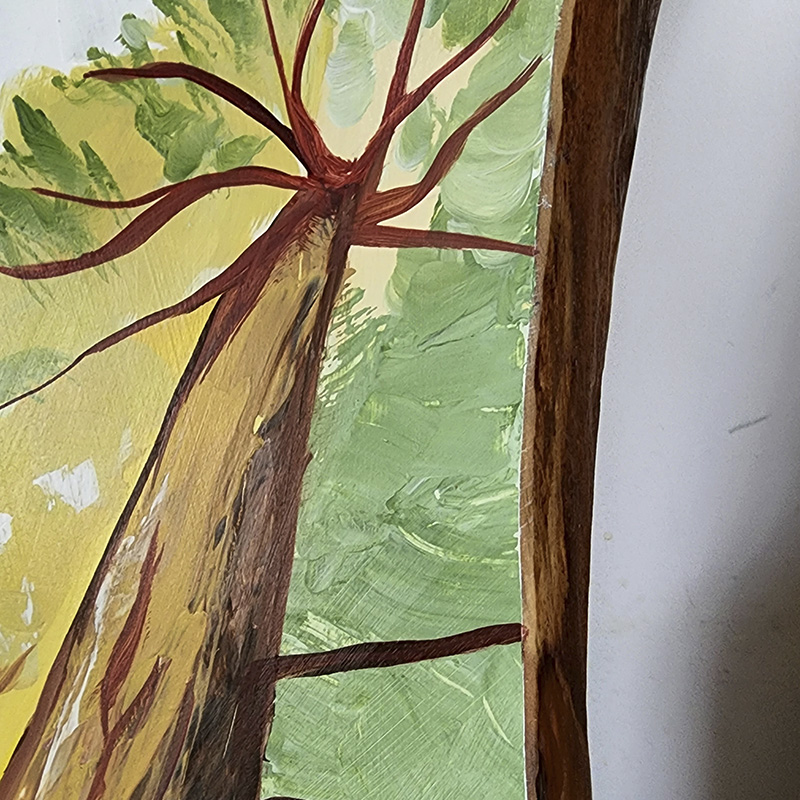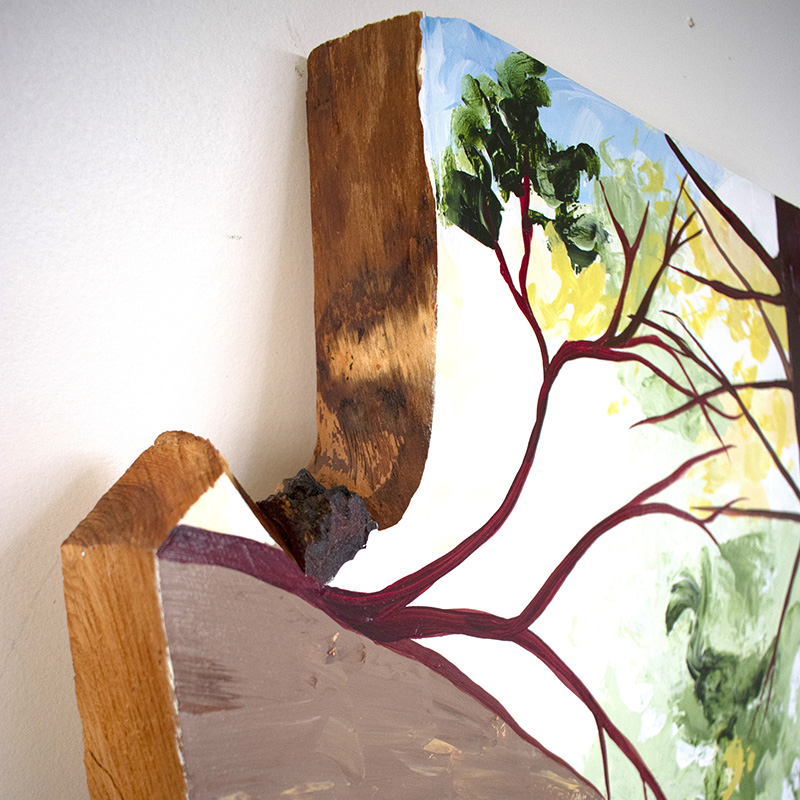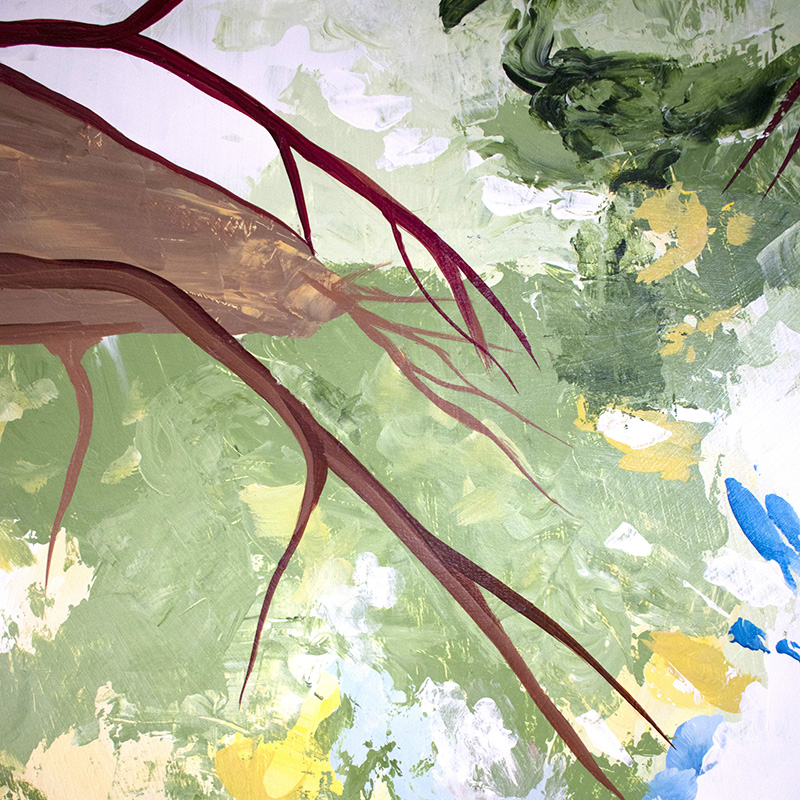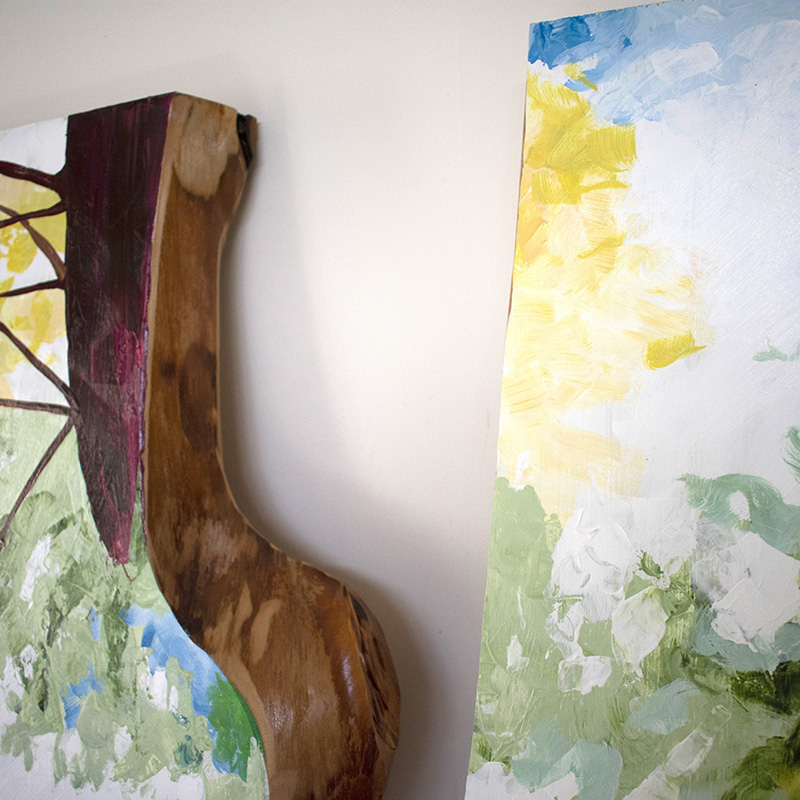 Forest Windows 1 will hang in a private office in the Dahlke Manor building.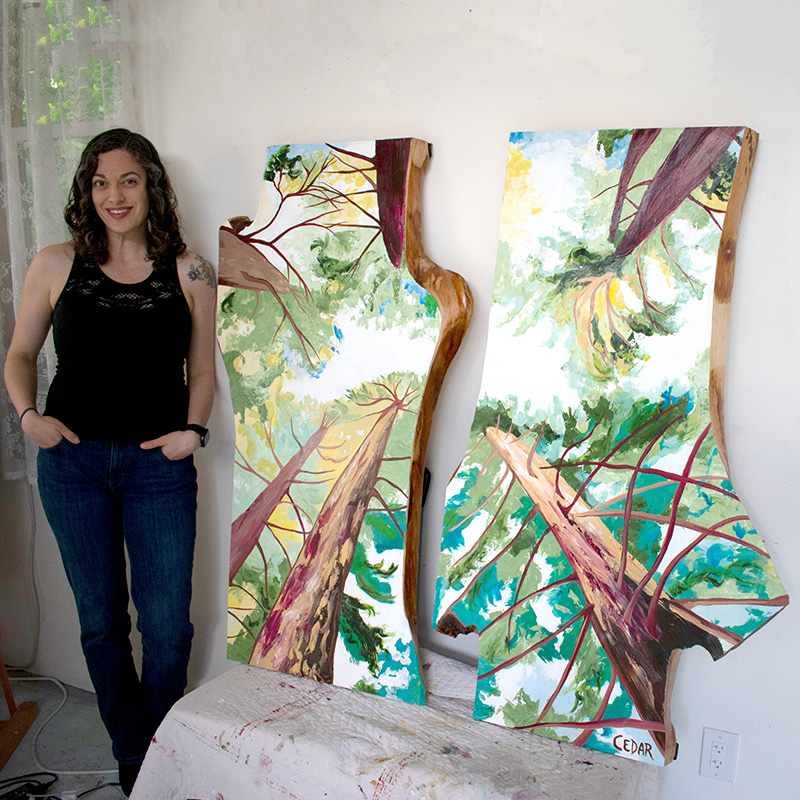 Here is a work-in-progress picture for the last painting in this collection: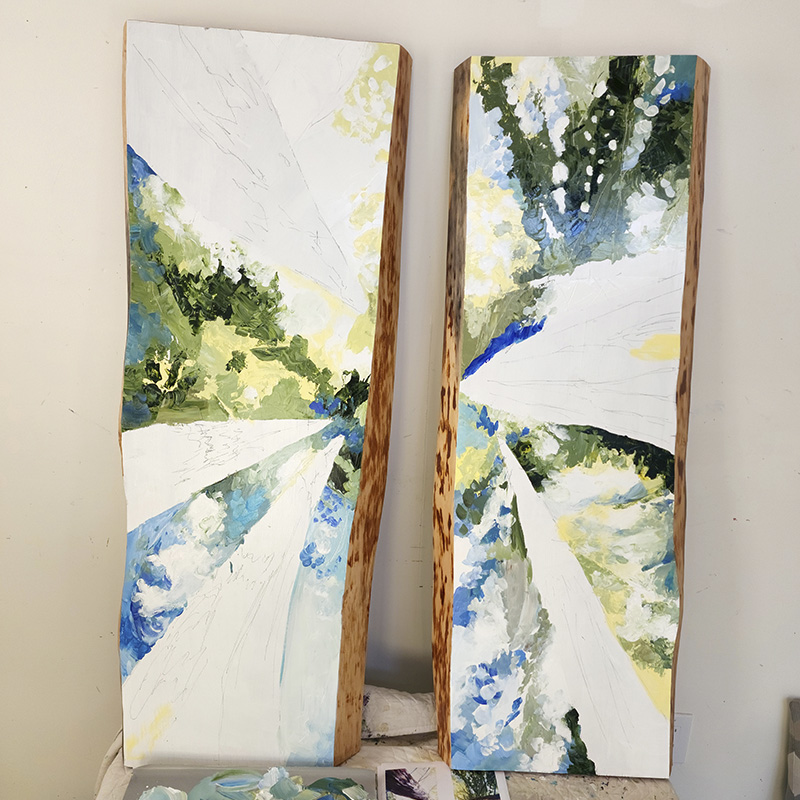 The finished art: "Forest Windows 2."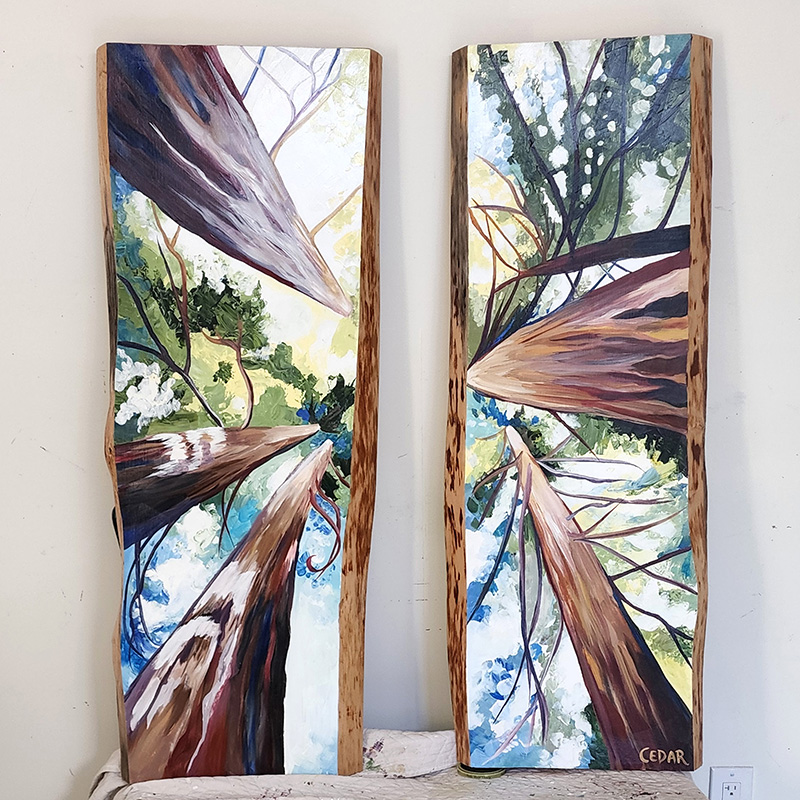 This one is similar to Forest Windows 1, but it has a calmer mood because of the cooler colors and the straight shapes of the two tall, narrow slabs.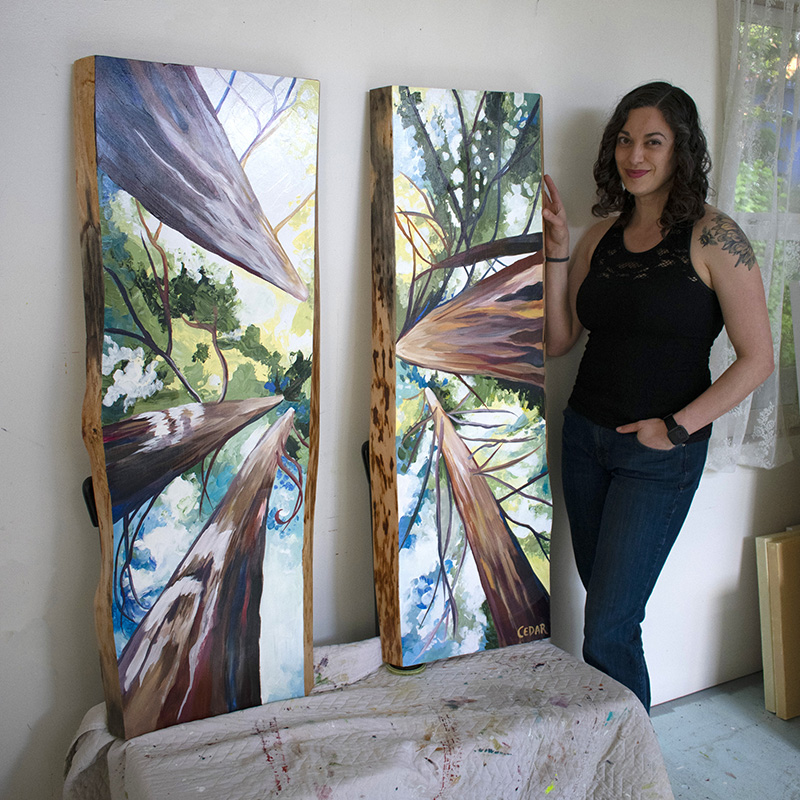 This painting is based on my previous painting "Glowing Forest."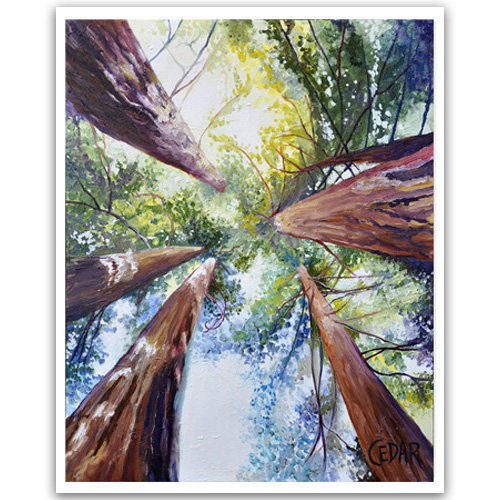 The use of geometric shapes gives this painting a bold and simple feeling—the two slabs being long rectangles, and the shapes of the foreshortened trees creating triangles within them.
But all the shapes are still natural and organic, full of curves and variations of color and texture.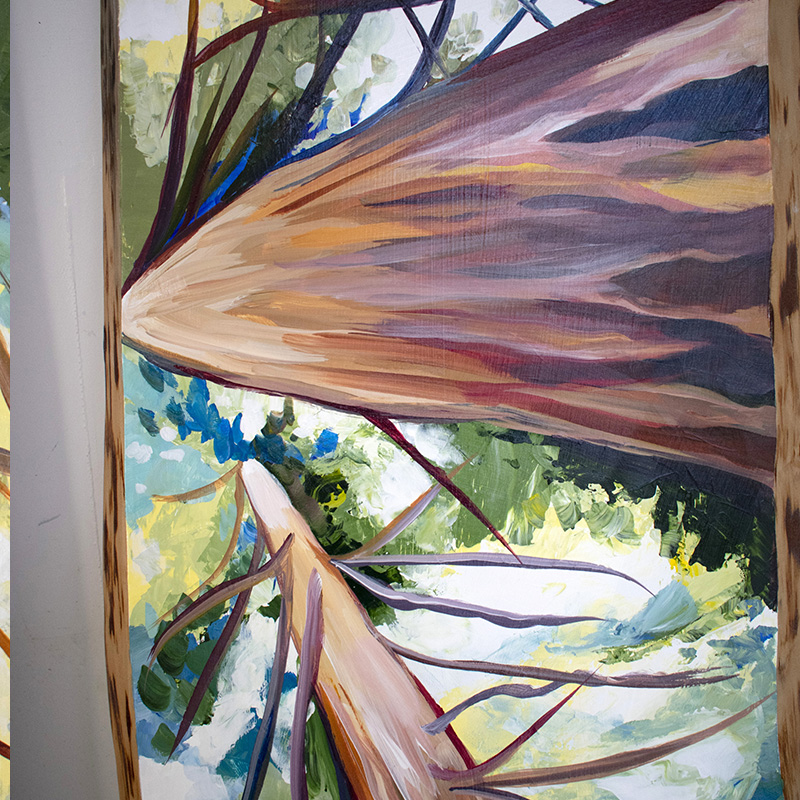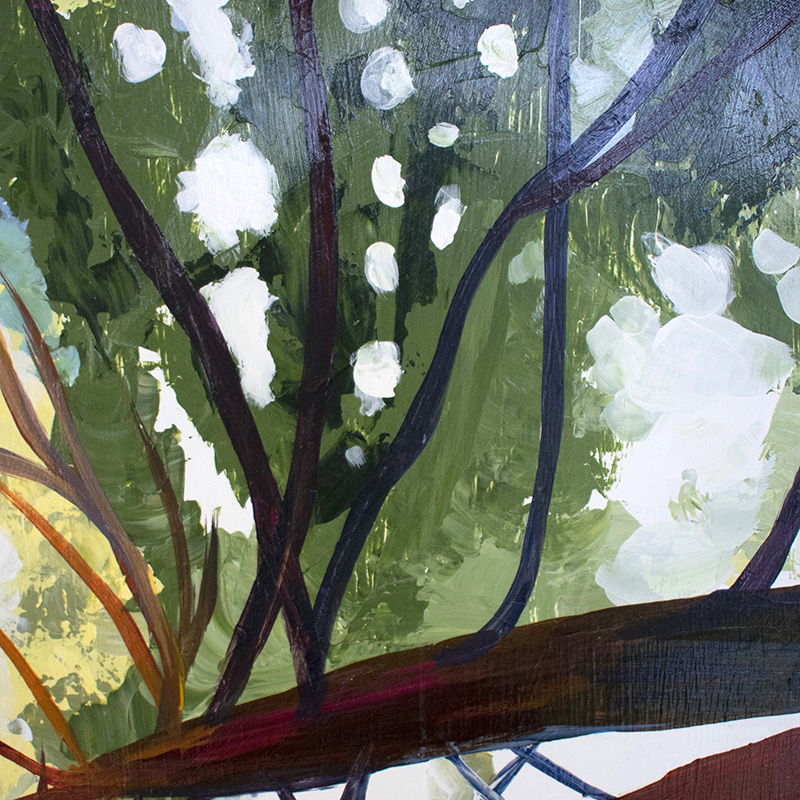 The small branches curve gracefully in the background as we look up through the trees into the sky.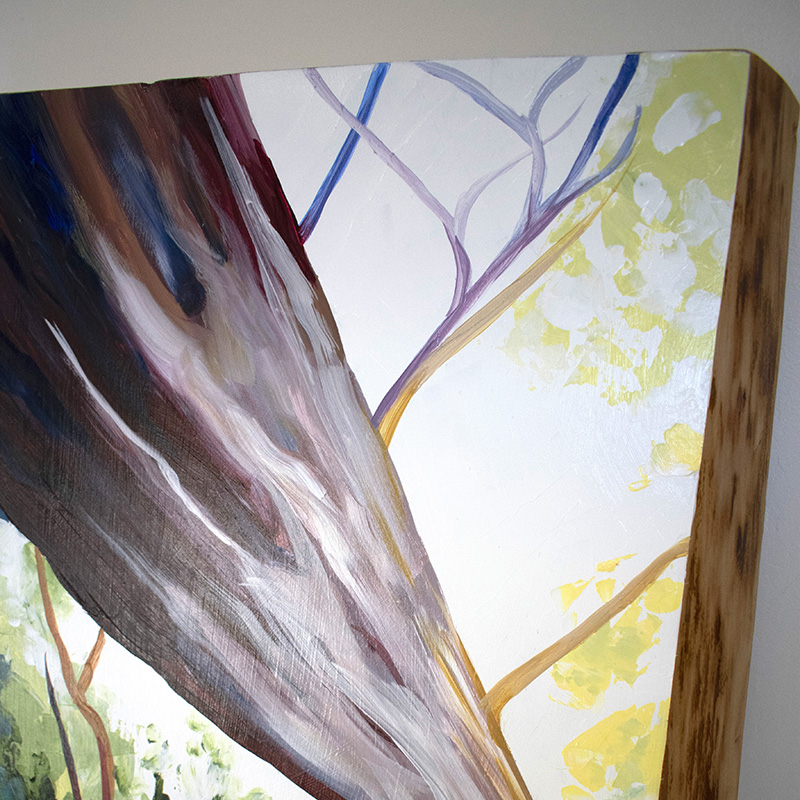 The peaceful and beautiful image of a redwood forest—yellow sunshine, blue sky, a feeling of shade under tall green trees, and the redwood trunks with their deep-grooved bark—will bring nature indoors.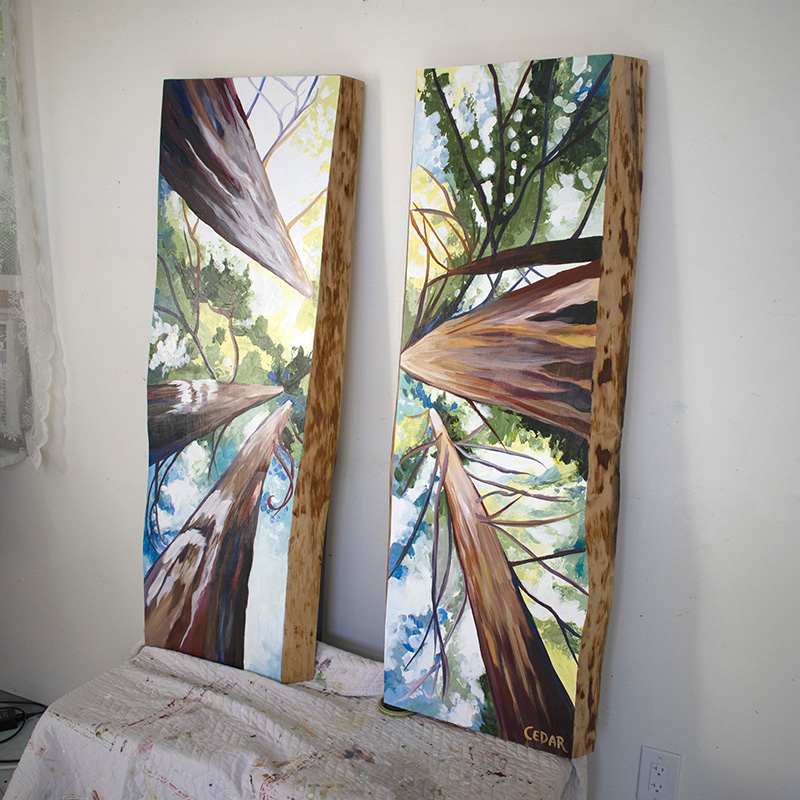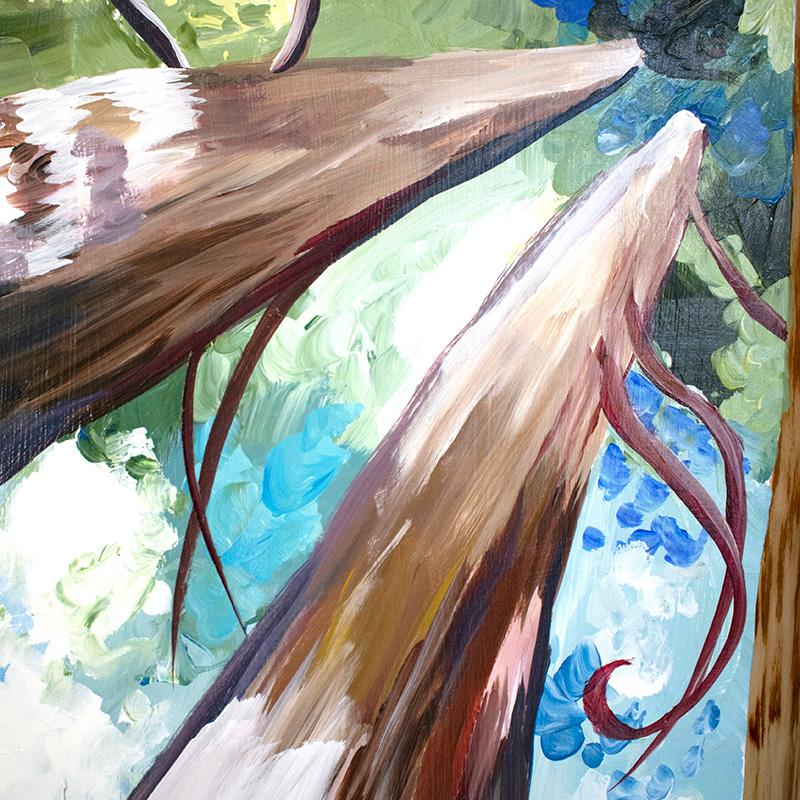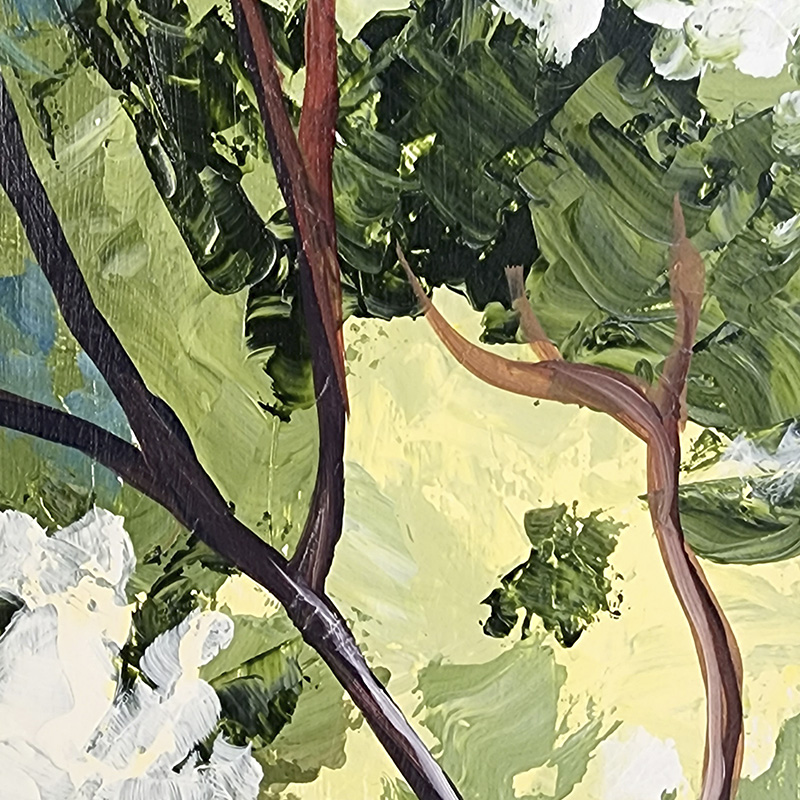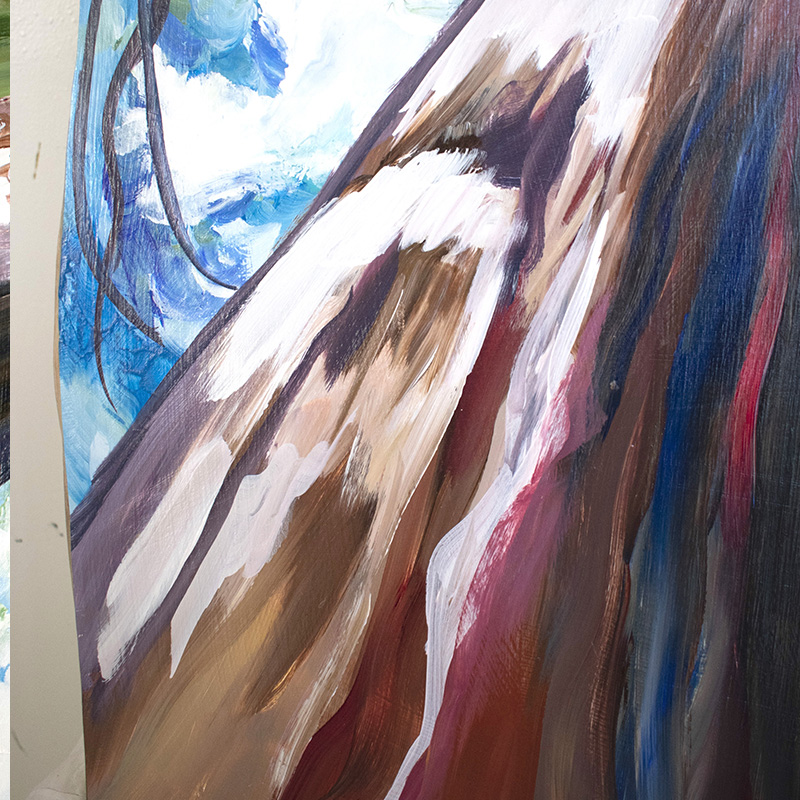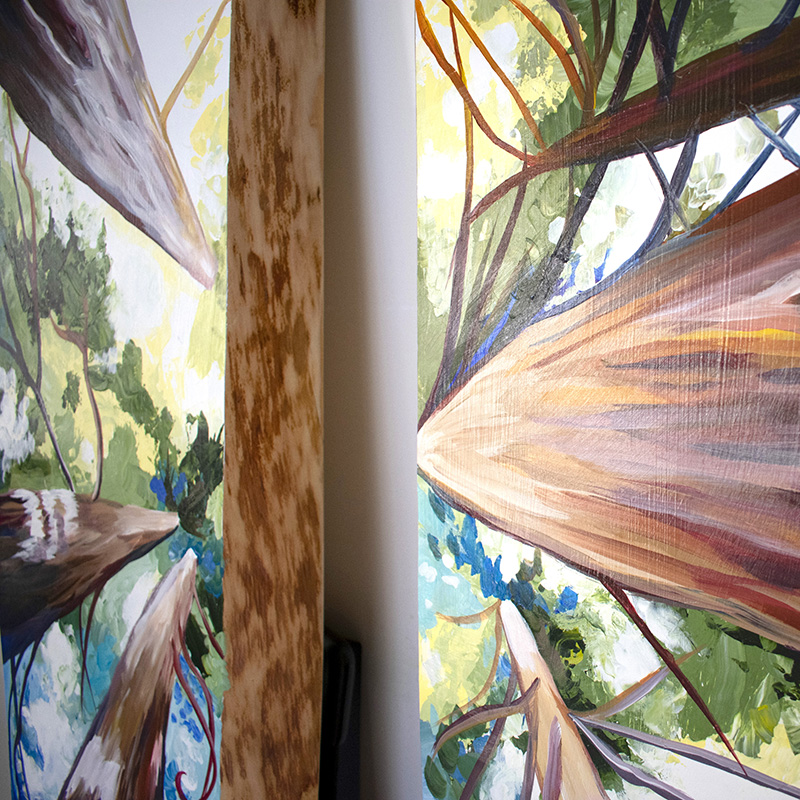 This painting will hang in the community room of the Dahlke Manor building.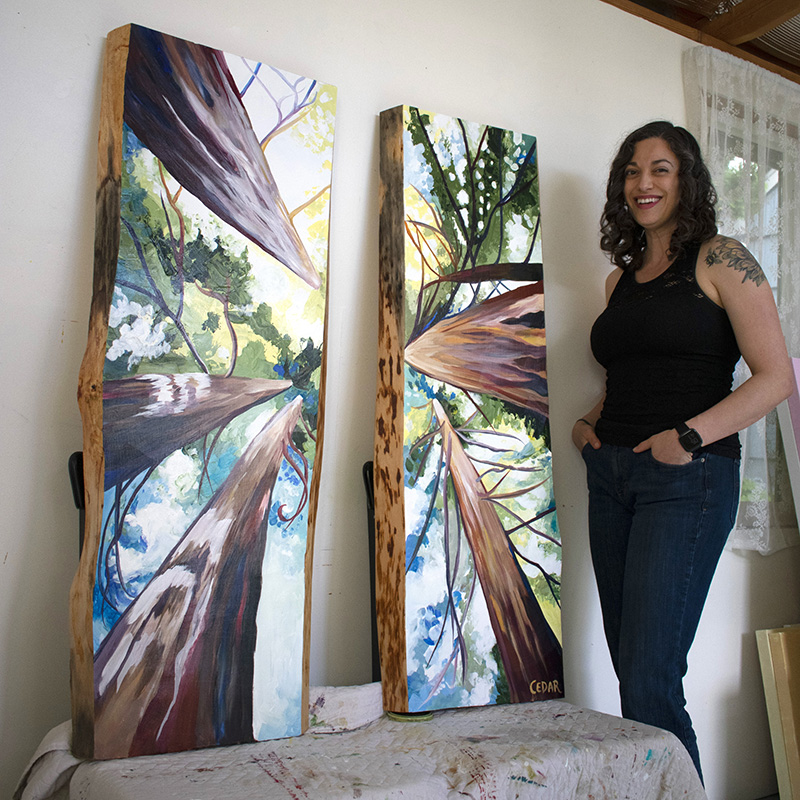 When all the paintings were complete, I finished with a UV protecting top coat and a final coat of gloss varnish.
If you are interested in commissioning me to create artwork for you painted on live edge slabs, send me an email!