HOW TO COMMISSION A PAINTING
1) We talk about what you want.
2) We agree on the size of the painting, what you will be getting, and the price. I give you a date when you can expect the work to be completed.
3) You pay a non-refundable 50% deposit. As soon as your deposit clears, I will begin working on your painting.
4) I email you photos of the finished painting (if you are local to Portland, Oregon, you may also come to the studio to see it in person.) At this time you may request small changes for no additional fee. Large changes will cost extra. I will work with you to make sure you are satisfied with the finished painting. You are not obliged to pay the balance if you are not happy with the finished work (although this has never happened).
5) Once you have approved the finished painting, you pay the balance. When your final payment has cleared, the painting is yours. I will ship it to you immediately, or if you are local, we can arrange pick-up or delivery.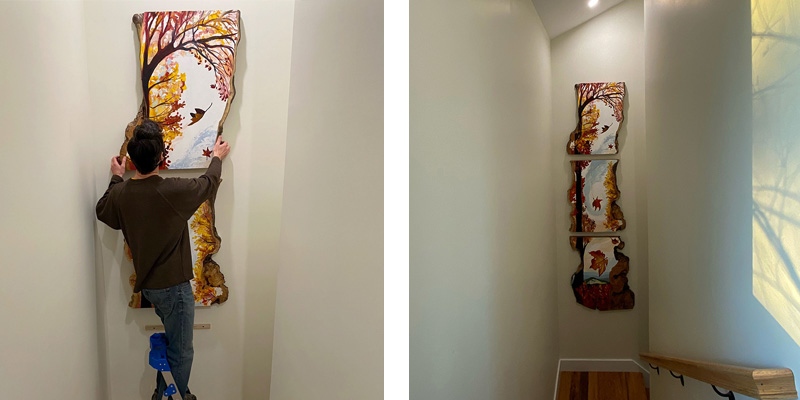 "Thank you for all your work and for bringing light and inspiration in an otherwise difficult year. This has been a fun project and brought me joy in the collaboration and anticipation, as well as being taken by the final product. The light plays off the piece well, I love the play between live edge and the trunk of the tree, so many details between the exposed wood and the painting itself. So much to explore from different angles. We love it." -Nathan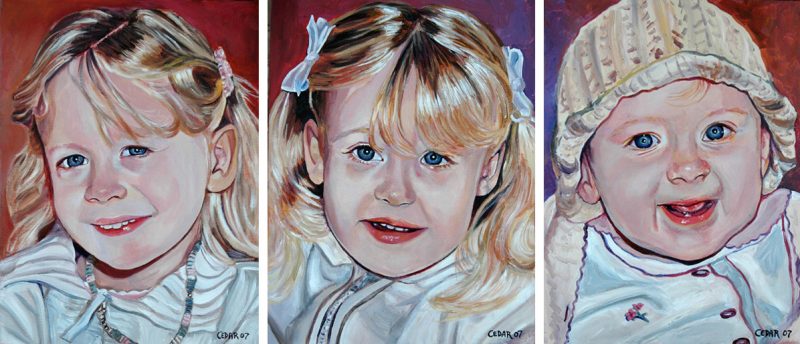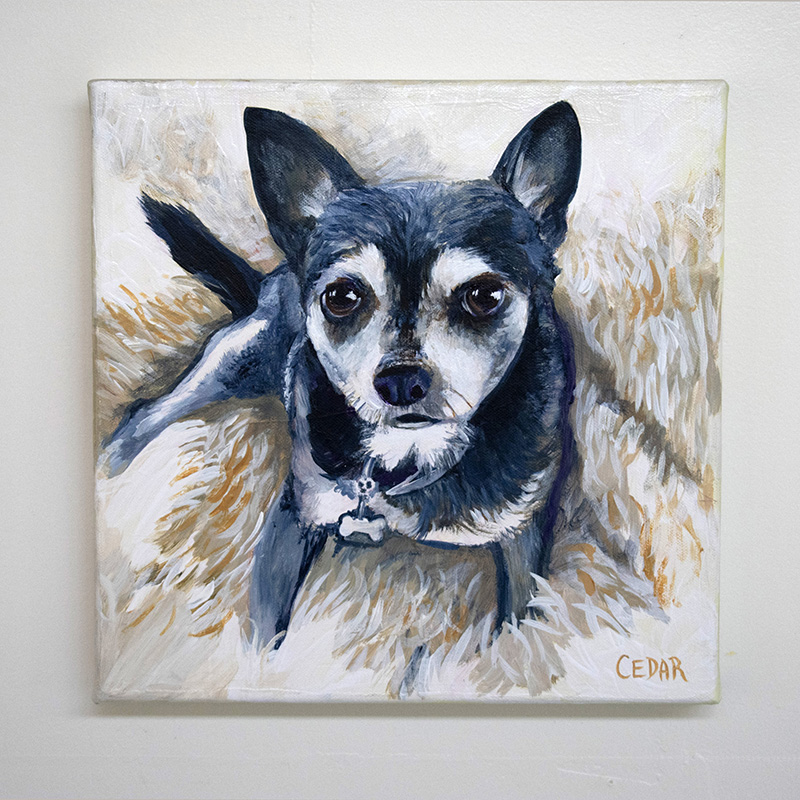 "She cried and cried when she opened it – said over and over "it's perfect" and "it's the best present I've ever had in my entire life." So again, thank you soooooooo much! 🙂 ❤️" -Laurie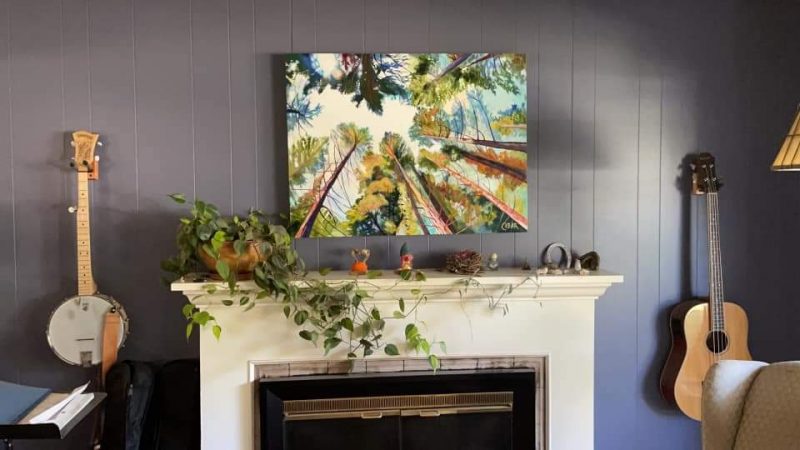 Commissioned art in client's home: A Soft Enchanting Forest. 30″ x 40″, Oil on Wood, © 2018 Cedar Lee
"This is an incredibly gorgeous painting that Cedar made for us. We love it too much. And so does everyone else who sees it!" -Sarah-Lu
All paintings are signed and ready to hang. I use only the highest-quality materials, and best practices to ensure that my artwork will stand the test of time.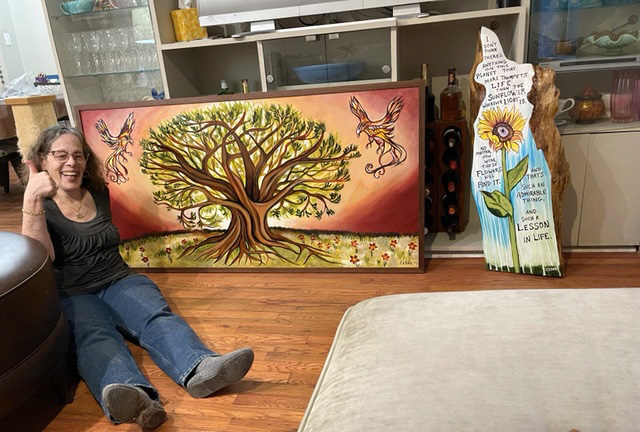 "These are magnificent!!!! We both love our paintings so Much!!!! They came early and intact. You packed well. It was quite a job to open but so worth it."
-Ellyn and Rebecca
Your painting can be any size you wish, although additional charges will apply for constructing and transporting excessively large canvases.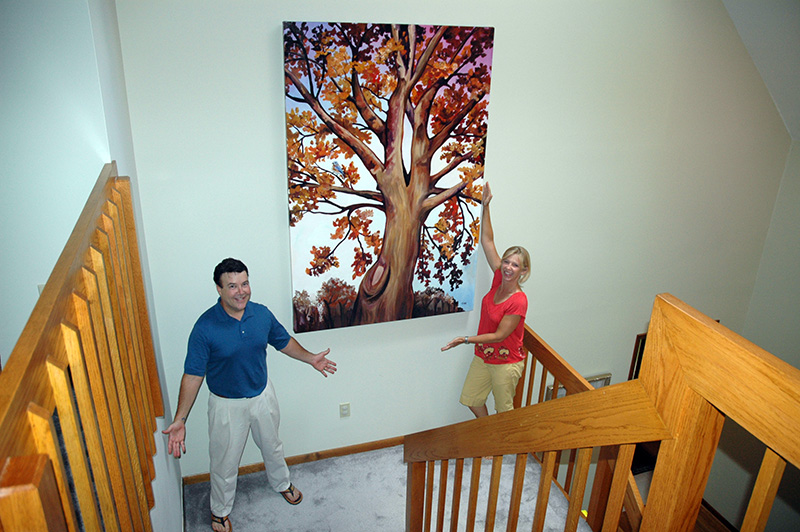 If you are not local to my studio, shipping charges will be included in the final cost.
If you like one of my paintings that is already sold, I can make you a similar one. If you have a type of special request I haven't covered, it never hurts to ask. Click here to ask!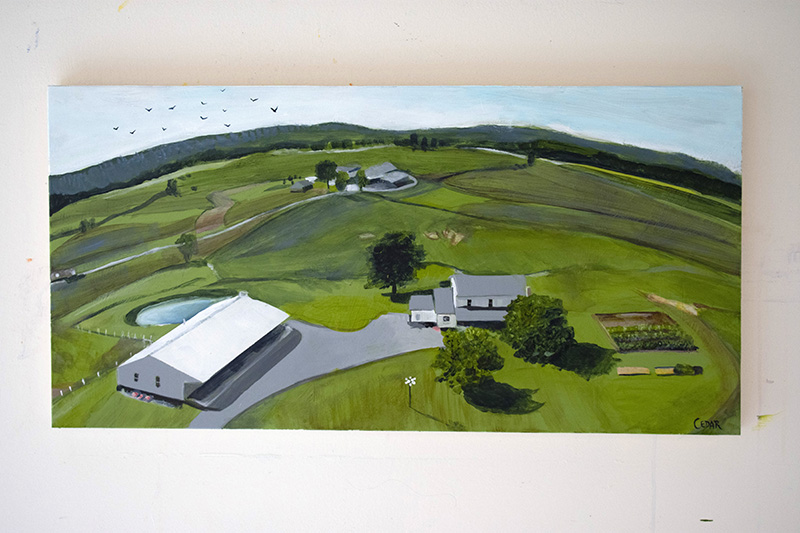 "Cedar – I love the painting. Thank you." -Eli
PRICING
I am currently accepting commissions starting at $1,000 and up.
I am typically a large-scale painter. While I do occasionally paint a smaller piece, my original paintings are usually 20″ and larger.
The pricing for a custom work of art depends upon your requirements.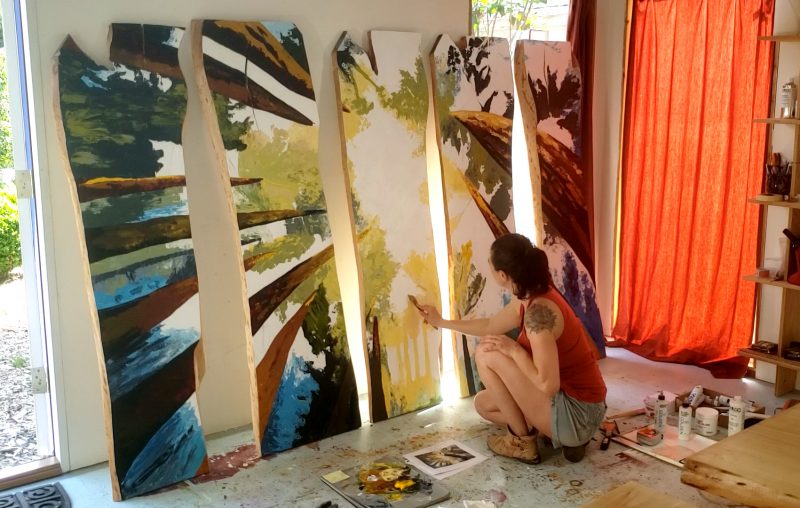 Start by getting a general picture in your mind of what you want, then talk to me to get an official quote.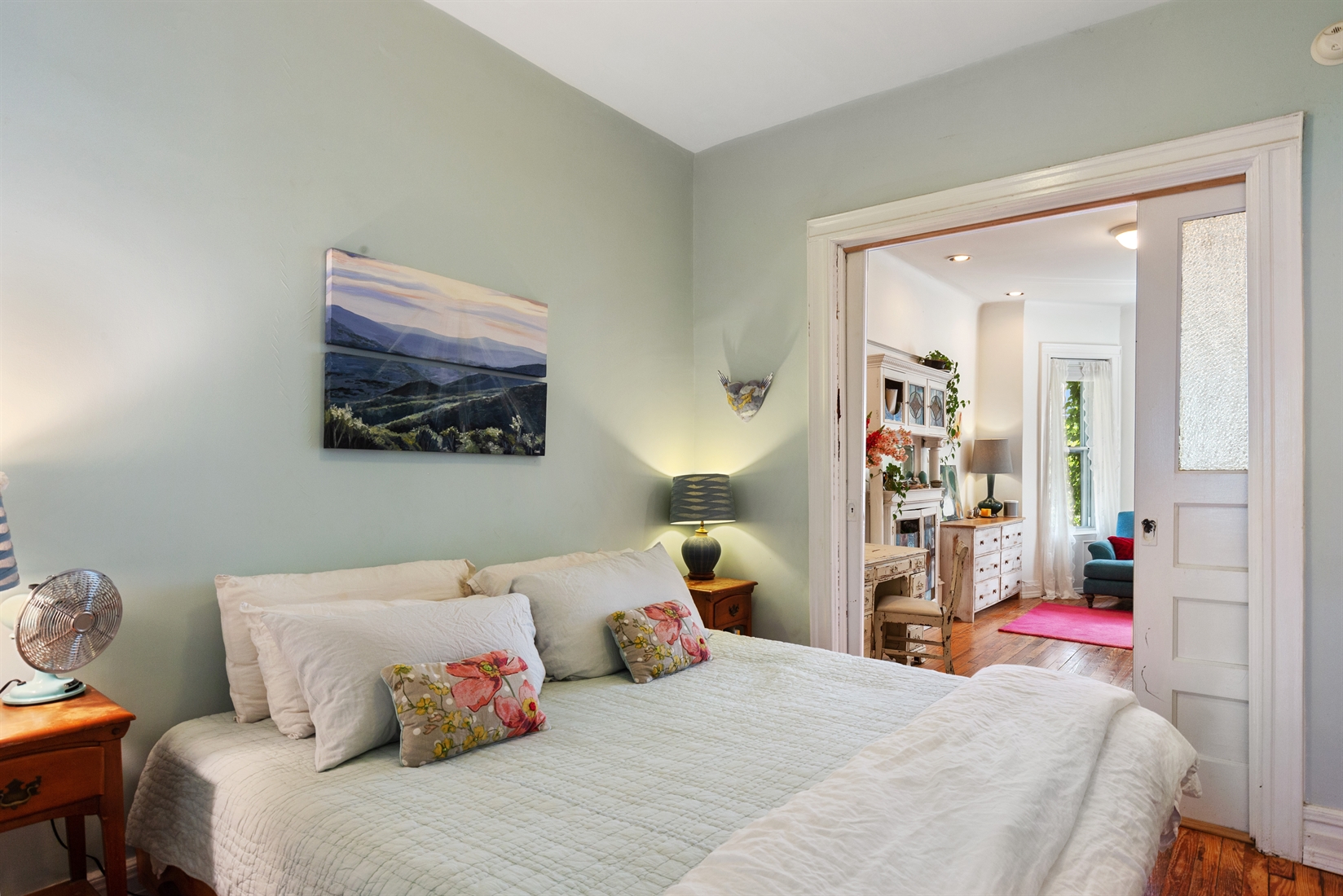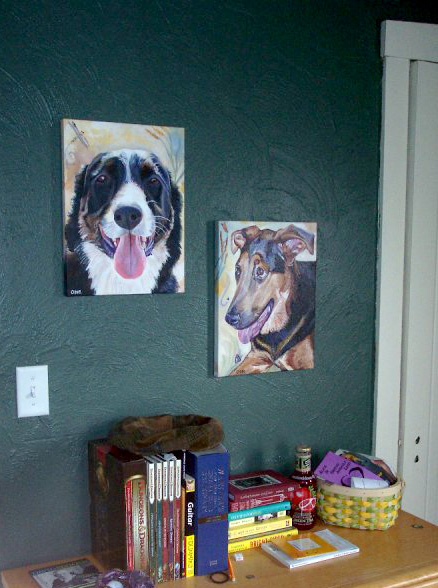 Commissioned dog portraits by Cedar Lee
Most commissioned work will be in the range of $3 to $5 per square inch.*
To get an idea of cost for your project, multiply the length x width of the size you want to get the total square inches.
Multiply this number by $3 to get a low end ballpark number, and by $5 to get the high end. Generally speaking, the price per square inch will go down as the size goes up.
The actual quote will depend on the level of detail and the materials you want, but that will give you a ballpark idea.
*Note: My pricing for mural work is by the square foot, typically ranging from $55-$75 per square foot.
I'm always happy to work within a desired budget as much as I possibly can.
Payment plans can be arranged.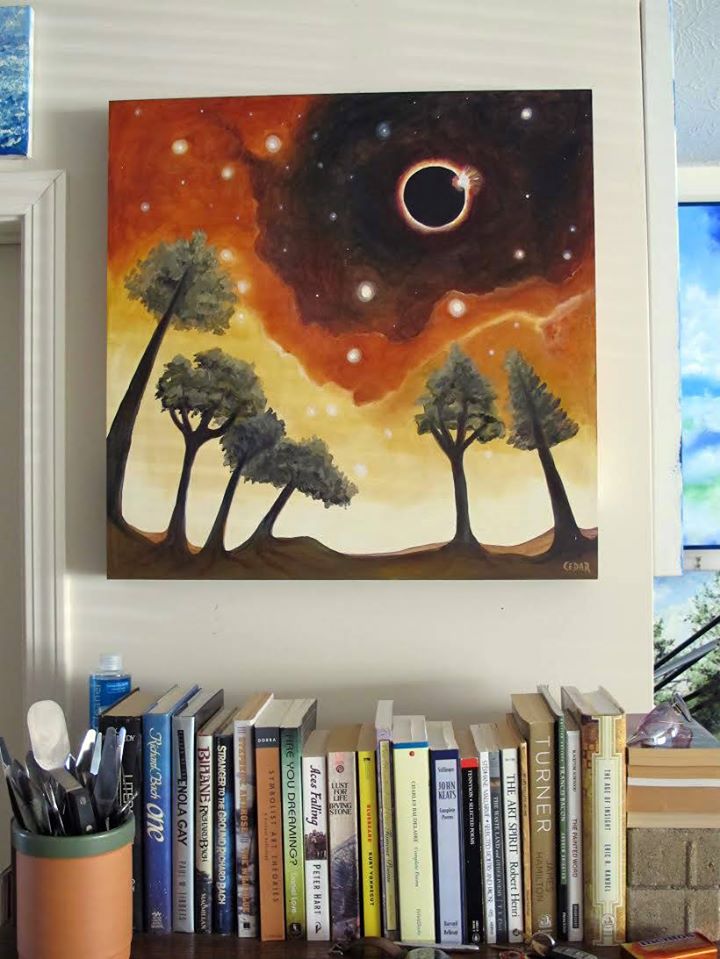 From a happy collector: Hi Cedar, I wanted to let you know that I received your wonderful painting today, "Eclipse Over Watchful Forest". I couldn't be happier! Thought you might enjoy seeing it in its new home. I'm looking forward to many years of enjoying this outstanding painting and will continue to keep a watchful eye. Thank you, thank you, thank you! -Ron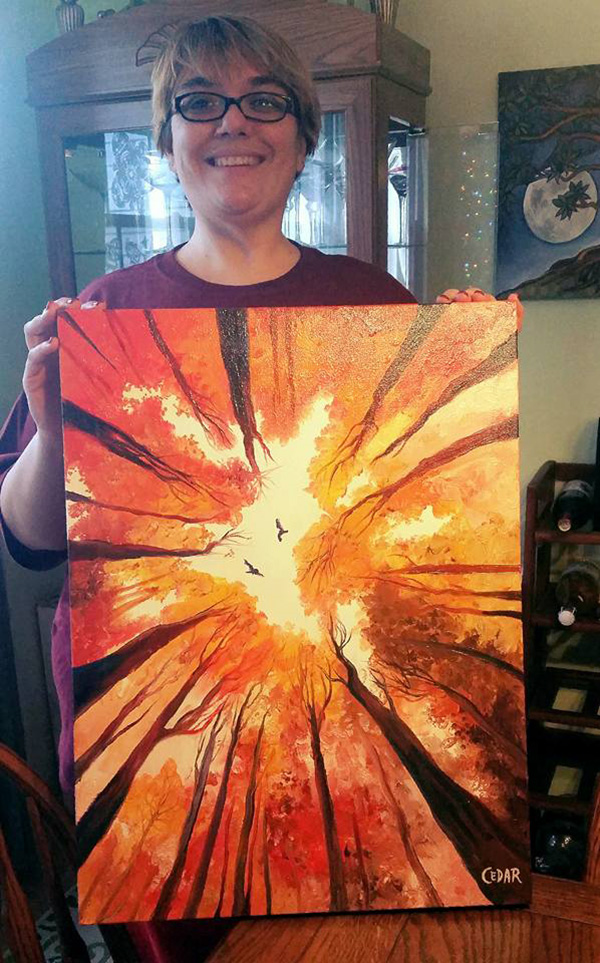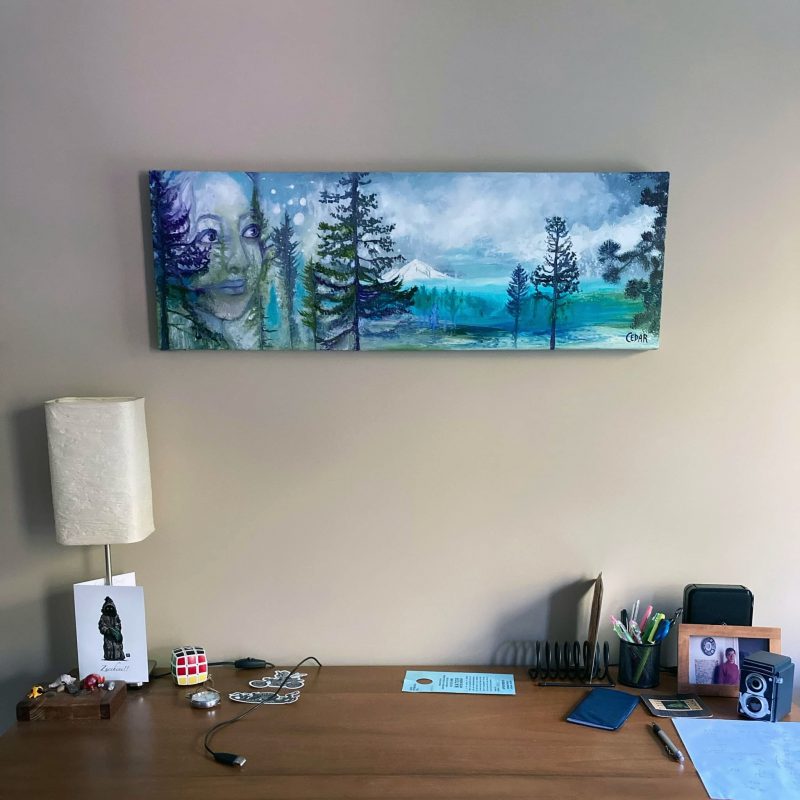 "Pacific Northwest Dreams sits in front of my desk in my home office. It brings great joy and calming energy when I am pondering over something, either work related or my own personal research, and I look at it, take it in, and then follow the gaze of the woman in the portrait, following her eyes to the right where one of the windows of the room is, and I look outside- just like her-, and take a moment of peaceful reflection to disengage…Thank you!" -Alfredo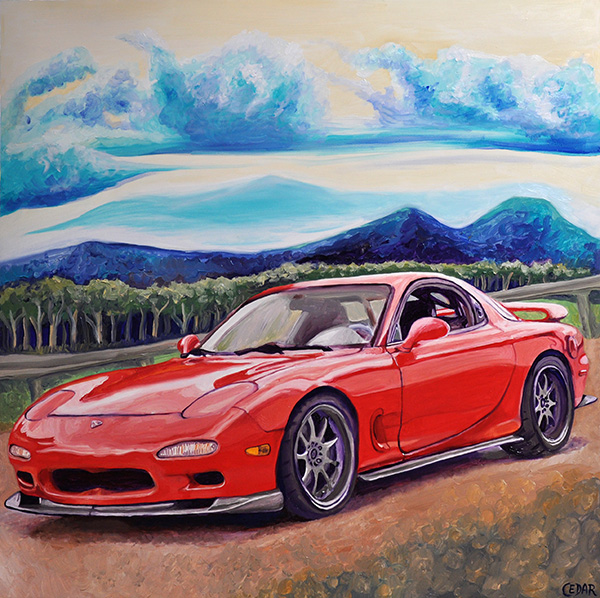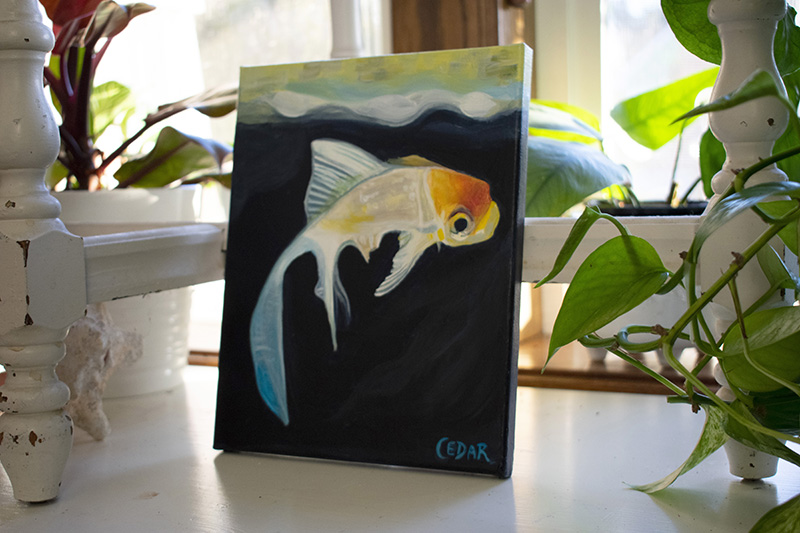 Sol. 10″ x 8″, Acrylic on Canvas, © 2021 Cedar Lee
"Hi Cedar, we opened the box together to see the painting you did for us and we are incredibly happy with how it came out. The photos do it no justice." -Leann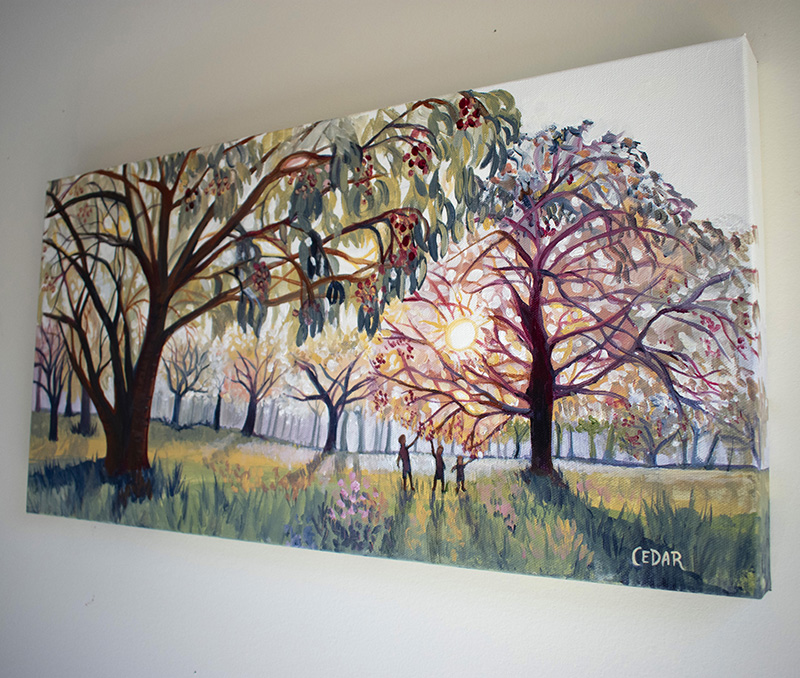 "Just a quick note to say that the painting arrived safely and it's absolutely beautiful! Thank you so much for doing this for us." -Ian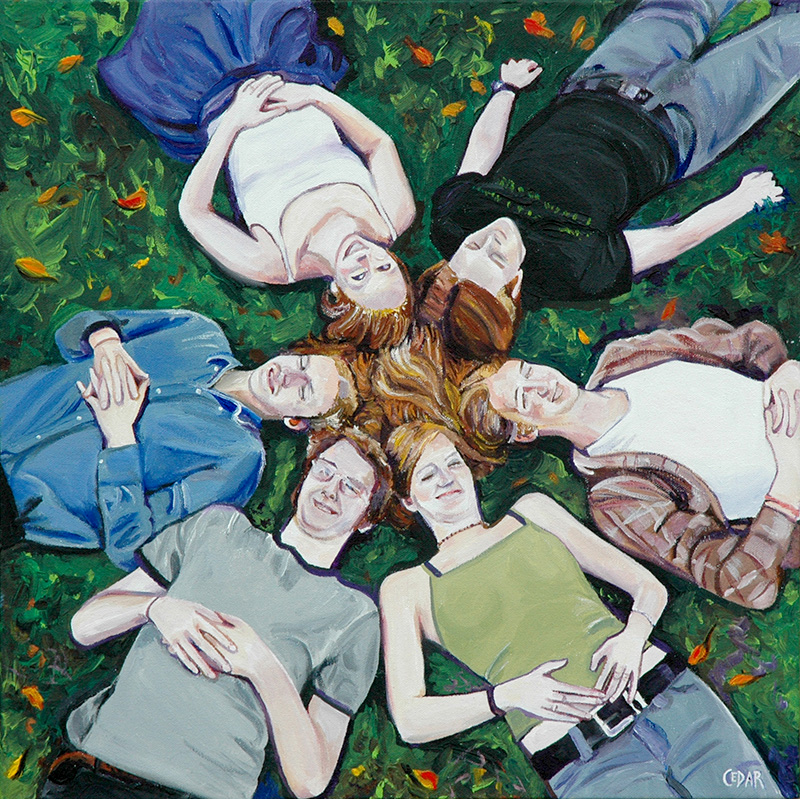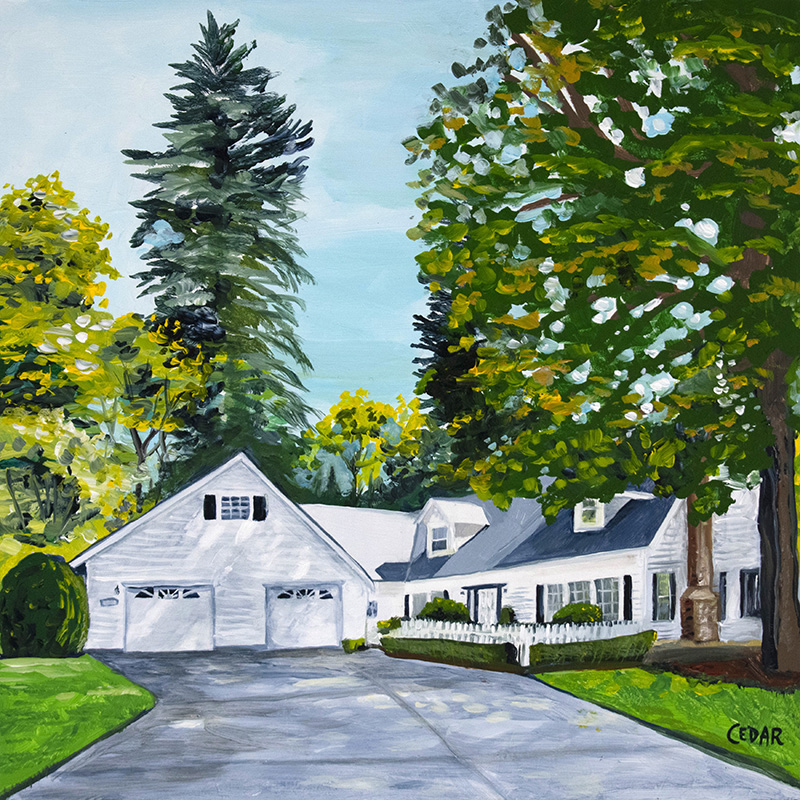 Commissioned work: The Thompson House. 16″ x 16″, Acrylic on Wood, © 2021 Cedar Lee
"I'm so happy!" -Meagan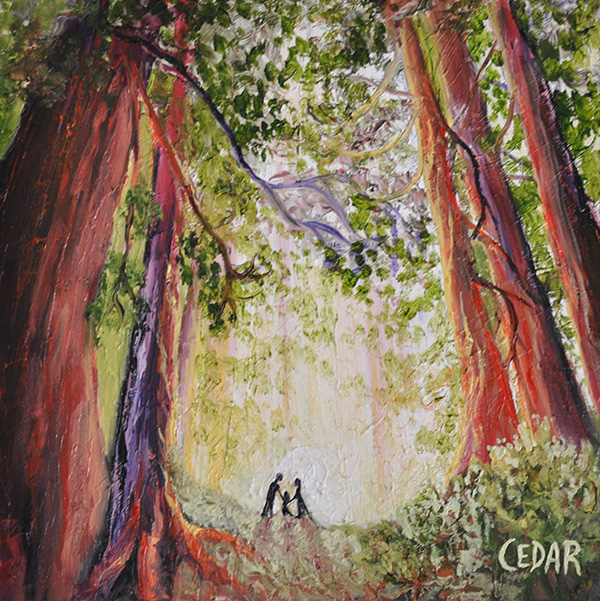 "Beautiful. I'm honored to be able to have one of your paintings!" -Amy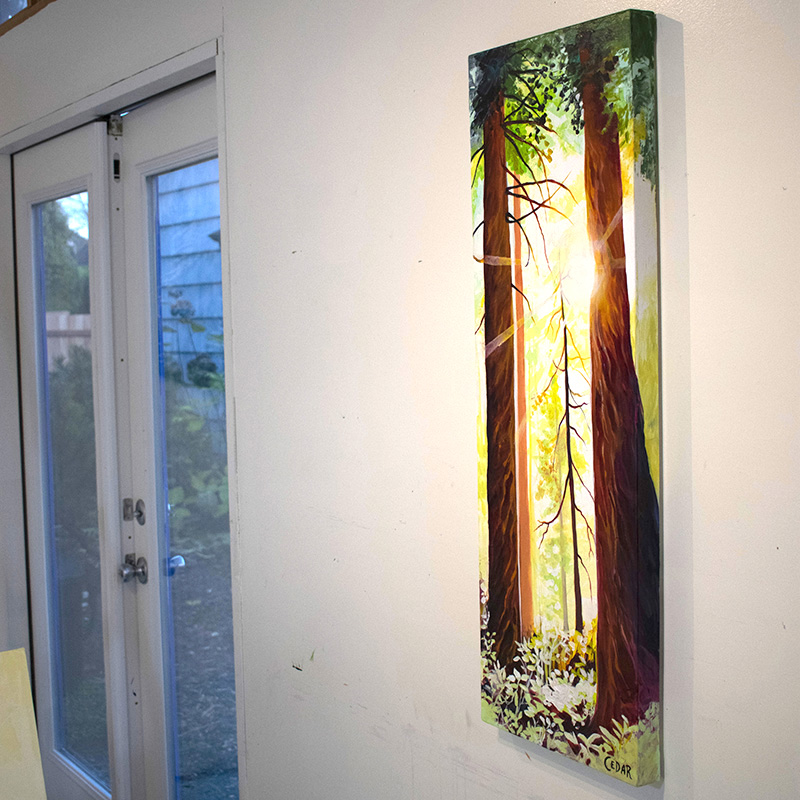 Forest Perspective. 36″ x 12″, Acrylic on Canvas, © 2020 Cedar Lee
I love it! Thank you so much! Thank you again for making this such an easy process. -Ben
Please contact me if you have any questions or would like to arrange a studio visit.