My latest painting, the newest addition to my Looking Up series:
Forest Cathedral
40″ x 30″, Oil on Canvas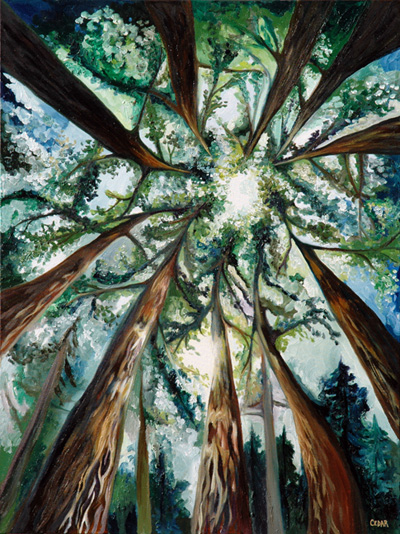 For me, this painting gives me a feeling of joy and peacefulness, of being a small part of something tremendously beautiful, and all being right in the world.
It's the feeling I get when I'm hiking with family, friends, or dogs on a hot summer day, and the light of the forest floats down through the trees. The fresh smells of plants and earth fill the clean air. I can hear birdsong, my own feet snapping twigs, and small animals rustling leaves on the ground.
I've used creative license and stretched the majestic tree trunks to impossible heights for maximum splendor. In that respect, I feel this painting is better than reality–it exaggerates the visual, but still brings out the feeling and essence of the reality.
What do you see in this painting? How does it make you feel? Does it conjure memories for you?
If you have 4 minutes, you can watch the painting process here:
I think a lot of the impact of this painting comes from the dramatic angles of the trees zooming up into the sky. It was important to define these angles at the beginning.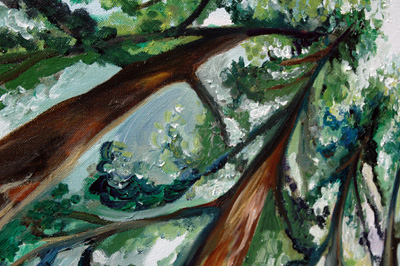 When the sun is directly behind a tree, the edges of the tree become softened and distorted by the blinding white back light. I've observed this effect many times while while walking in the woods on a bright day (trying not to look directly into the sun, of course.) It's just so glowy and beautiful–I love it.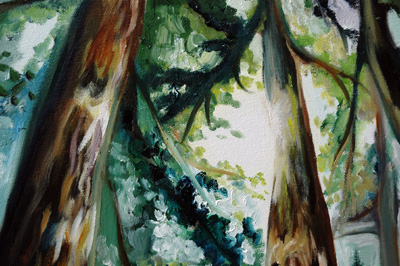 You can get a sense of the large scale of the painting by the size of my signature in the bottom right corner.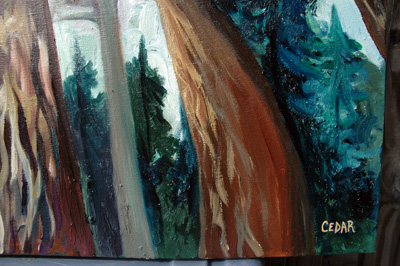 The circle of sky where all the tops of the trees converge is like a window to heaven. If I could fly, I'd fly straight up into it.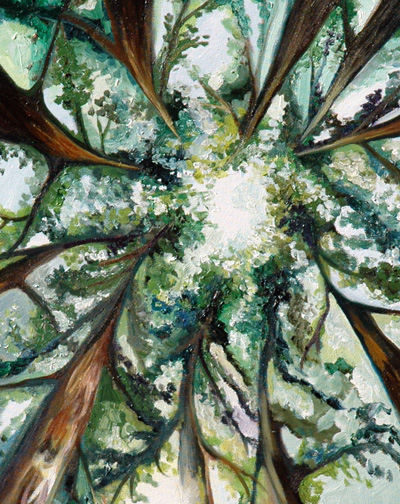 When you are close enough to the painting to see the individual brushstrokes, you'll notice that on a basic level there is a lot of abstraction going on–colors blending into other colors loosely and freely.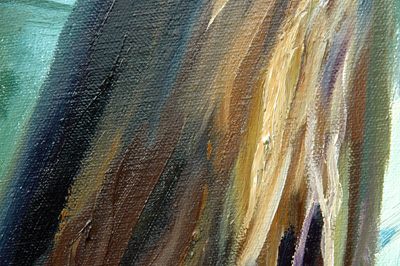 All these little pieces of paint smudging into each other work together to create the larger image.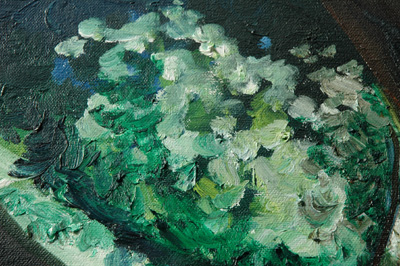 Here's what this art looks like in a room: