This is a commissioned piece made for a couple with a 5-year-old daughter named Grace. I love the play on words in the title–shown here are literally two parents, on a walk, with their daughter Grace.
But the phrase "walk with grace" also takes on its own meaning. The word grace has such a lovely meaning: elegance or beauty of form, manner, motion, or action. favor or goodwill. Synonyms include kindness, and love.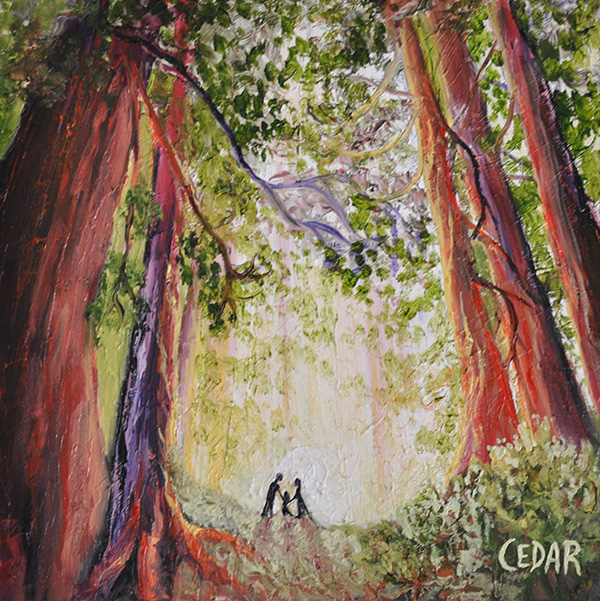 So it would be a noble goal to try and walk through the path of life in a spirit of grace–as much as we can, creating beauty and kindness.
The expression, "give them grace" has always stuck with me since I first heard it. It means forgiving a fellow person for their human shortcomings and choosing to be kind to them anyway. But you have to have your own reserve of grace before you can give it to others.
In my experience, it's easy to "walk with grace" when you're hiking through a magnificent forest with your family. The peacefulness of your surroundings helps with that. We can use nature to make ourselves gentler and more centered. Time spent in the woods is like an investment in your own grace. 🙂
Again, the tiny people in contrast to the enormous trees creates a powerful image. When people see my latest paintings, they've been telling me how strong a presence the people have, even though they are so tiny.
You can get an idea here of some of the thick impasto textures created by the techniques I've been playing with.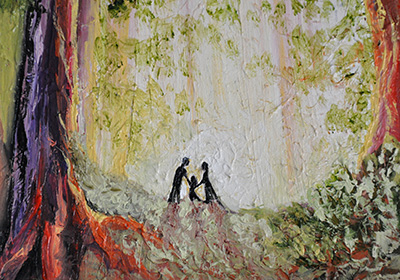 So far I've made all my people back-lit, in silhouette. I like how this gives them some anonymity. For me, it helps me to identify with each of them personally. At such a distance, you wouldn't see many identifying details regardless, but I'm glad I've been running with the silhouettes. In this painting, I particularly like how their shadows are drawn out in the foreground.
If you love the idea of owning a painting like this, depicting your own family, I am currently taking orders for commissions–imagine what a great birthday or Christmas gift this would make! With the help of photos, I could even customize a painting with stylized silhouettes that look like you, with the correct heights of the different people in relation to each other. Prices start at $350, and I offer no-interest payment plans as an available option. Email me!