Here is "Resting Place."
In this painting, a dragonfly has found this lovely welcoming lotus flower, spread open on the surface of the water, surrounded by lily pads.
The water's surface is an abstract pattern of golden orbs of light glowing against a deep red background.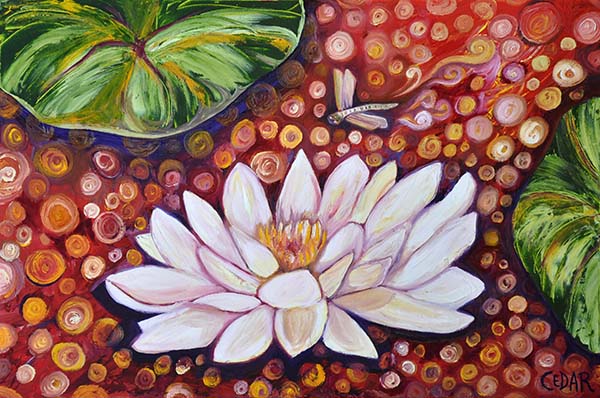 From a distance, if you blur your eyes a bit, you can see the red background and yellow orbs together create a deep orange color, striking against the green of the leaves and the light pink and lavender of the flower.
You can see the scale of this painting, 24″ x 36″, shown on the right, along with my recent painting "Dragonfly's Discovery" on the left. At present, I have several more Lotus paintings of this size in progress in the studio! Can't wait to show you the next ones that are coming up. These large-scale paintings are quite time-consuming but they are worth it. I am not used to working quite this large for the Lotus series, and I love to see them finished, as these big paintings can really transform a whole room with the visual impact of vibrant colors on this scale.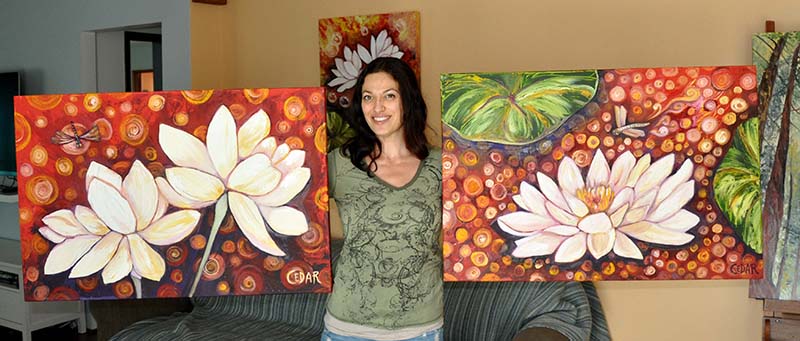 This painting, like my other recent ones, has been painted mostly with a palette knife, using cold wax medium to achieve a thick texture throughout.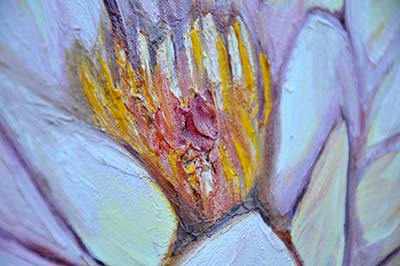 Here's a close-up of the stylized dragonfly. To me, it looks almost cartoonish–this stylized look, along with the thick texture of the paint, the bold colors, and the patterns of circles, conveys a fun and playful feeling through the whole painting.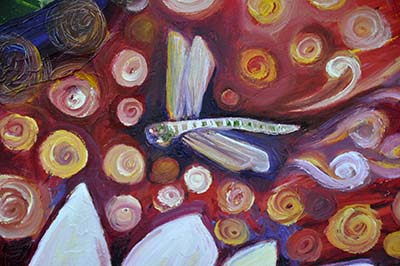 I love using fun and whimsy in this way to represent what ultimately are spiritual themes: the beauty of nature, the symbolism of the Lotus, the idea of a resting place, somewhere safe and calm, a place of mental focus, prayer, intention, and deep breathing.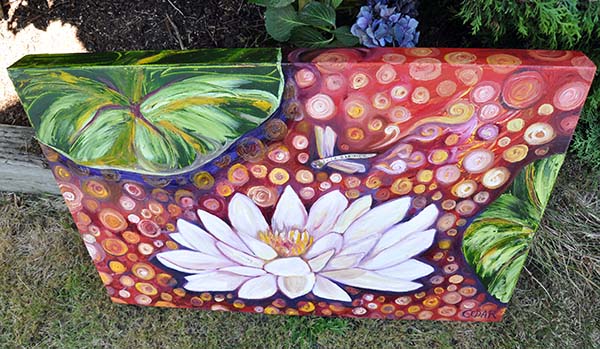 This painting is on a stretched canvas with 2.5″ deep edges!