Here are two forest paintings that were both commissioned to be given as Christmas gifts. Now that they have been unveiled to their recipients, I can share them with you!
Glowing Forest, given to a man by his doting husband in North Carolina: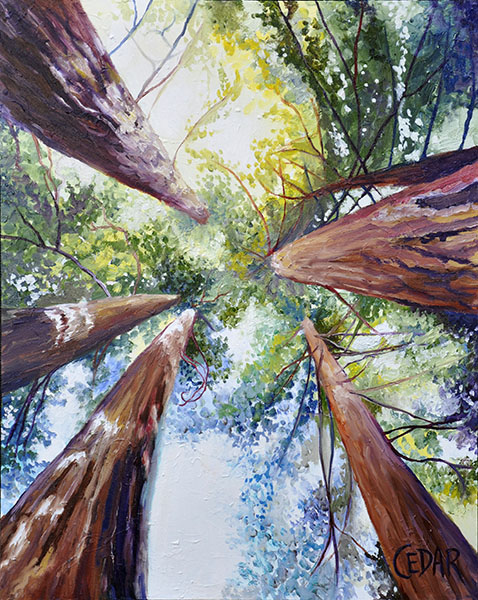 This couple already owns several of my tree paintings and this is the newest addition to their collection, and by far my favorite. Their other paintings are some of my older work, and this new one, painted on a wood panel, with intense contrast and vivid colors, shows how my painting skills have grown since the first painting they purchased from me several years ago.
These close-up detail shots show the thick, juicy texture of the oil colors!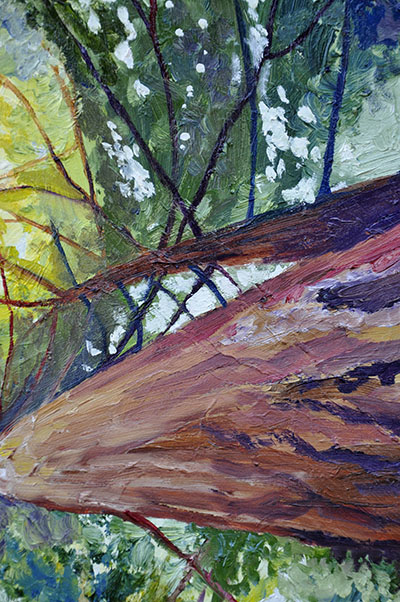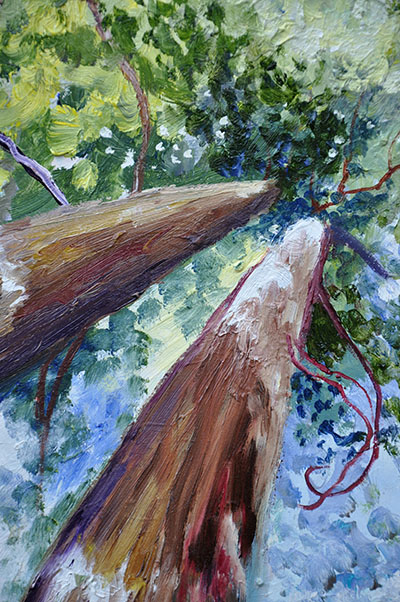 One thing I really worked to achieve here is the glowing white light that fills the image, giving it a sunny mood and the clean, fresh feeling of a green forest.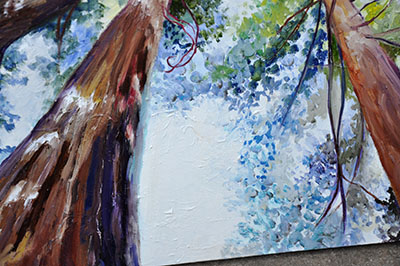 The second painting is a fall scene: Autumn Hunters.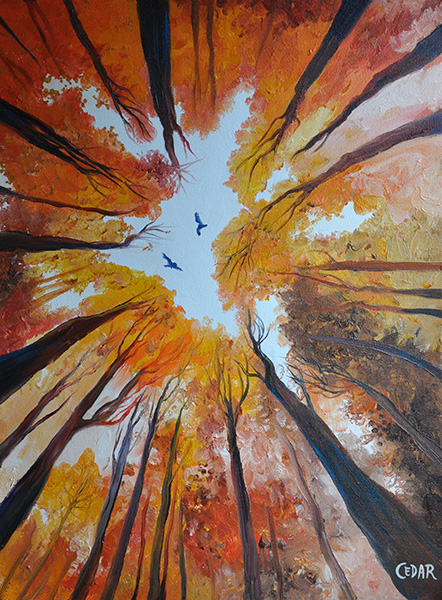 I'm not sure exactly what kind of birds of prey these are meant to be. Their shapes, which you can especially see in the head of the bird on the left, were initially inspired by owls.
But then I realized just how high up in the sky they are flying, and also there being two of them, they started to look more like circling hawks to me.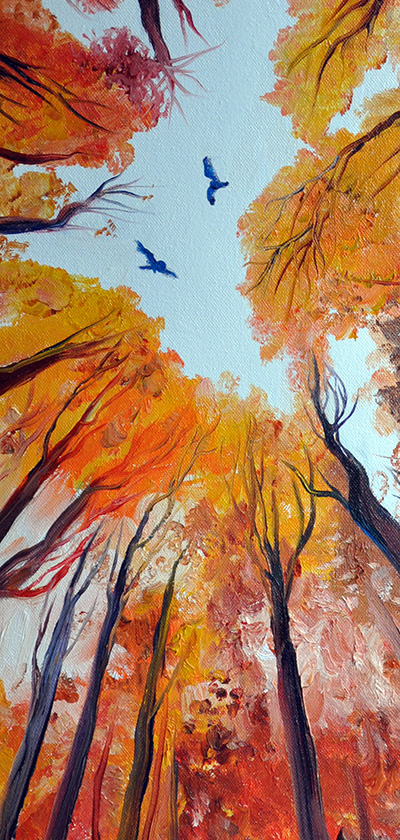 It doesn't really matter. I see them as symbolic of the two lovers who now own this painting–it was a gift to a woman in Maryland from her husband. 🙂 It was thrilling to keep the secret from her for months as I worked on it, then shipped it to his work address so as not to blow the secret!
I really enjoyed painting the details of the branches with tiny brushes.
The happy recipient of the gift, just after she unwrapped it on Christmas!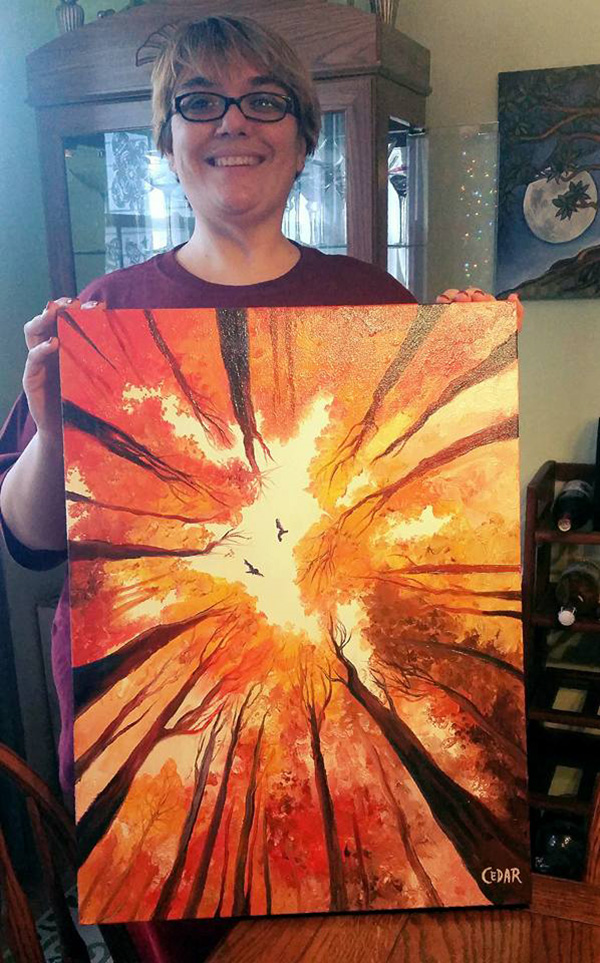 (Incidentally, you can also see a piece of one of my other paintings in the background behind her to the right. This family owns several of my paintings.)
And below, the new painting in their living room. I think the red/orange looks gorgeous against the blue wall!
On the left, you can see another of my paintings, Falling Leaves.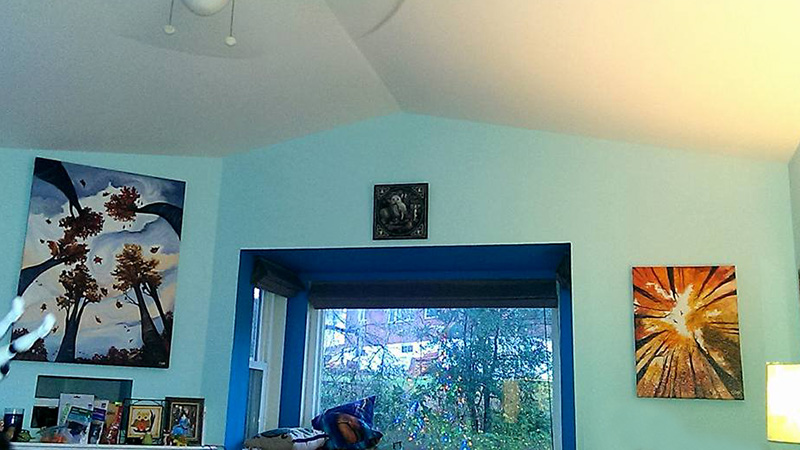 And the portrait I posted last month, Sweet Siblings, also arrived in its new home in New York City just in time for Christmas, and the family loves it! Here are the photos they shared right after they unpacked it!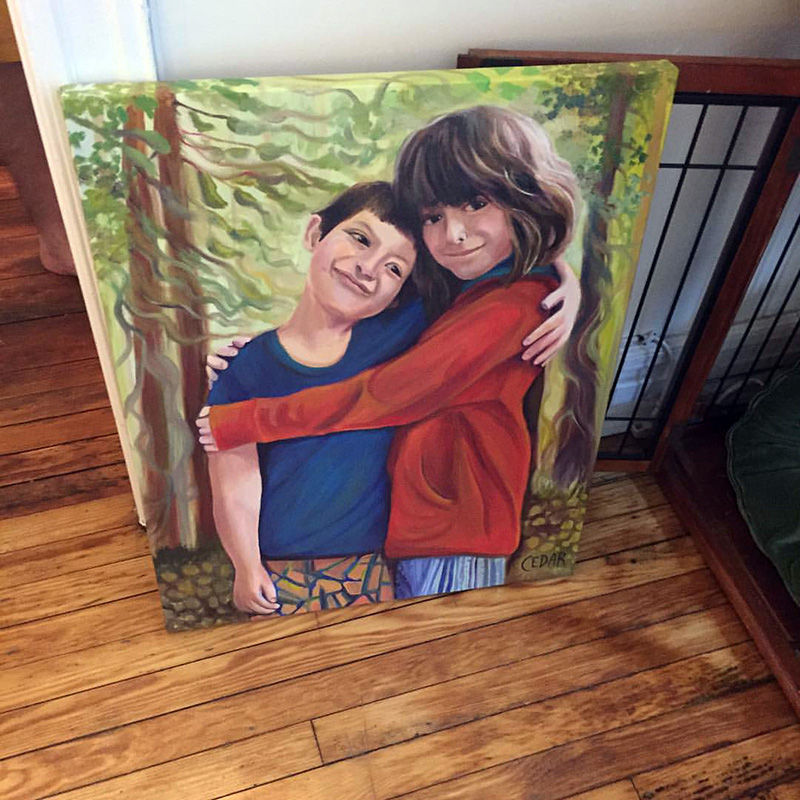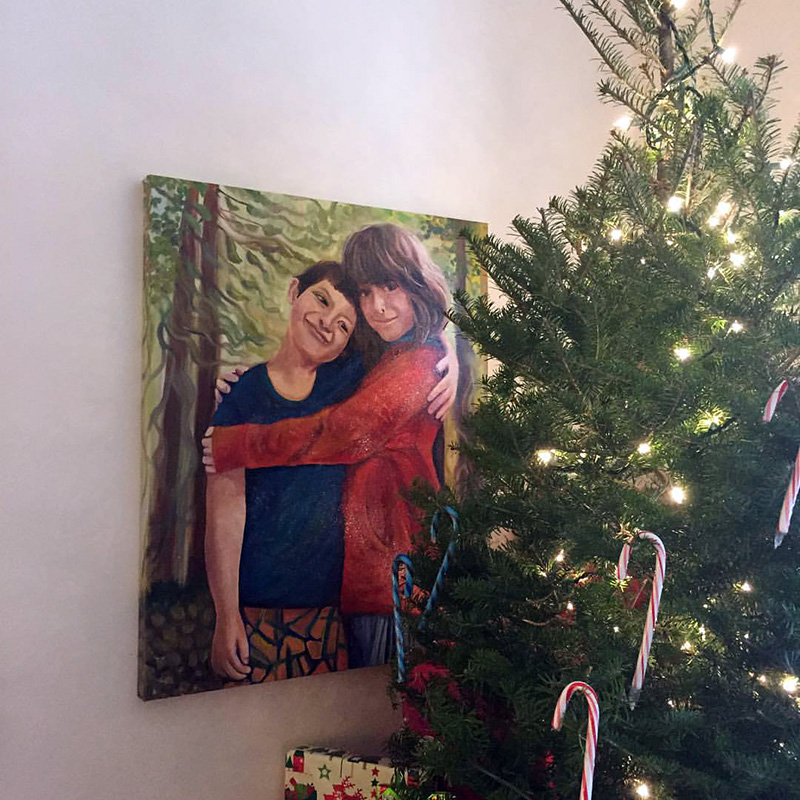 How fun it was to be able to contribute holiday joy to some collectors of my work. I felt like a sort of Christmas elf. 🙂
My wish for 2016 is for health, adventures, to help others with generosity, and for my creativity to flow freely. 2015 has been a very hard and eventful year for me, full of big changes, big losses and big gains. I am ready for a clean slate. Happy Holidays to all!