A couple weeks ago, I was running my dog in the park near my home. There is a hill with a row of oak trees at the top, and I was walking down at the bottom of the hill. It was a cold day, but the skies were blue and the sun shone brilliantly on the vivid fall trees.
There was a carpet of red and yellow leaves underfoot, so thick it obscured the grass. Suddenly a sharp gust of wind came over the crest of the hill through the trees, sending hundreds of leaves flying up into the air and then down the hill like confetti!
I stood there just watching the leaves flying. It was so cool I felt awestruck. I tried to get a picture with my cell phone, but it failed to capture the moment. So, when I got back to the studio, I painted this.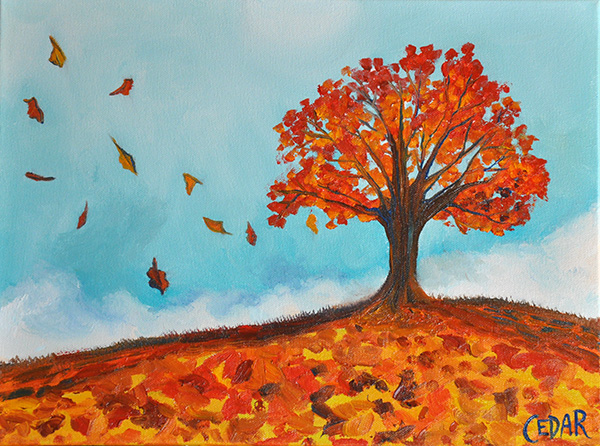 It's totally from my imagination. In real life, there are several trees and they are big, old oaks, whereas this looks like a smaller, younger tree and stands alone.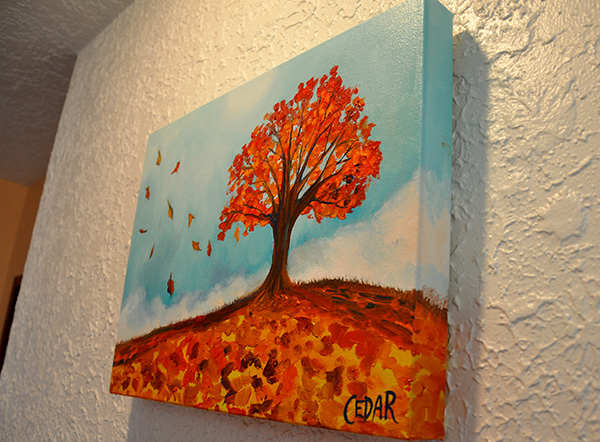 My mind keeps being drawn back to the image of a single tree standing alone on a hilltop. I hope you get "carried away" in this moment the way that I did!