This painting, Bluebirds, tells an ambiguous story. The viewer can fill in the details, but I will let you know my own thoughts.
I painted it first, just allowing myself to follow the imagery in my mind, before I tried to interpret any meaning behind what I was painting. On the right stands a tall, dark, foreboding tree with bare branches, its whole form leaning towards the left. Stormy clouds fill the sky behind it.
As your eye follows the flock of bright blue birds over to the left, the storm clouds end and reveal a clear blue sky. All the bluebirds are fleeing the dark sky and the bare tree in favor of the distant tree in its autumn splendor, which still has all its leaves in glorious orange, red and yellow. Presumably, when the leaves fall off that one, they will head on to the next, flying south for the winter.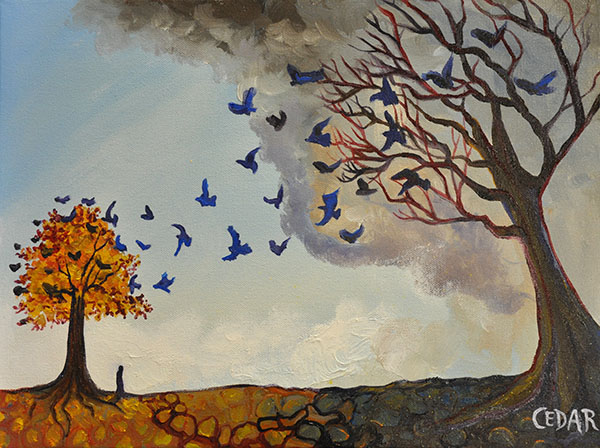 The little human stands at the base of the autumn tree. Watching the birds. Looking over towards the big bare tree and the storm clouds. For now, the human is safe in this beautiful spot, in the glowing light of the clear blue sky, with the glorious autumn leaves overhead and the golden light spread out on the ground below.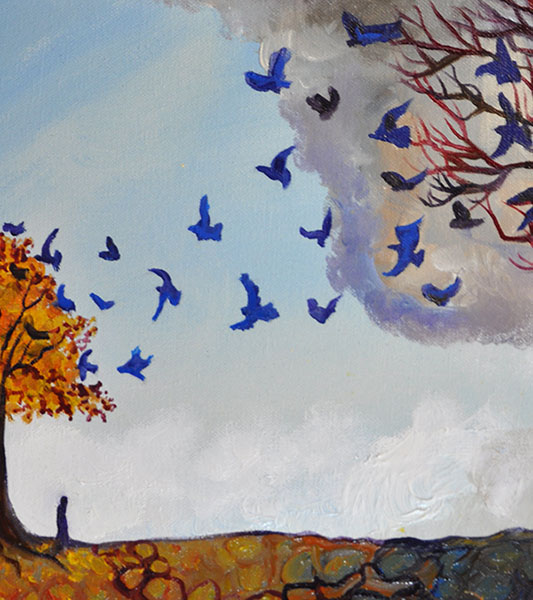 The rocky ground, following the dark and stormy vs. clear and glowing energy in the sky, is full of warm gold and red tones on the left, which change to cold dark blue and black on the right. The rocks form a pattern across the ground that leads the little human on a pathway from left to right.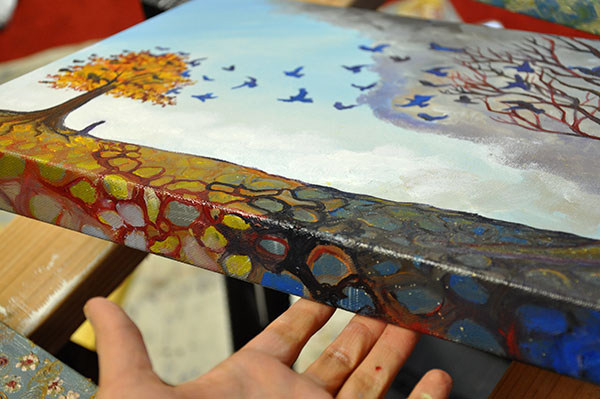 This painting for me is (and let's face it, in some form all of my paintings are) about our mortality. We are all heading towards the winter of death. Each of us will watch the leaves fall. It's a storm that's coming.
But this is not just about death. It's about the inevitable passing of time and change in general. You can't stop the future marching on. We know where we are heading, but that doesn't have to stop us from choosing to stand in the light and take in the color of our surroundings, every moment of being alive.
Maybe you have a different story about this painting. Either way, I hope it speaks to you.