This oil painting is called "Release."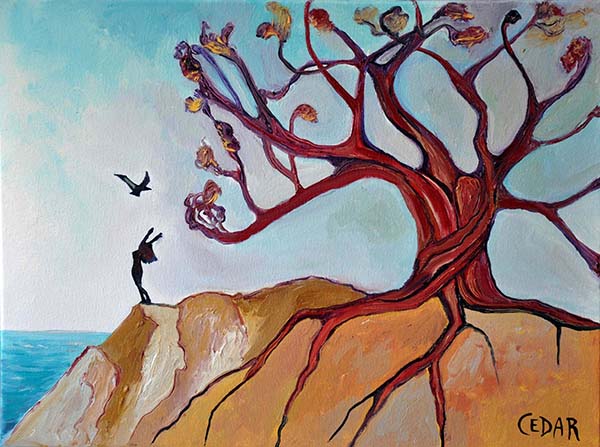 The starting inspiration for this painting was this photo from my trip to Belize back in February: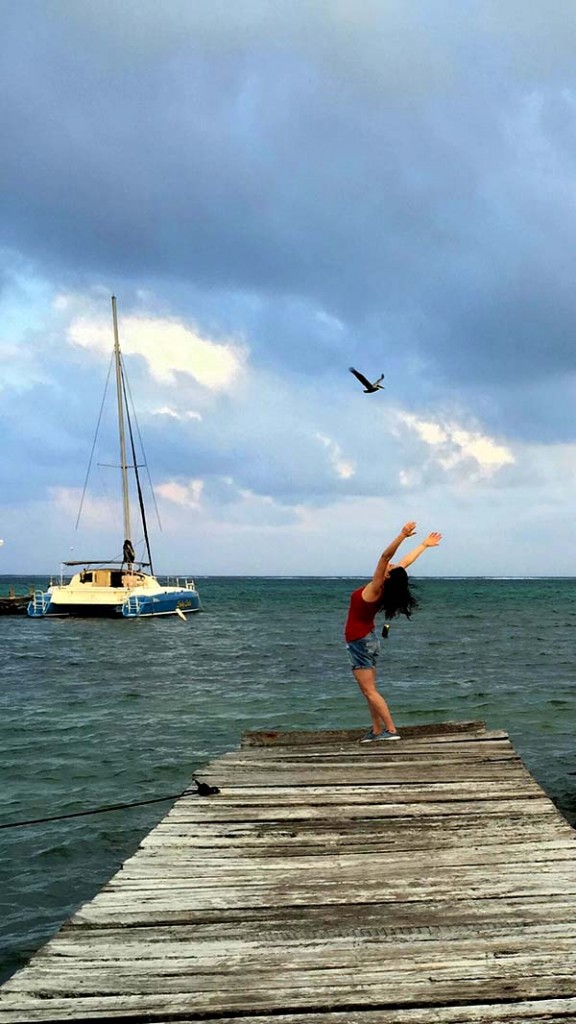 My friend snapped this lucky photo of me just after we arrived on Ambergris Caye. Overcome with joy at having arrived in Belize after 22 hours of travel, I struck this impulsive pose, my hands thrown up and back, my body forming a bow, just as the pelican happened to fly directly over my head! It turned out looking like I'd just flung the bird up out of my arms into the air!
When I created the painting, I actually printed out the photo of me and the pelican, experimenting with different sized printouts until I found the size I liked, then cut out the shapes and traced them onto the canvas to get my silhouettes. I used artistic license to enlarge the bird quite drastically in relation to my body.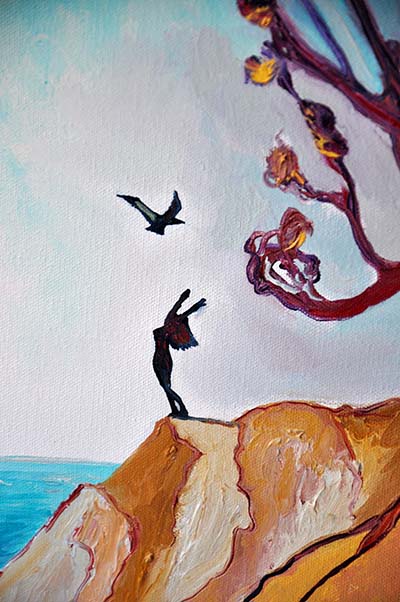 The title, Release, came to me easily. I love how it literally references the release of the giant bird into the sky, but also the release of pent-up stress that I experienced on my brief escape to the tropics.
The setting of the painting is entirely from my imagination. The blue-green sea from my photo is still there, but everything else is different. Instead of standing on the end of a wooden dock, I'm standing on the tip of this dramatic rock formation, high up in the air overlooking the sea below.
I am standing at the foot of the Tree of Life. For me, I first see the woman, then the bird, then my eye continues up into the branches of the tree and around in a clockwise circle, finally down to the roots of the tree and back around to the rocks beneath her feet. It's like she's releasing the bird into the circular flow of the tree.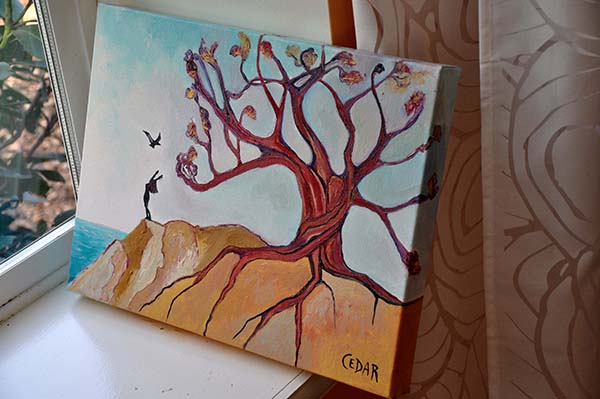 The color scheme–tangerine, turquoise, crimson, violet–feels tropical and sunny to me. I loved Belize and would like to go back in the future.
This painting is one of at least 54 paintings that will be available in my Spring Sale May 15-30!
Here is a list of available artwork so far (not a complete list, as I have many works in progress in the studio yet to be added, and will be working right up until the day of!)
You won't want to miss it! Make a note in your calendar to go check it out on May 15th!