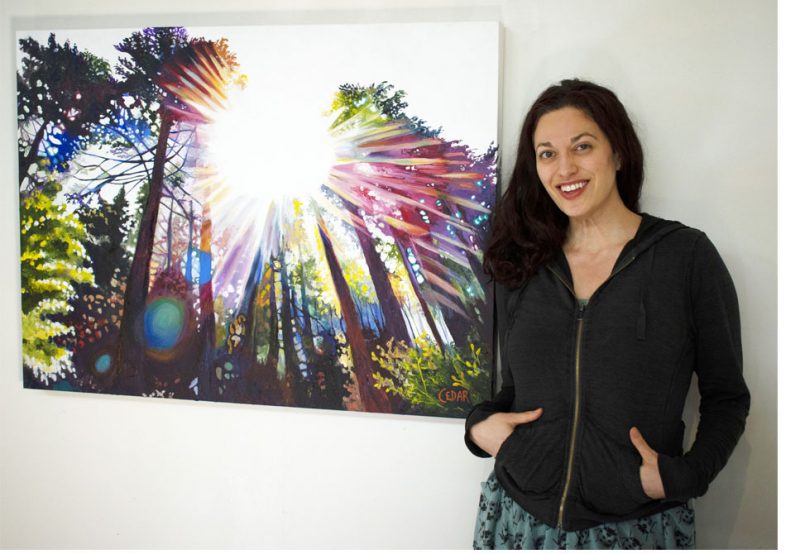 My name is Cedar.
Here's what I can tell you about my life as an artist:
Having moved around the U.S. a lot, I consider myself a native of both the East and West Coasts.
I was always a straight-A student, and I hold an art degree from Goucher College in Baltimore, MD. I've sold my paintings since I was 12 years old. I had my first solo show at age 16, and I've sold my art through galleries since 2006.
Practically all of my hundreds of works have been sold to private collectors. The 500+ paintings I've created so far depict the sun and sky, tree canopies and forests, the symbolically rich Tree of Life, colorful images of solar eclipses and the cosmos, elegantly stylized lotus flowers, as well as sunflowers, portraits, animal portraits, and various landscapes.
I have painted several murals and have worked on book illustrations and covers.
I paint in a small, light-filled studio in my back yard. My paintings fill every wall of my home.
New collectors of my work often discover me through social media, including Facebook, Instagram, and YouTube. I have a lot of artist friends and I provide advice to aspiring artists. I've taught art to children and adults.
My original paintings are valued in the range of $300 to $5,000. For people not currently in the market for an original, I also offer a selection of affordable prints through Fine Art America, with new images added each year.
I love tending to my house plants and working in my vegetable and flower garden. I'm always reading. I love living in Portland, Oregon with my boisterous family, but I have a thirst for adventure and beautiful places, so I travel and spend time outdoors as often as possible.
When I'm not in the studio, I pack and ship my paintings to galleries and buyers and write about and market my work.
I use acrylics and oils, and I paint on canvas and wood panels.
My paintings include specific images I've photographed, but they are also about my memories and emotions, my childhood and world travels, a lifetime of noticing colors in the sky and meandering on so many forest trails.
My work celebrates the endless beauty of this world, inspires environmentalist values, and evokes the calm, grounded feeling that humans have when they connect deeply with nature.
I love creating things that make people happy.