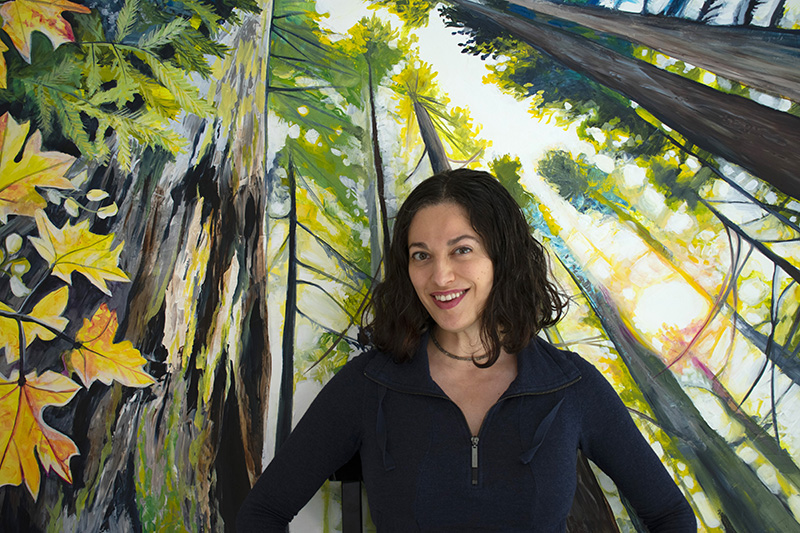 My name is Cedar.
I create large-scale original paintings of inspiring landscapes.
Having moved around the U.S. a lot, I consider myself a native of both the East and West Coasts.
I hold an art degree from Goucher College in Baltimore, MD. I've sold my paintings since I was 12 years old. I had my first solo show at age 16, and I've sold my art through galleries since 2006.
I've worked as an artist in many capacities: I've worked on murals, large contracts, book illustrations and covers. I also do commissioned work. I enjoy working with art consultants, designers, architects, and individual clients to provide original art as well as art prints for home and office settings.
I work with publishers and authors to provide art illustrations for books, other publications and websites. I've licensed my artwork for various business and personal uses.
I paint in a small, light-filled studio in my back yard. My paintings fill every wall of my home.
New collectors of my work often discover me through social media, including Instagram, Facebook, and YouTube.
My original paintings are valued from $500-$7,000. I offer a selection of affordable art prints starting at $39, with new images added each year, and my artwork is printed on a variety of products through Fine Art America.
When I'm not in the studio, I'm often writing about and marketing my art, shipping and delivering paintings to galleries and buyers.
I live in Portland, Oregon with my boisterous family. I love tending to my house plants and working in my vegetable and flower garden. I am absolutely enamored with dogs and can often be found at the local dog park hoping a dog will say hello to me.
I'm always reading, but my "books to read" list is always expanding faster than I can read them. I travel and spend time outdoors as often as possible to satisfy my thirst for adventure and beautiful places.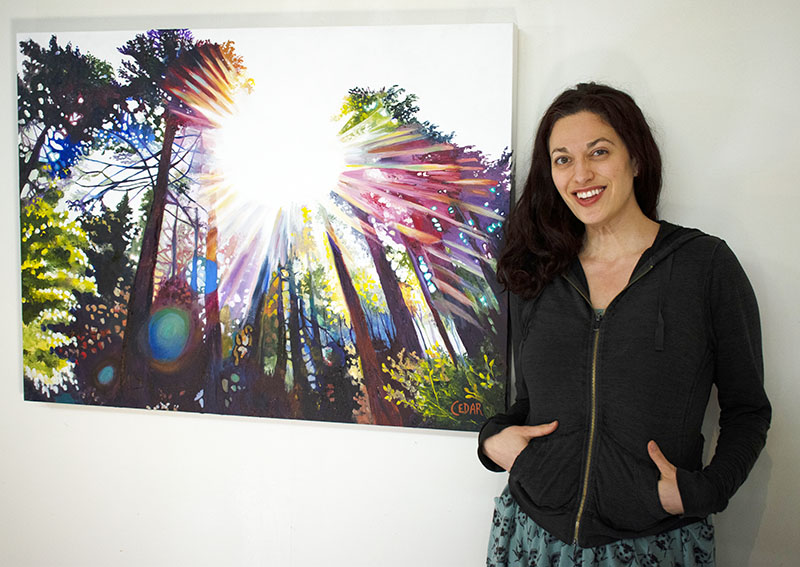 Art Inspiration:
I've created more than 600 paintings so far, depicting tree canopies and forests, garden images and plants, the sun and sky, the symbolically rich Tree of Life, colorful images of solar eclipses and the cosmos, as well as florals, portraits, animal portraits, and various landscapes. Practically all of my hundreds of original works have been sold, to private art collectors as well as corporate and public art collections.
I'm best known for my paintings of the forest and trees. I began painting trees during my college years, when I attended Goucher College in Baltimore, MD. The campus is in the middle of about 300 wooded acres. I spent my time between classes hiking alone on the trails in those woods, and that inspired me to try to paint how that felt.
Then, years later, having moved to the west coast, I finally got to see the California redwoods in person, in 2014. That incredible experience really made me fall in love with painting the forest all over again.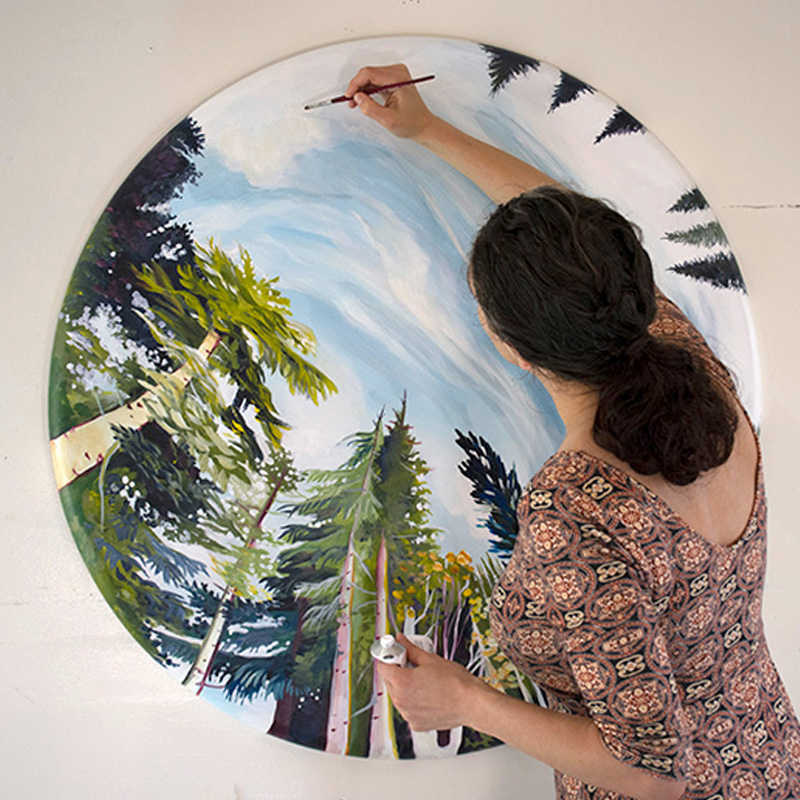 Many of my paintings are filled with sparkling light, rainbow prisms, bursting rays of light and lens flares, all in the context of standing under the peaceful shelter of a forest. The result is joyful, energizing images that give my viewers a peaceful feeling of wonder and help them celebrate their own experiences of Earth's beautiful forests.
Nature, ecology and the connectedness of life on Earth have always been prominent themes in my work. Living in the Pacific Northwest, surrounded by my own veggie and flower gardens as well as the glorious wilderness: trees, rivers and mountains, has influenced my work in recent years.
In 2020 I painted the "Plant Mama" series, which continued my exploration of brilliant sunlight and vibrant colors. In this series, as the Covid-19 pandemic hit, I decided to paint the plants in my garden and the potted house plants throughout my home. Plants have been a source of joy and endless fascination for me throughout my entire adult life. I began exploring my own relationship to my plants, and all the emotions they inspire in me, by incorporating the plant life around me into self-portraits.
All my work celebrates humanity's connection to the natural world. I intend for my imagery to serve as a reminder of our shared responsibility to protect our environment, and to have a peaceful and healing effect on viewers. My hope is that when people see my paintings, they will dwell upon how much they love this world, and that they're not separate from it, but a part of it.
Much of the symbolism in my work has addressed the immense challenge of trying to be my best self. Nature imagery has always helped me to zoom out and feel connected to the whole universe, to look at the big picture of my own life as well as all life on Earth. We are here. We are now. What are we gonna do with that?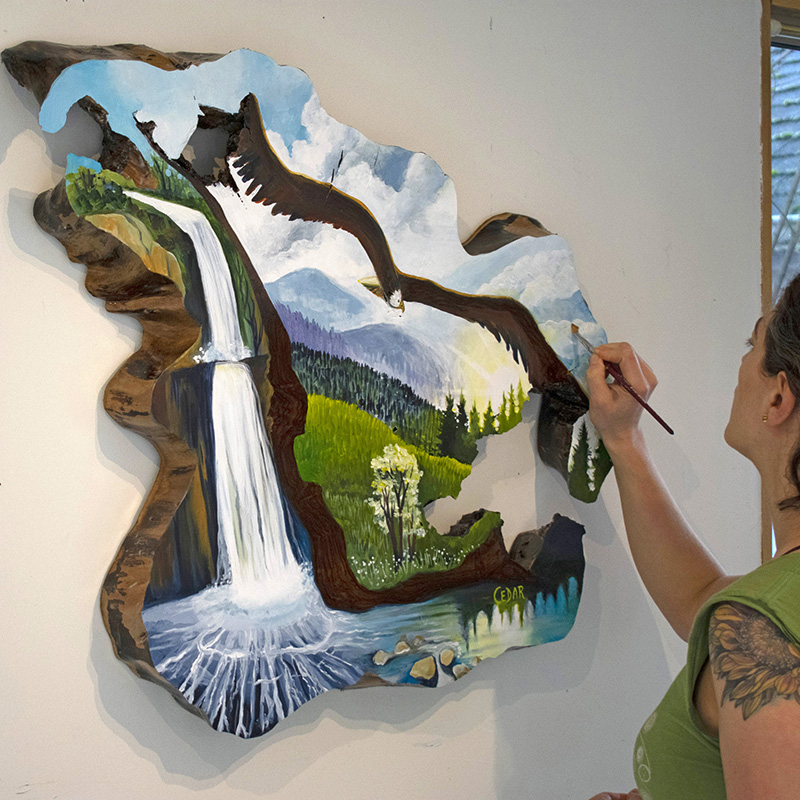 Art Process:
Acrylics are my current medium of choice. Throughout the years I have painted with oils as well.
I don't limit myself to any specific substrate and I love working with different materials. I paint on canvases, wood panels, and live edge slabs.
A live edge slab is a cross-section of a tree with the organic curved edges of the trunk left alone, in contrast to piece of lumber where the edges are cut to be straight. I often leave the most beautiful features of the wood grain exposed, working the natural details of the wood into the designs of the artwork. Each one of these pieces is uniquely interesting, just like the trees the slabs came from.
Besides painting on live edge slabs, I also create tondos, which are paintings in a circular shape. I'm drawn to the pleasing visual simplicity of the circle.
My usual process is to plan out my painting with the help of photos and collage, then make a printout of my plans to work from. Once I transfer the important parts of my plan onto my canvas, I look at the plans less and less as I let the painting process take over. I usually block in all the large areas of color first, then add more layers of detail until it feels finished. For me, art is a combination of careful planning and intuitive play.
I use a variety of techniques and textures in my paintings, including thick impasto texture created with acrylic molding paste or cold wax medium, fluid paint dripped down the canvas, subtle thin glazes of color creating glowing light effects, and details painted with small brushes. I often switch between palette knives and brushes to achieve a variety of textures and effects within one painting.
Within my continual experimentation in the studio, I pride myself on my knowledge of art materials and best practices for creating art that is professionally finished, ready to hang, durable, and made to stand the test of time. In this area I am always learning more and improving.
Much of my work is extremely large-scale, including works up to 10 feet across. There is nothing more exciting to me than creating large-scale, dramatic and inspiring art that makes people say "Wow!"
My work celebrates the endless beauty of this world, inspires environmentalist values, and evokes the calm, grounded feeling that humans have when they connect deeply with nature.
I love creating things that make people happy.