Cedar Lee February 1st, 2014
I've finished the second of at least 4 paintings I'll be doing in this large-scale size: 48″ x 36″ oil on birch wood panel, 2.5″ deep with the painting continuing on the sides.
Like my last painting, Forest Light, I planned roughly what I was going to do by first doing a small color study. The large paintings are turning out similar to the studies but with notable differences, intentional and non. I've been letting each painting tell me where it wants to go.
I love the expressive color in this one, particularly. It looks real to me, yet juicier, somehow better, than real life.
Because of the large scale, these paintings have so much impact in person. I'll make a point to take some photos for you that show the scale–for now, this oil color on this one is still very wet and it's doing its time on the drying rack out in the studio.
Here are some details I love in this painting:
The colors in the canopy of this tree, especially that cerulean blue peeking through.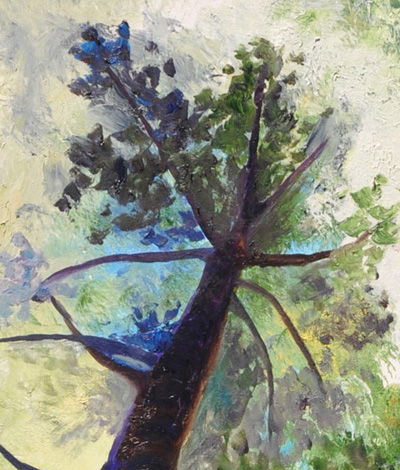 The soft, hazy effect of the foliage across the top, which shows atmosphere and distance. The unexpected magenta up in that corner, which somehow just works!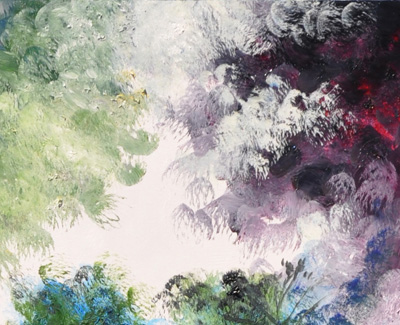 The lovely glow of the warm golden light filling the center of the painting.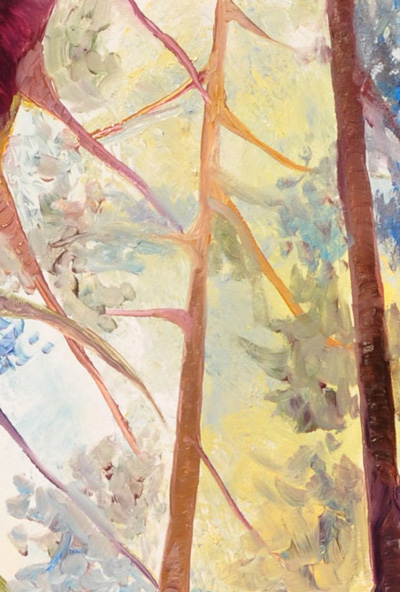 Bold little splashes of lavender at the bottom.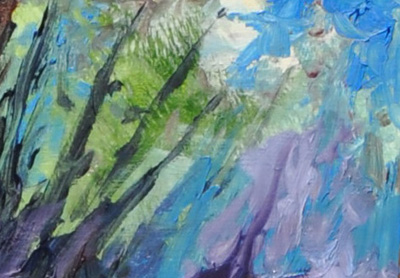 And the tiny-looking faraway branches up in the soaring treetops.