Cedar Lee July 8th, 2008
My new painting shows the rising sun burning away the darkness of night.  It embodies the concept of balance in the universe–yin and yang.  Sun and moon, day and night, heaven and earth, fire and water, hot and cold.  For fun, I have included the constellation Orion, (can you find it?) and a shooting star.
I painted the sun and moon in such a way that they could be allegorical characters, so looking at their interaction may conjure thoughts of epic myths and creation stories.  The swirling colors bring to mind the incredible photos of galaxies and nebulae taken from satellites in outer space.  Whatever you may take from it, it is an inspiring image.
Because this painting implies the enormity of the cosmos, and is full of dynamic motion, it is titled "Cosmic Dance."
Acrylic 36″ x 42″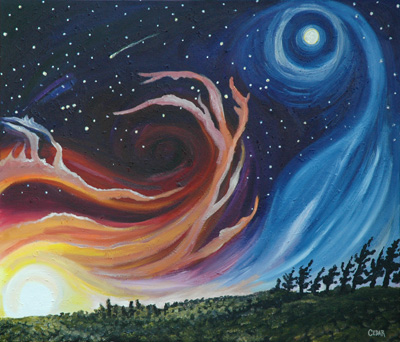 What it looks like in a room: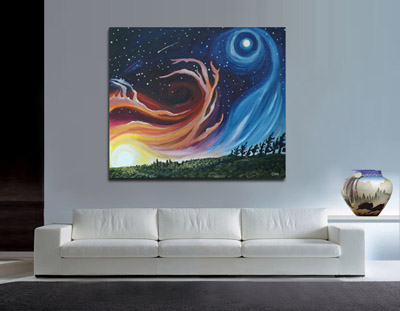 Details: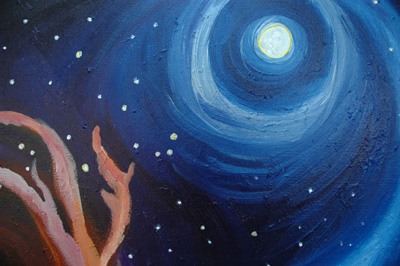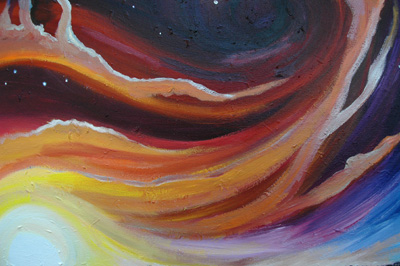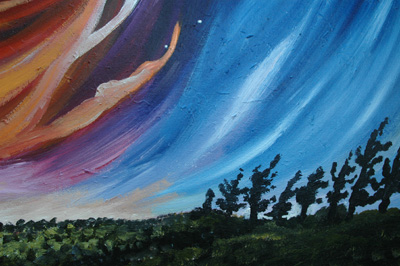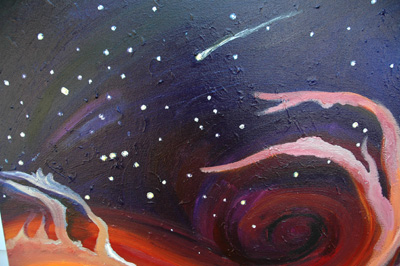 The psychedelic qualities of this painting made me recall a poem I wrote when I was 16, called "Psycho Sunrise." Despite its obviously being written by a 16-year-old, its descriptions are vivid.  Click here to read it.
In other news, my painting "October Hawks" is currently on display at the HoCo Open 2008 show at the Howard County Center for the Arts.  The reception for the show is from 6-8 pm on July 22.  Unfortunately, I'll be out of town on that day, so I won't be there.  But if you live in the area, stop by and check it out–the show includes 100 pieces of art done by local artists.  (And, by the way, as the gallery installer for the Arts Center, I am the person who hung all 100 paintings.)
The exhibit will be up until August 17th.  The address: 8510 High Ridge Road, Ellicott City, MD 21043
The next month and a half are going to be crazy for me.  My husband and I, between the two of us, have six trips planned this summer.  The shenanigans include two family reunions, house-sitting in NC, visiting friends and scouting out galleries in Ohio, contra dancing in Indiana, and white water rafting in West Virginia.  Kevan will also be going on a road trip with his cousins.
So if I appear to drop off the face of the earth for a little while, that's why.